Tuesday, August 7th, 2018
Big ticket: Legendary Foiled Again coming to town
By Colin Foster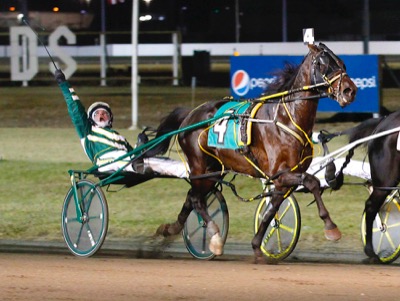 Harness racing has a big following in Ohio.
Get ready, race fans: the biggest ticket in harness racing history - Foiled Again - is coming to Celina for this weekend's Trent Bates Memorial at the Mercer County Fairgrounds.
Foiled Again, owned by Ron Burke and Mark Weaver, is the richest Standardbred of all-time, with winnings of more than $7.5 million. He won the Dan Patch Pacer of the Year award three straight times from 2011-2013, was the first pacer to earn three straight million-dollar seasons and was featured on the SportsCenter Top 10 after having won his 100th race on July 8 at Harrah's Philadelphia. The 14-year-old gelding is set for retirement at the end of this season.
"Ohio people appreciate harness racing," Burke said. "I want to get into places where he'll be appreciated. Even a lot of my guys who are Ohio-born are thrilled that we're going there and they're excited to go back.
The trip to Mercer County was made possible by Paul Sunderhaus, a third generation horseman from Celina who now works full-time in the animal-health industry. Sunderhaus had struck a friendship with Burke and Weaver after having sold him a horse two years ago. Sunderhaus, a member of the Trent Bates Memorial speed committee, reached out to Foiled Again's owners about a potential booking.
"As deep as we are entrenched in this community in harness racing - there are a lot of fans that travel all over the county fair circuit and race tracks, just hardcore fans - I just thought it would be a unique opportunity to reach out to Ron and Mark to see if they'd be interested in bringing him here. He's just such a special horse and I appreciate the fact that the connections are giving him one last tour. Horses that earn $7.5 million don't race until they are 14, he's just so resilient. I just think it's a huge grab for the community," Sunderhaus said.
On Saturday, Burke became the first harness trainer to exceed winnings of $200 million, when Filibuster Hanover finished third in the Sam McKee Memorial on the Hambletonian Day card at the Meadowlands. He is on pace to leading all harness racing trainers in both wins and purses for a 10th consecutive year. Burke said he may be in attendance when Foiled Again takes the track in the early afternoon hours on Sunday.
This is Foiled Again's final season of racing since Standardbreds must be retired at the end of their 14th year. Foiled Again has had the same training regimen since he was four, Burke said. The horse has appeared in more than 300 races and won the Breeders Crown in 2009.
"I've always said his ability to recover is incredible. No matter what kind of race, how hard it was, how much he was abused. Two days later, he is back to himself and ready for the next race. Racing never really seemed like it had a lingering effect on him. That makes him different than any horse I've ever seen.
"One-hundred wins is nice. The $7.5 million is what's off the charts," Burke said. "I mean, he's 3 1/2 million ahead of the next pacer behind him. He's really a once-in-a-lifetime horse."
The Trent Bates Memorial was established by Derek Menchoffer and Bob Geist after Bates had passed away on the track in 2013. The event is sponsored by Midwest Logistic Systems. Bates came from a family of racers and was beloved by the people of Mercer County.
"I think it's pretty cool that they honor him," said his older brother, Ty Bates. "I mean, there have been a lot of great horsemen who have come out of the fairgrounds. This kind of tells you how he was thought of at the race track. It's an honor for him."
Ty Bates has seen video of Foiled Again but has yet to see him in person. He's excited the big ticket is coming to his brother's race.
"It's a big deal," Ty Bates said. "He's not in his prime anymore, but just to have the chance to see him on your home track is kind of a neat deal. Having him come to Trent's race is pretty cool."