Thursday, August 9th, 2018
Bringing home the gold
St. Marys' Fleagle wins YMCA national long-course title
By Colin Foster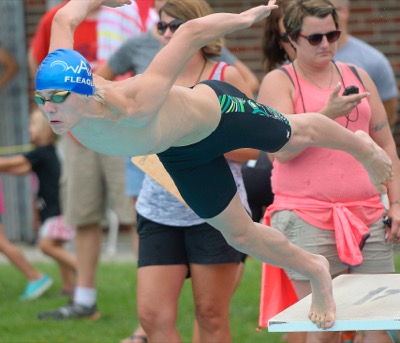 Justin Fleagle was a state champion during his freshman year at Celina.
Recently, the now home-schooled swimmer became a national champion.
Representing the Auglaize-Mercer Family YMCA Waves' swim team, Fleagle won the 50-meter backstroke with a time of 26.18 seconds at the YMCA Long Course National Championships in College Park, Maryland, after he had set the pool record with a 26.07 stroke earlier in the day as part of the 200 medley relay. Prior to that, he had set a 50 backstroke Maryland pool record with a split of 26.07 in the 200 medley relay.
Jared is the second Fleagle to win a YMCA title, as his brother Josh also accomplished the feat multiple times before swimming at Ohio State and turning professional.
"Josh won the 100 freestyle, but I've kind of broken the mold a little bit - I've gone to backstroke," the younger Fleagle said.
It was a good meet all around for Jared Fleagle. He also got second in the 100 backstroke (57.53 seconds), fifth in the 50 freestyle (23.67) and fourth in the 100 freestyle with (52.91), and won the B-Final in the 100 butterfly (ninth) with a 56.33. He and AMFY teammates Ezra Ferguson (New Bremen), Keaton McMurray (Celina) and Alec Clint (Troy Christian) teamed for an 11th-place finish in the 200 medley.
"I put a heavy emphasis on the pre-race rituals I do. It's a lot of stretching and it's a lot of visualizing. A lot of times, I'm just sitting by myself and I'm thinking about my race. That's where I think I beat a lot of guys. Because a lot of guys just physically go at it. I try to think of every little thing I can do right. After all, if you don't have a good pre-race, it doesn't matter how much training you do. You just won't do that great if your mindset isn't the best it can be. … I put a lot of emphasis on that. That's why I think I ended up where I was at in that 50 backstroke."
Two years ago, Jared Fleagle swam with McMurray, Mason Baker and Garrett Weininger to win Celina's first state swimming title with a mark of 1:25.76 in the 200-yard freestyle relay. Jared Fleagle will take a brief break away from the water before resuming training for the winter season in the upcoming weeks. He said he might test the water next season to see if he's a natural in the individual medley events. Like most kids his age, he is exploring future options - and swimming will likely be part of the plan.
"My goal in swimming is to just take it as far as I can - train even harder, get to bigger meets and maybe even get noticed by the junior national team and get on the team," he said. "Once I get there, I'll be able to see further and I'll be able to judge on what I need to do next."