Saturday, August 18th, 2018
Celina park project to accelerate
Delayed amphitheater expected to take shape
By William Kincaid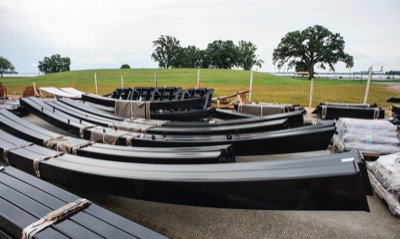 CELINA - The Harley Jones Rotary Memorial Amphitheater's steel frame is expected to go up next week.
If that happens, it would be a tangible sign of progress on the long-awaited centerpiece of the new Bryson Park District that had been pushed back at least a year, first because of design delays and then because of contractors' scheduling issues amid a busy summer work season.
The Bryson Park District - a swath of land encompassing Mercelina, Pullman Bay and Lakeshore parks - has remained largely undeveloped after city officials in early 2014 purchased the the Mercelina Mobile Court and the former Versa Pak property for $2.94 million. The city later had the roughly 8 acres of new parkland cleared of structures and debris and returned to grassland.
But next year, citizens can look forward to a completed top-notch amphitheater with total seating capacity for as many as 4,000 people, a nearby restroom, a splash pad and probably some basketball courts, mayor Jeff Hazel said.
The splash pad, too, originally had been scheduled to be installed this year. Council members earlier this year accepted a $200,000 donation from Kathy Sharkey, owner of Ergo Desktop in Celina, for a splash pad in honor of her late husband, Daniel J. Sharkey. He died on Jan. 15, 2015, after a yearlong battle with cancer.
The amenity will be located on the former mobile park ground within the Bryson Park District behind the planned amphitheater and toward the lake.
"We had every intent to start the splash pad and complete it this year, but we had to wait for this portion (the amphitheater) to be done," Hazel told the newspaper. "We didn't get all the (splash pad) pieces until the end of June, and by that time you're into event season so we really couldn't do much."
City officials are eyeing close to $4 million of capital projects within the park district, among them $325,000 for sidewalks, a $570,000 parking lot, numerous shelter houses each pegged at $45,000, and tens of thousands of dollars for basketball, volleyball and pickleball courts, restrooms, all-inclusive playground equipment and concrete seating for the amphitheater.
The amphitheater is being bankrolled by a $1.2 million state capital line-item grant secured by then-Ohio Senate President Keith Faber, R-Celina. City officials, working with local grant writer Jim Mustard, have their sights set on obtaining Ohio Department of Natural Resource grants.
They also anticipate having roughly $1.2 million in revenue to work with toward park development from the Grand Lake Tax Increment Financing District. TIF revenue comes from taxes on any increase in land or building values in each district. TIF districts allow for real estate taxes on new development to be diverted into separate accounts to be used for public infrastructure projects within the district.
"We want to be able to utilize that because we're trying to stick with grants and bequests and donations from groups," Hazel said. "We still have a tremendous way to go but I also know there is the initiation of a fund for trees and parking improvements at the (Mercer County) Civic Foundation."
Officials also are counting on the Bryson Trust Fund overseers to come through with financing to build up the park. They're working with new corporate trustees and should know by the end of September what work they'll support, though Hazel said he believes they'll agree to help fund a new restroom and basketball courts.
"They look to, as a general rule, typically use the earnings on an annual basis from which to draw money to either make a payment back to the city as reimbursement or to pay for certain items, again, back to the city," Hazel said, explaining the trustees will not sign off on loans or cut checks to vendors but only reimburse the city for capital expenditures.
Once city officials learn the trustees' opinions, they can better plan the layout of the park district, Hazel noted.
"Right now, it's what they would fund in the immediacy because we're trying to finalize ... playground equipment," Hazel said.
Hazel said the city also could use Bryson Trust Fund committed dollars and Grand Lake TIF revenue as local matching dollars toward state grants.