Tuesday, September 4th, 2018
Support extends beyond school borders
Area students send get-well wish to injured Coldwater football player
By Gary R. Rasberry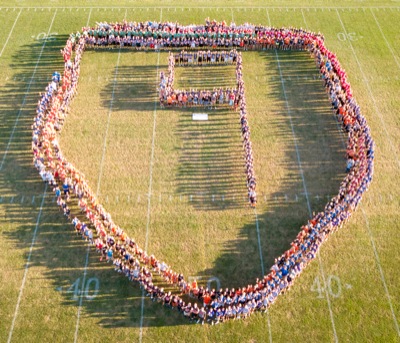 No matter the sport or the academic event, Midwest Athletic Conference teams will battle hard on the field of competition and come together afterward to celebrate.
Whenever one community has needed some extra support, the competitors come together.
No better example can be shown than on Monday evening when students from all over the area gathered in Coldwater to send a get-well message to a Coldwater football player who suffered a catastrophic injury.
Cavalier junior Shane Homan was playing in Saturday's junior varsity game when he went down after having made a tackle. Homan couldn't feel or move his legs.
"We were in the film room and someone came in and told us someone was down on the far side of the field," said Cavalier senior football player Jake Wenning. "We were kind of confused, and they told us it was Shane. They said he was looking bad, couldn't move his legs. It was scary. Then the ambulance came to get him. It was a sad moment."
From Mercer County Community Hospital, a helicopter flew him to Dayton's Miami Valley Hospital, where he was diagnosed with a fractured fifth vertebra and had immediate surgery.
"Some of the guys went to check on him today and coaches went (Sunday) night," said Wenning. "He's going to fight to walk again."
Thoughout social media, the phrase #ShaneStrong began to appear. On Monday, Wenning, along with classmates and family, decided to set up a large display of support.
"(Cavalier girls soccer player) Mara Dues texted me. She wanted me to get the football players, she'd have the soccer players and the volleyball team was coming out to do something," Wenning said. "Then we came up with idea to put it on Twitter. Someone commented about opening it up for everyone, and we thought it was a great idea. It's just blown up. It's cool to see everyone supporting Shane."
What happened Monday evening amazed everyone.
Students from all the MAC schools - from Delphos St. John's in the north to Versailles and Anna in the south - as well as students from Celina and St. Marys gathered at Cavalier Stadium and formed a shield with Coldwater students inside forming the numeral 9, Homan's football jersey number. Pictures were taken to send along to Shane and his family.
"I saw those schools coming in, it made me proud to be from this area and this conference," said Coldwater High School Principal and assistant football coach Jason Hemmelgarn, who wanted to thank all of the students participating. "We go head-to-head in every sport. … It makes you feel so good and appreciate it when people respond to the message."
"On weekdays, we're rivals on the field, but when it comes to something like this, everyone in this area is pretty good about coming together for a good cause," Wenning said. "Everybody coming out here tonight. I think it will mean a lot, not only to Shane but for the whole community."
St. Henry golfer Rylee Deitsch may have put it best when he posted on Twitter "The @midwestathletic is more than a conference, it's a family."