Monday, September 10th, 2018
Saturday battle
Minster wins hard-fought four-set match over Celina
By Gary R. Rasberry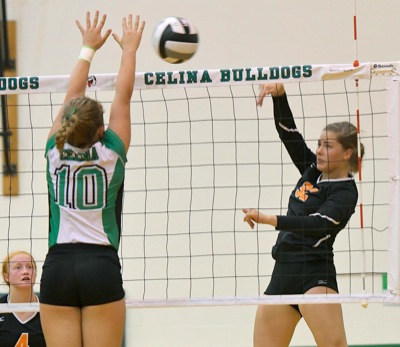 CELINA - Over the past several years, Minster and Celina have engaged in some battles on the volleyball court.
Saturday's matchup at the Intermediate School was the same story as the Wildcats held on for a 25-19, 25-21, 19-25, 25-18 win to move to 7-3 on the season.
Despite the loss, Celina coach Amy Sutter was upbeat with her team's play.
"Every year, we're so super evenly matched with Minster. I can't remember when we haven't gone four or five sets with them," Sutter said. "It was a night and day difference from when we played Elida (in WBL play on Thursday). Even though we beat Elida, we played poorly. Today they didn't let up and let negative runs get to them."
Minster had to rally from decent deficits to win the first two sets. In the first set, Celina's Zoe McNeilan served up five straight points to start. Minster clawed back and took the lead during a four-point run by Emily Stubbs. Celina later regained the lead at 13-12 and later at 15-14, but Minster took the lead for good on a stuff block from Macy Gehret. Service runs by Stubbs and Brooke Wolf put the game on ice.
"Emily used to be a jump server but hasn't been consistent," Minster coach Cami Garman said. "She's been focusing on staying down with a nice floater serve. She had control of her serve.
"One thing we're not short on is resiliency. We keep coming at it," she added. "This is probably the most level-headed group of girls I've had. They don't get too worked up about everything."
In set two, Celina (4-4) used a service run by McNeilan to take an 11-8 lead as Minster had some struggles with hitting. Later, Brooke Robbins had four service points, with Maddy Luebke adding a couple kills to raise the lead to 17-11. But a quick-set by Kaitlyn Wolf gave Minster the serve. Stubbs stepped up and had two aces during an eight-point service run. Danielle Barhorst, Averi Wolf and Kaitlyn Wolf added kills during the run to give Minster a 20-17 lead. Celina was unable to get any closer than two points the rest of the set.
"There was a ton of volleys, even in set four," Garman said. "That was the type of games, a lot of long volleys, balls taken out of the net and nobody was okay with the ball hitting the ground today."
Barhorst led Minster with 17 kills and added 10 assists. Stubbs had 22 digs and Kaitlyn Wolf had 24 assists.
Celina received 11 kills and 11 digs each from Robbins and Luebke. Samantha Carlin had 32 assists and 12 digs.
"Brooke and Maddy are playing exceptionally well," Sutter said. "Emma Lutz is stepping up on the outside."
Minster is off until Tuesday when it travels to St. Marys for an Auglaize County battle. Celina is back in action tonight with another MAC team in defending Division III state champ Versailles in Darke County.