Tuesday, September 11th, 2018
Battle of unbeatens at Arrowhead
Wildcats defeat Redskins in key MAC match
By Colin Foster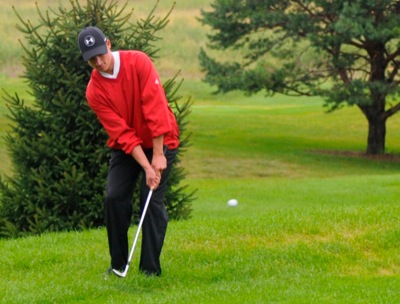 Compiled by Colin Foster

The Minster boys' golf team finished near the top at last year's Midwest Athletic Conference tournament.
"We had a pretty decent season last year," Minster coach Jim Stubbs said. "We had three losses in the MAC. Two of them we really let slip away. We should have finished them, but we ended up second place in the MAC last year. We only lost one senior from that team, so I knew we had a pretty good crew coming back. I was optimistic coming into this year."
On Monday, the Wildcats cemented their place atop the MAC standings with a 160-179 victory over defending champion St. Henry in a battle of the last two MAC unbeatens at Arrowhead Golf Course.
Joseph Magoto fired a medalist round of 36 for Minster, which improved to 7-1 overall and 6-0 in MAC play. Logan Lazier shot a 39, Grant Voisard had a 40 and Ethan Lehmkuhl added a 45.
"I think every match we've had at least one person score in the 30s," Stubbs said. "We've always had quite a few guys in that low 40s range, and it hasn't been the same four guys. It's taking all six of them. It's good to see all of them contributing at different times."
The Redskins (9-1, 7-1 MAC), who went unbeaten in MAC play last year, finished with a season-high score. They were led by Jack Romer's 41. Sam Koesters shot a 44, Rylee Deitsch had a 46 and Andrew Mescher contributed a 48.
"Minster played with a great deal of poise tonight," St. Henry coach John Dorner said. "It was pretty sloppy conditions and Minster really rose to the occasion. Unfortunately, we struggled with consistency all night. However, we will do our best to get the ship righted as we will have our hands full again Thursday night with Delphos St. John's."
On Thursday, St. Henry hosts St. John's at the Elks and Minster hosts Parkway. The champion will be determined on Sept. 22, when the MAC tournament is held at Arrowhead.