Friday, September 14th, 2018
No. 1 beats No. 2
Skins end Cardinals' 28-game winning streak
By Colin Foster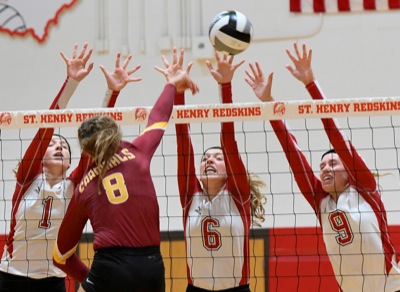 ST. HENRY - The St. Henry volleyball team was selected No. 1 in the first Division IV state coaches poll that was released earlier this week.
The selection was validated on Thursday.
The Redskins defeated defending state champion and second-ranked New Bremen 3-1 (25-22, 27-29, 25-21, 25-23) in a game that featured 38 ties and 16 lead changes.
"We beat the No. 2 team in the state and a team that's very talented," said St. Henry coach Tricia Rosenbeck after her team improved to 11-1 overall and 3-0 in MAC play. "They haven't lost a game yet this year and they're coming off a state championship. They're confident in themselves. … So yeah, I feel like we played up to our level."
The Cardinals (8-1, 2-1 MAC) had their 28-game winning streak snapped. It was their first loss since Sept. 14, 2017, which came at the hands of Fort Recovery at Fort Site Fieldhouse.
"There were two teams that played their hearts out tonight," New Bremen coach Diana Kramer said. "I told my team after the game that I'm not disappointed with the outcome on the scoreboard. We competed tonight. We got better tonight. If we don't miss 16 serves, it could be a different outcome. But I'm not going to take anything away from St. Henry. St. Henry was prepared. They were tough. They were better by maybe four or five points tonight, and four or five points is not that many in a four-set thriller."
No team had a lead bigger than four points in the match.
The rivals played to six ties and four lead changes in the first set. When it came time to put away the game, though, Hannah Bruns and the Redskins showed up. Bruns had a set-high six kills, with four coming down the stretch. She had spikes to level the score at 17- and 18-all. Danielle Lange then returned the lead to St. Henry with a kill and Addy Vaughn followed with her four spike of the set. St. Henry's lead stayed above two points after the run, and New Bremen's seventh service error of the set provided the final point in a 25-22 outcome.
"Hannah's definitely one of our go-to hitters," Rosenbeck said. "She's very powerful and athletic and she found a way to put balls down against a great New Bremen block. That gave us some confidence when we won Game 1."
The second set was tied 15 times. New Bremen opened with a 5-1 run, but that lead disappeared quickly as St. Henry responded with an 8-1 spurt. The set was knotted at 22-all when Taylor Paul's ace returned the lead to the Cardinals. Olivia Winner then tied the game with a kill. The Cardinals' Josie Reinhart and the Redskins' Winner traded spikes to lock it at 24-all. Then a kill by Bruns gave St. Henry set point. A Redskin hitting error re-tied the score. Danielle Lange gave St. Henry set point again with a spike. A service and hitting error on consecutive sequences put set point in New Bremen's favor. Then an Ashley Siefring kill tied the score again. But Claire Pape dropped home a spike for Bremen and then St. Henry committed a hitting error to give the Cardinals a 29-27 win.
The third set had seven ties and three lead swings. St. Henry took its first lead at 8-7 and New Bremen fought back to take a 15-14 advantage. St. Henry had a 4-0 run to follow and never trailed again, closing out the set on back-to-back spikes by Bruns and Addy Vaughn.
New Bremen was the first team to 10 in the fourth set, building a 10-6 lead on the back of a nice service run by Abbi Thieman, who had her third ace of the game to give her team some space in a set that had been tied at 5-all. The Cardinals were the first team to reach 15, too, as Josie Reinhart made her mark with a block, a kill and an ace to help make it 15-11. St. Henry rallied back to knot the score at 18-all, thanks in part to a couple Bruns' kills, a nifty dump by Carleigh Deitsch and a Lange kill. The set was tied at 19, 20, 21, 22 and 23, but St. Henry secured the final two points via an illegal hit and a hitting error.
"I feel like we stayed pretty focused. We didn't get down on ourselves," Rosenbeck said. "We were able to find a way to push through tough times, because there were times when they were playing way better than us. We found a way to put balls down against them. I thought we played a really consistent match. They're a very, very good and talented team and I feel like both of us played well tonight. We just found a way to finish at the end of the game."
"We passed pretty well in serve receive. They passed well in serve receive," Kramer said. "Our attackers had good swings. Their attackers had big swings. We played great defense. They played great defense. The only thing that when you look at the stats that is different, we missed 16 serves and St. Henry might have missed four."
Addy Vaughn had a triple-double with 13 kills, 22 assists and 20 digs. Bruns tallied 13 kills and 20 digs and Ashlyn Gerlach picked up 26 digs.
Reinhart had 10 kills for New Bremen. Puthoff had nine kills, 12 digs and six blocks. Claire Pape added eight kills and Madison Pape dished out 20 assists.
The Redskins avenged loss to the Cardinals in last year's district final. Will another matchup happen this postseason? Kramer hopes so.
"Hats off to (St. Henry)," Kramer said. "Hats off to my team, too, because it was a battle. The fans got their monies' worth tonight, and I hope for a rematch."
Both teams return to action Saturday. St. Henry travels to Bath High School for the Orthopedic Institute of Ohio Classic and New Bremen hosts Division III state-ranked Anna.