Wednesday, October 10th, 2018
Outright Champs
St. Marys defeats Wapakoneta to capture first WBL girls' soccer championship since 2010
By Dave Stilwell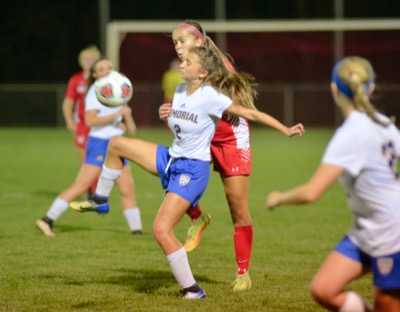 WAPAKONETA - St. Marys erased a 2-1 halftime deficit with three unanswered second-half goals to claim a 4-2 victory over Wapakoneta and nail down at least a share of the Western Buckeye League girls soccer championship on Tuesday night at Ryan Field in Wapakoneta.
That share became an outright title after Celina defeated Shawnee 1-0 to knock the Indians from their share of the league title.
The Roughrider girls picked up their third overall title, their first since 2010 and first outright title since 2008.
After a big win over state-ranked Shawnee last week, St. Marys coach Nick Wilson felt the WBL title was within grasp, but he knew coming to Wapakoneta would not be easy.
"You always think you have a chance to win it, but this league is so tough and to have to come over here and work our way through Wapak to make it happen, man that's scary." Wilson said. "We knew we were going to be in for a dog fight and they brought it."
St. Marys junior Emma Wibbeler got the scoring started with a long free kick off a Wapak foul. About halfway between the box and the center field line, Wibbeler launched a boot that just found its way into the upper right corner of the goal to give St. Marys a 1-0 lead at the 25:13 mark of the opening half.
"We have some legs that are capable of a long shot," Wilson said. "Is that our preferred method of play? No, but sometimes you gotta take what you can get. Wibbeler has been due and lacking in confidence, so for her to get that first one was big."
Wapakoneta pretty much dominated the rest of the first half. Emily Ruppert scored on a break-away goal with an assist from Madison Lause at the 22:53 mark.
With 9:24 left in the half, Abbi Ruppert scored into, what turned out to be, an open net after she maneuvered past St. Marys keeper Emma White, who came out of the box to contest another break-away opportunity.
Wapakoneta outshot St. Marys 9-4 in the opening 40 minutes.
"We had to make a couple adjustments at halftime, as much mentally as anything else," Wilson said. "For whatever reason we didn't come out and play the game that works for us, which is possession and moving the ball up the field. But a lot of that credit goes to Wapak and its defense.
"We've kind of been a second half team for a good portion of the season, so we just told the girls to buckle down and play our game," he continued. "And they came out in the second half, possessed the ball, and played our game."
Lilly Ankerman tied the contest with a goal in the middle of the box at the 28:30 mark of the second half.
Tabby Knous connected on another long St. Marys scoring kick, as she found the net from well outside the right corner of the box to give the Riders a 3-2 lead with 11:53 left in the game.
Three minutes later, St. Marys freshman Kendall Dieringer added an insurance run as she dribbled between two Wapak defenders and glanced a shot off the top of the cross bar and into the net.
St. Marys finishes the regular season at 10-3-1 overall, and enters the post season seeded second in the Division II District Tournament. The Roughriders will host the winner of the Kenton-Upper Sandusky game on Oct. 18.
"We feel like we're starting to click," Wilson said. "These are games that in the past we might have folded. But we came out and beat Celina in a tough battle in the second half, we beat a very strong Shawnee team, so we have expectations to keep moving forward."