Thursday, October 11th, 2018
City may buy houses in floodplain
FEMA to help finance purchases
By Ed Gebert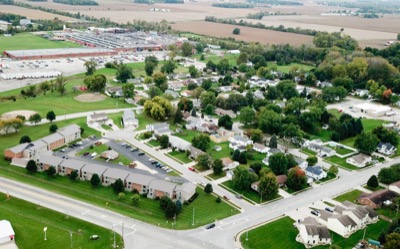 ST. MARYS - Nearly 60 people filled St. Marys City Council chambers on Wednesday to learn more about a possible opportunity to sell their flood-prone homes to the city through a grant from a federal agency.
City officials are considering applying for a Federal Emergency Management Agency grant that would buy out up to 63 flood-prone homes in a southwest St. Marys neighborhood. The homeowners were invited to Wednesday's meeting to discuss the possible sales. The homes were selected due to a number of previous flooding complaints. A quick show of hands revealed that many of the homes had previously flooded, but some did not have any flooding concerns.
Kelly M. Kuhbander, an engineer with Strand Associates of Cincinnati, led the meeting.
"This is intended to be a program to benefit the community. It is completely," she said. "The city is doing it to try to help people in a flood-prone neighborhood to have an opportunity, if they are interested, to help them."
"Our hope is that the program is beneficial to both the property owner and the city," city safety service director Greg Foxhoven added.
Interested homeowners were asked to fill out an acknowledgement form to be included in the grant application to FEMA. Of the 37 property representatives attending the meeting, nearly 30 expressed an interest. The city will collect the acknowledgement forms until Oct. 26. City officials and Auglaize County Emergency Management and Homeland Security Agency Director Troy Anderson then will submit the application to FEMA. If FEMA accepts the application and funds the project, the selected applicants will be notified in May.
"From that point we will take the next step and coordinate with property owners," Kuhbander said.
An appraisal of each home will be conducted by an independent third party if FEMA accepts, and an offer will be made to the property owner. The owner can take or refuse the offer. In a case of a disputed appraisal amount, the homeowner may obtain his or her own appraisal and submit it to FEMA to adjust the offer made.
"Expressing interest today does not commit anyone one way or another," Kuhbander stressed. "But signing the acknowledgement form is the only way to remain involved in this project."
Kuhbander said officials also may consider other areas of St. Marys to apply for mitigation funds in the future. Details of any other applications will be released to homeowners if another area is selected.