Monday, November 5th, 2018
Twisters ripped through the county one year ago today
Rebounding from the tornadoes
By Tom Stankard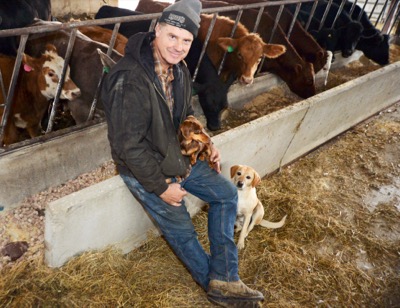 EDITOR'S NOTE: The Daily Standard is taking a look back and forward on the anniversary of the Nov. 5, 2017, tornadoes that tore through the area.

Even though life is returning to normal, the painful memory of the Nov. 5, 2017, tornadoes will never fade away.
After the twister had passed, Rita Suhr stared in disbelief as her husband, David, stood looking out the kitchen window onto wreckage strewn across their 20-acre property in the 7200 block of Township Line Road.
To this day, there is still a hole in his heart caused by the damage, David Suhr said this week, adding "it's too painful to look back on."
He remembers strong winds tearing the roof off the garage and a majority of the roof off their home. Further damage happened when winds ripped off the garage door, Suhr said. Its two pieces of metal and insulation were blown toward the house and into the yard.
Nearby, a large hip-roof barn more than 100 years old was completely demolished, Suhr said. Parts of the barn blew toward the house, damaging the siding and punching holes into the roof. Elsewhere, a storage building's metal siding was torn off completely.
Robert Diller and his wife, Tina, sympathize with the Suhrs, as four outbuildings on their 100-acre property in the 6000 block of Rauh Road near Coldwater were blown to pieces while the home that's been in Robert's family for six generations was also damaged.
Their daughter, Amber, 21, was at home at the time of the tornado and ever since then "wind really freaks me out," she said last week.
"It was scary. Didn't think it could happen to us. I'm not a huge fan of storms anymore, and I'm a little more conscious when they come now," she said.
"It's pretty amazing what wind can do," Tina Diller added.
Looking out the window that night, Robert Diller thought their home no longer felt like a home, "it felt like a war zone."
In the morning, community members were in their front yard, ready to help clean up the debris. Two helpers were strangers from out of town, Tina recalled.
"A couple from Lima came. They helped gather cows and put them on trailers. I've never seen them before in our lives," she said.
The painful memory of the destruction remains, but one piece at a time, their property was rebuilt, Robert Diller said. One cattle barn and a storage shed have been rebuilt while their home is under repair. They decided not to rebuild an unused silo and a second cattle barn.
Walking around his property recently, Diller was still picking up bits and pieces on the ground. The handful of nails and bits of plastic serve as reminders of what happened, he said. In the barn, they kept a wooden board with a piece of metal the tornado had embedded in it.
Cattle were roaming the field last week and two dogs were running around the front yard, barking. This was a sign their lives were returning to normal, Diller said, smiling, as he pointed to an outdoor sitting area that has been rebuilt.
His son, John, 15, didn't expect they would be able to rebuild everything, Bob Diller said.
"He thought we lost it all forever," he said. "I told him we can rebuild. This was a good learning experience for him."
Eight people were injured in the tornadoes that struck a year ago.
The Dillers' farm was one of 25 the tornado hit, causing total devastation, Mercer County Farm Service Agency Director Michelle Stahl said in the past.
The tornado crossed into Ohio at St. Anthony Road, according to a National Weather Service report. It then traveled northeast for just more than eight miles before terminating in a wooded area north of Carmel Church Road and west of Now Road.
Land in the tornado's path exhibited damage consistent with winds of 60-100 mph, including scattered tree damage, significant damage or destruction of outbuildings and minor damage to well-built homes, the report stated.
The destruction was too much for some farming operations, as two have gone out of business, Stahl noted last week. Ones that remain open have been able "to rebuild, pick up and move and carry on with their livestock and farming operations," she said.
"It haunts you on occasion, but you've got to make the best of it," she added.
A second tornado hit Celina, coming off Grand Lake. When the warning sounded, Celina High School Cross Country Coach Dan Otten went into the basement and remembered the 2011 twister that just missed his house in the 100 block of South Vine Street.
This time, though, he wasn't so lucky. The tornado destroyed the nearby Wendy's sign, blowing parts of it into his home while also blowing shingles off the roof and tearing apart the porch, he recalled. Despite his losses, he said last week "life isn't about stuff."
"Stuff can be replaced. Life and relationships are what matter," he added.
His cross country runners were eager to help him clean up the mess, he recalled. After they were done, he said they helped clean up the neighboring properties and then went to join their classmates at a parking lot on Haveman Road picking up debris from businesses in the shopping district.
Robert Diller and Otten said they have always respected the power of God and nature, but Diller added, "I feel differently about storms now."
While Diller watched clips of Hurricane Michael that obliterated the Florida panhandle earlier this month, he could relate to their suffering, he said.
"You just feel for them because they lost everything. We were able to keep our house. But their whole neighborhood is gone," he said.
Tina Diller was amazed by how many people came to their aid and wanted to thank everyone for relieving the pain they felt. Otten felt the same way, saying, "The outpouring of thoughts, prayers, concern and assistance is godly and unbelievable."
"The greatest life change and positive taken from any of the tornado situation is that people are good," he added.