Tuesday, November 6th, 2018
Runners continue training after state postponement
Here we go again
By Colin Foster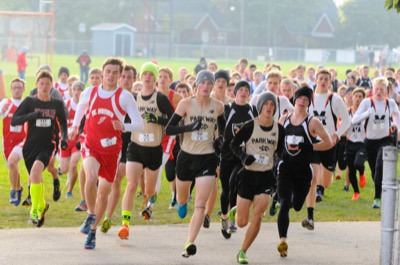 Rumors began to surface last week that National Trail Raceway in Hebron, site of the Ohio High School Athletic Association state cross country championships, was under water.
Despite treacherous course conditions, runners were preparing to race.
"If there was water on the course, a lot of our runners are swimmers, so I was planning on packing the goggles," Minster girls coach Jessie Magoto said. "I thought we would have a nice advantage if we would have to swim part of it."
"I thought they should have just changed it to a triathlon," Coldwater girls coach Pete Lisi said. "That was my first thought."
They never got to step foot on the course, however. Instead, runners were forced to wait a week.
The OHSAA announced days prior to the meet that it would be moved to this Saturday due to "flooding conditions on the course." The OHSAA received a number of complaints after the announcement, but the move was necessary without a backup plan in place.
"I know a lot of people had real complaints," Magoto said. "My response to that is if you don't like (the decision), then you should get on the board. I heard a lot of complaints, but it's hard to host that kind of meet. There are a lot of variables you have to consider. I guess I just go with the mindset of I know a lot of the people that make the decisions. They are good people. I think they were put in a tough situation and they did the best they could. Maybe after seeing this happen, they will have a backup plan in place for the future."
"It was probably a smart decision," Lisi added. "The racing conditions wouldn't have been ideal, especially if you want to figure out who the best runners are. I think they made the right choice after seeing the pictures. I also believe there should have been a backup venue, somewhere near, whether it be in Columbus, where they can find a similar course, or somewhere like Delaware, where they run the All-Ohio race. There could have been some backup plans made. But when it comes down to it everyone's going to get on that start line, everyone's going to race, and it's going to be about whoever has the best team."
Lisi said he thought the change in schedule would have an impact on runners.
"When it comes to your top-end athletes, I think that it does affect them physically," Lisi said. "But I think more than anything, it affects them mentally. They're getting ready emotionally, spiritually and physically to get on that line and run fast. Then you tell them you've got to stop. I'm a firm believer that you can only go to that well so many times in a year, and that can really mess with athletes."
Magoto said the postponement won't affect her team or how they prepare. Before the postponement, the Wildcats had been planning on competing in the Nike Cross Country Regionals Midwest Championships this Sunday in Terre Haute, Indiana. Minster will no longer travel to Terre Haute.
"It gave me a Saturday off, a Saturday to hang out," Magoto said. "That's really how we took it as. We all got a Saturday to relax. The girls are good. The girls are really good at adjusting. The primary concern was do we have a hotel booked, which we do.
"I just use it as a great teaching moment," she added. "We always talk about E + R = O (event + response = outcome), and so I just really tried to emphasize the 'R.' Everything is about how you respond to it. We're okay, honestly. Our girls were all going to run Nike Regional the next week, so they were planning on running another week anyways."
The Wildcats, led by defending individual state champion Emma Watcke, are seeking a third consecutive Division III team title. The Cavaliers, returning to state after a four-year absence, are eyeing a top-10 finish. Making the trip as individuals are Fort Recovery's Chloe Will, Parkway's Matt Gaerke and Kyle Roth and Minster's Luke Barga.
The Division III boys race takes place Saturday at 11 a.m. The Division III girls race will begin at 1:30 p.m.