Saturday, January 26th, 2019
Wildcats defeat Cardinals
By Dave Stilwell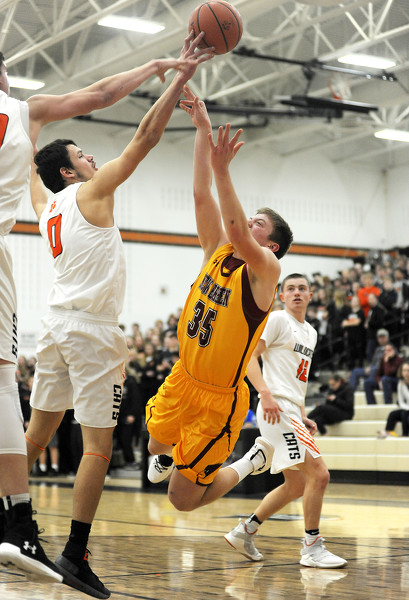 MINSTER - The annual Battle of State Route 66 featured a combined 45 personal fouls, but when the final whistle blew, Minster had hung on for a 61-48 victory over New Bremen Friday night at the Minster Middle School Gym.
While Minster battled foul problems all night, New Bremen struggled with its shooting, and in the end could not overcome an early Wildcat lead.
Minster's 6-9 senior Jarod Schulze scored the first three points of the game, while Mike Ketner hit a pair of treys to give the Wildcats a 19-8 lead at the end of the first quarter.
Minster's other post players - Cody Frericks and Justin Nixon - dominated the glass in the first half with a combined 11 offensive rebounds, allowing the Wildcats the opportunity for second-chance points and a 31-15 lead at halftime.
The Cardinals made just five field goals in the first half while shooting 20 percent from the floor.
"We didn't rebound very well in the first half and that was one of my worries," New Bremen coach Brad Francis said. "The other worry was shot selection, not necessarily making shots. I told the kids at halftime we didn't help ourselves by not knocking down shots in the first half."
Minster stretched its lead to 21 points, 46-25, late in the third quarter, but couldn't quite finish off the Cardinals.
Patrick Wells hit a 3-pointer to end the third quarter, and his Cardinals opened the fourth quarter with a 13-3 run to pull within nine at 49-40 with 3:47 left to play.
New Bremen shot 15 free throws in the fourth quarter but did not get closer than nine points.
Both Schulze and Frericks saw bench time in the first half with foul problems. Schulze picked up his fourth foul after playing just two possessions in the third quarter. He came back in early in the fourth, played one possession and promptly fouled-out going after a loose ball.
"I don't even think Jarod got to play much tonight, and there's not much I can say about that," Minster coach Michael McClurg said. "He'd get in, make a move, and the next thing I know there's a whistle.
"We got out to a nice lead and then just kept fouling them and putting them on the free throw line," McClurg added. "It seemed like we could never extend the lead."
But while the Wildcats lacked a knockout punch, the Cardinals never did warm up from the field. New Bremen finished 14 of 62 from the floor, which included a 3-of-22 effort from behind the 3-point line.
"We couldn't make a run at them," Francis said. "If we spurt six or eight at any point in the game, things might have been different. But I love how we fight and compete, and they're (Minster) pretty good. They're not the leading offensive rebounding team in the MAC for no reason."
Minster finished with a 47-33 edge on the boards. Frericks and Nixon pulled down 16 and 13 rebounds, respectively.
"Those Bremen guys battle," McClurg said. "They've got some hard working kids and they're coached very well. We knew they were going to keep fighting.
"It was a physical game and I thought we held our own," the Minster coach added. "The trouble was, a lot of our physical guys ended up on the bench with foul trouble."
Ketner finished with 22 points to lead all scorers. Jack Heitbrink was the only other Wildcat in double figures with 10.
Minster improved to 10-5 overall and hangs on to a share of first place in the Midwest Athletic Conference at 4-1. The Wildcats are back in action next Friday at Versailles.
Nolan Bornhorst paced the Cardinals with 14 points. New Bremen, 6-6 overall and 2-3 in the MAC, plays host to Jackson Center tonight.