Monday, February 11th, 2019
Making school less ruff
Bosa the therapy dog visits Celina students
By Sydney Albert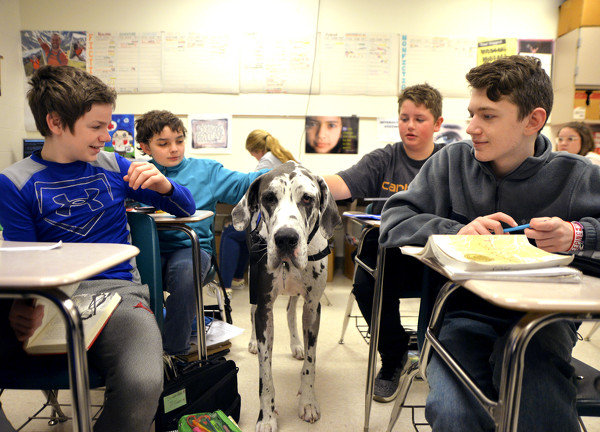 CELINA - Students at Celina Middle School are joined a few days a week by a four-legged friend who's almost as big as they are.
Bosa the therapy dog is a 3-year-old great Dane whom some school staff have described as more of a horse than a dog, but for the kids he visits, this gentle giant is hardly intimidating.
Jackie Mertz is an eighth-grade language arts teacher at the school and is also Bosa's owner and handler. Despite being one of the largest dog breeds, great Danes are commonly known to be lap dogs at heart, and Mertz said Bosa is no exception.
"As soon as we get home he's on either my lap or my husband's lap, and I call him Velcro dog because you can see as long as he's being touched, he's happy," Mertz said, petting Bosa as he leaned against her leg.
Bosa joins Mertz at the school on Tuesdays and Thursdays, visiting different classrooms and sitting in with Mertz's students when she has a class to teach. While the kids learn, they can touch and pet Bosa as he walks around the room - or, occasionally, as he tries to sit on a lap. Mertz even has a dog bed in her classroom for when he needs a rest - Bosa gets tired too, she said, and when he's on his "break," kids know to leave him be.
"I was afraid it'd be a distraction, but it's not. He just kind of goes up and down (the rows of desks) and the kids actually - I think they listen to me more when he's here," Mertz said laughing.
When Bosa goes to meet new kids, Mertz said she asks the kids beforehand if they have dog allergies and can steer Bosa away from them. So far, though, Mertz said she hasn't run into any allergy issues.
Staff have also come to visit her and Bosa to destress, particularly during the more stressful times of year. The beginning and end of a school year as well as the holidays can be stressful for both staff and students alike. Spending time with Bosa can help them decompress.
Bosa originally was not intended to be a therapy dog. Mertz has had several dogs throughout her life, including other big breeds such as English mastiffs. The idea to train Bosa as a therapy dog was first suggested when Mertz brought him in for a casual visit.
"We brought him in one day just to visit, and he was so good with some of the emotionally disturbed kids that my principal said, 'Have you ever thought of making him a therapy dog?' "
Bosa had a particularly good response from a girl who was largely nonverbal, Mertz said. She engaged with the great Dane, wanting to pet him and even wanted to talk to Mertz about him.
"It was just that reaching out that we don't always get from her," Mertz said.
She credits that early interaction between Bosa and the kids as the catalyst to train him as a therapy dog. Seeing how patient he was and how he reacted around the children was important, but the more she thought about it, the more his temperament seemed perfect for the job. She's had dogs all her life, but Mertz says Bosa has a special disposition.
Bosa had already received some training from Celina dog trainer Jackie Jutte, but she had to look into classes with the Miami Valley Pet Therapy Center for therapy dog training. The biggest thing Mertz learned as a therapy dog handler is how her focus must always be on her dog, watching how he reacts to things.
Each day of class offered something different that both she and Bosa had to learn about and were graded on. Mertz was graded for her control of her dog, while Bosa was graded on how he performed in certain situations. He not only had to be good around other dogs, but also had to be good at passing them by. He had to learn different commands and learn to pass up treats - a feat many dog owners could probably attest is not easy.
Though Mertz and Bosa started classes with 12 other handlers and their dogs, they were one of only six who graduated the class. He now wears a MVPTC vest when he visits the kids, and Mertz said he seems to know that when he's wearing the vest, he's working.
Michelle Noll, a Celina Middle School eighth-grader, said she isn't much of a reader, but when she has to do readings for Mertz's class, she likes reading with Bosa.
"He makes me a lot calmer. He makes me feel almost at home," Noll said.
In fact, Bosa and Mertz have inspired Noll to put her pug puppy Frankie into therapy dog training, too. Noll described Frankie as calm, good at training and a good listener. She said she loves children and so could see herself visiting a children's hospital with him someday.
"I've never really known what I wanted to do with my life when I get older, and now I think that would be incorporated," Noll said.