Tuesday, February 26th, 2019
Crown gives Tri Star $250K
By Tom Stankard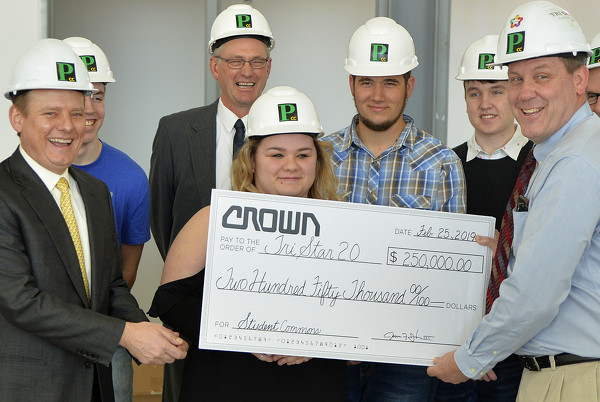 CELINA - Crown Equipment Corp. donated $250,000 to Tri Star Career Compact on Monday morning to help fund the school's new facility being built on State Route 703.
Crown president Jim Dicke III presented the gift to Tri Star Director Tim Buschur inside the facility.
Funds will be used for equipment and the student union and cafeteria, Buschur said. The space will feature multiple video screens and will also be used to host conferences and banquets.
Much work remains to be done, but construction remains on schedule, Buschur said.
"Every day we get phone calls asking how's it coming. We're right where we want to be and will be ready to go in August," he added.
"This is a very impressive facility," Dicke said during a tour.
Located on 15 acres of land across from Wright State University-Lake Campus, the $25 million center will span 100,000 square feet and house all 15 career programs under a single roof.
Students from nine school districts across Mercer and Auglaize counties attend Tri Star classes at the five current locations in the area.
Fanning-Howey Associates in Celina designed the building to resemble a corporate headquarters, not a school, "to make students excited about being here," Buschur has said.
Instead of brick or stone, the exterior is made of metal and glass to give it a modern look, Tri Star Assistant Director Brian Stetler has said. The building will have 19 classrooms and laboratories.
Support for the project has been "amazing," Buschur said. More than 79 percent of voters in Mercer County and 69 percent in Auglaize County passed a 15-year, 0.95-mill bond levy in August 2016 to help fund the project. The state will cover $8 million of the project with the levy funding the remaining $17 million.
"This shows that area businesses and residents saw the need to invest in Tri Star's future," Buschur added.
Dicke agreed, saying "we've been very pleased to support this effort."
"The community's really come together in supporting this project, (and) it supports a lot of different communities in the area," he added.
Not many young people are interested in manufacturing careers, said Randy Niekamp, Crown vice president of human resources. Buschur agreed, saying many companies have been calling him concerning the need to hire graduates.
Ensuring a bright future for Tri Star means Crown and other manufacturing businesses will continue to have a workforce, Niekamp said.
High school senior Hannah Taylor looks forward to taking welding classes next year.
"I like working with fire," she said, noting she is excited to enter the male-dominated field.