Wednesday, March 13th, 2019
Redskins pull away from Irish
St. Henry advances to play Jackson Center on Friday
By Colin Foster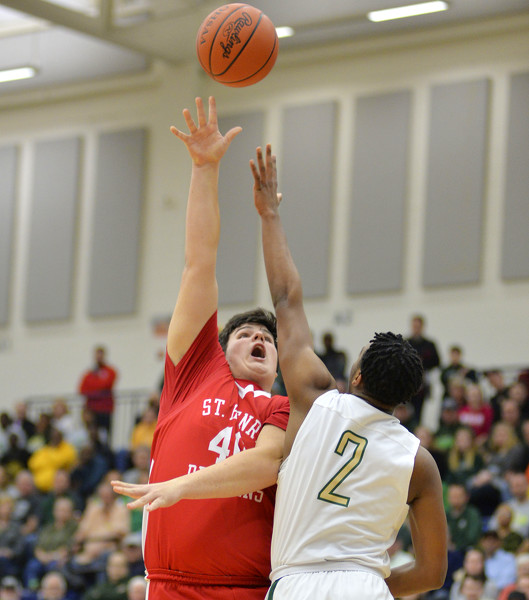 KETTERING - Halfway through the third quarter Tuesday night, St. Henry locked in defensively.
That allowed the Redskins to lock up a victory.
St. Henry and Springfield Catholic Central were leveled at 28-apiece with 4:30 remaining in the third quarter of the Division IV regional semifinal. The Redskins followed with a 15-0 run and went on to pick up a 54-36 win at Kettering Fairmont's Trent Arena.
"I'm just really proud of the third-quarter defensive effort after they scored eight points in the first 3 1/2 minutes of the second half," St. Henry coach Eric Rosenbeck said. "I think we really locked them down and blew the doors open. I'm proud of our mental toughness."
The Redskins will return to Kettering on Friday for a 7 p.m. matchup with Jackson Center, a 30-25 victor over Fort Loramie in Tuesday's opener.
The Irish (22-4) entered Tuesday's tilt averaging 56.2 points per game. The Redskins (23-3) hadn't allowed more than 47 points to any of their first three postseason opponents.
The first half featured five lead changes and two ties. Caden Niekamp's fadeaway shot to end the first quarter gave St. Henry a 9-8 lead. Ethan Thieman sank two 3-pointers to start the second and Andrew Lange added another as St. Henry opened up a 21-15 advantage midway through the quarter. SCC bridged the gap to 22-20 by halftime.
Early in the third quarter, Catholic Central's leading scorer, Sabien Doolittle, got consecutive baskets to fall to even the score at 28-all. Nearly 15 seconds later, Riley Link cashed a 3 on St. Henry's end and the 15-0 run ensued. Caden Niekamp scored the next four points and Thieman netted his third 3-ball to end the frame.
"It was a situation where we went zone two times in the third quarter and Doolittle just took us to school," Rosenbeck said. "So we went back to man, and we finally got some stops. It allowed us to get some run-outs and some transition baskets. Obviously, we have the Niekamp boys and we like to play around them, but we also like to run and give Thieman, Link, (Ben) Evers and (Jay) Knapke opportunities to get to the front of the rim and get open 3s. The stops defensively over the last four minutes of the third was the biggest key tonight."
Trey Dunn was the top scorer for the Irish with 11 points. Catholic Central, making a second straight regional appearance, finished 14 for 38 overall from the field, 1 for 9 from 3 and 7 for 18 from the foul line.
Thieman had a game-high 14 points for St. Henry. Caden Niekamp tallied 13 and Zach Niekamp 11. St. Henry was 18 for 33 overall shooting, 6 for 13 from long distance and 12 for 15 from the charity stripe.
St. Henry and Jackson Center scrimmaged during the preseason. The Redskins enter Friday's game on a 15-game winning streak. The Tigers opened the tournament trail with wins over Triad, Bradford, Russia and Franklin Monroe before knocking off Fort Loramie for a third time this season.
"We've set our goal high through the entire year to try and win the Asset tournament, the MAC championship and to do what our friends to the east, the Marion Local Flyers, did and try to be state champs," Rosenbeck said. "In order to do that, we've got to play a really tenacious and well-coached team in Jackson Center on Friday night.
"We're going to have to be mentally stronger than them," he added. "They're going to make us work. They're going to make us grind. They're going to make us dig in. Coach (Scott) Elchert runs one of the best programs in the entire state. He's one of the top 5-10 coaches in the state. They're going to know everything we're going to do. They're going to have a great game plan. We're going to have to be mentally stronger than them or they're going to get us."