Thursday, March 14th, 2019
Magoto to run for U.S. Military Academy
By Colin Foster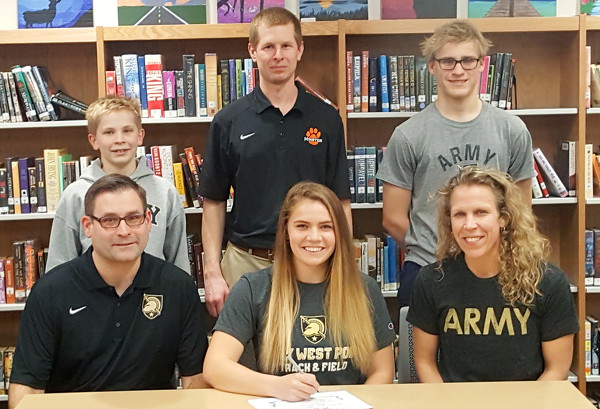 MINSTER - Madeline Magoto went through her mom Jessie's boot camp while running track and cross country for Minster High School.
The dual-sport standout will soon be going through real-life boot camp.
On Wednesday, Madeline Magoto, daughter of longtime running coach Jessie and Jeremy, signed to run cross country and track for the United States Military Academy at West Point.
"I'm definitely excited for the next level of training and competition," she said.
Magoto is considering studying political science and then pursuing law school. She chose Army over the United States Naval Academy and Yale.
"I ultimately decided I wanted a service academy," Magoto said. "I think it was mostly because I realized that I want to serve my country. I picked West Point over the Naval Academy because I had a better feel when I went there and I felt like I just connected more with the team, but I also really fell in love with the campus. It's just gorgeous out there. I love it."
The Cadets compete in the Patriot League. Recently, they had a second-place showing in the Patriot League Women's Indoor Track and Field championships. Magoto said she hopes to have a similar role for the Army that she does for Minster, specializing in the 800 and in relays.
In high school, Magoto has helped Minster capture back-to-back Division III cross country championships and a state title in track and field. She has also been a part of winning relay teams at state and has been an All-Ohioan multiple times in the 800. The Wildcats will look to repeat as Division III team champs this spring.
"I'm really hoping to maybe just take off a second or two in the 800," she said of her final season. "We'd also like to put together good 4x400 and 4x800 teams. I'm guessing those will be my three events. They have been for the past three years. I'm looking for a good season."