Friday, May 10th, 2019
Fitzgerald thrives at Montgomery Field
By Colin Foster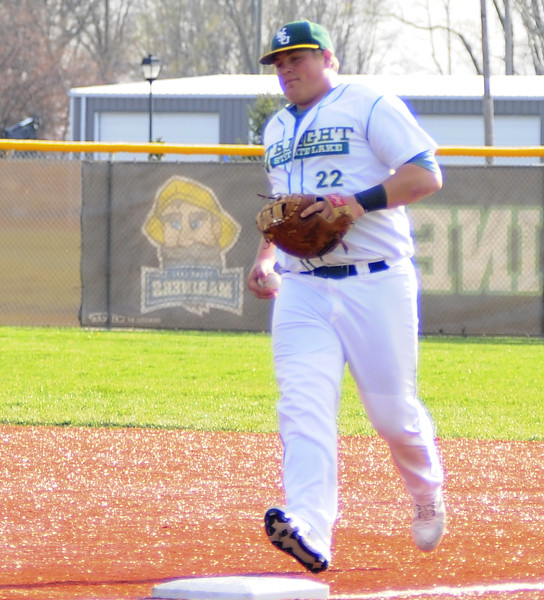 Montgomery Field was enemy turf for Isaac Fitzgerald in high school.
It's been home turf for the 2014 Western Buckeye League Baseball Player of the Year ever since he put on a Wright State University-Lake Campus uniform.
"I'm from St. Marys, so growing up I always used to hate Montgomery Field," he said. "It took me a little bit to start calling that home field."
He's had a lot of good games at Celina's ball field and several others while playing for the Lakers.
Fitzgerald chose to pursue a business degree at Lake Campus because it was close to home and affordable, he said. And after two straight seasons of earning All-WBL honors in high school, he wasn't ready to retire from baseball, either.
"(Baseball) was always a thought," he said. "I always thought I could do it. Once I went out here, I just figured I might as well give it a shot. It's been home ever since."
That was a smart decision.
The first baseman has been one of Lake's most consistent players during his four years. In his senior season, Fitzgerald is hitting .328 with five doubles and 21 RBIs.
Along with fellow seniors Connor Burr and Tyler Venters, the Lakers have made four straight trips to the United States Collegiate Athletic Association Small College World Series.
"At the start of every season, it's always the goal," Fitzgerald said. "It's always fun heading up and playing some extra baseball here in May. There's really no other atmosphere like it.
"The two other seniors have become great friends to me," he added. "I never thought I'd meet new people just going to Lake. I always thought it'd just be people from around here, but I'm very glad to have met these people."
Wright State University-Lake Campus earned the No. 4 seed in this year's tournament and will meet No. 5 Mississippi University for Women Monday on the campus of Penn State-DuBois.
The Lakers will look to atone from early exits in previous seasons.
"I think we have a pretty decent draw," Fitzgerald said. "Winning the first one is the important one. If we get that first one, the second one will be tougher.
"We've always been known for a slow start in the World Series, and I think it's partly due to the travel. But if we come out and win the first game, I think we're going to make some noise."
While in high school, he probably never envisioned being honored on College Senior Day at Montgomery Field like he was last Sunday. But Fitzgerald is proud to call it his home turf now. The people in St. Marys seem OK with that, too.
"It started growing on me," he said. "(Wright State University-Lake Campus Head Baseball Coach) Chad Geier and (assistant coach) John Bailey are great guys. And Bill Montgomery is one helluva dude. I think they taught me a lot more than I expected to learn.
"Just this past Sunday was our Senior Day, and I had old high school coaches, friends, a lot of them from St. Marys, just seeing them around town and asking me how I'm doing and how we're going to be this year. It's creating a little buzz. I think it's going to continue to grow."