Monday, May 13th, 2019
Honoring decades of serving
Coldwater Kiwanis have helped community for 50 years
By Sydney Albert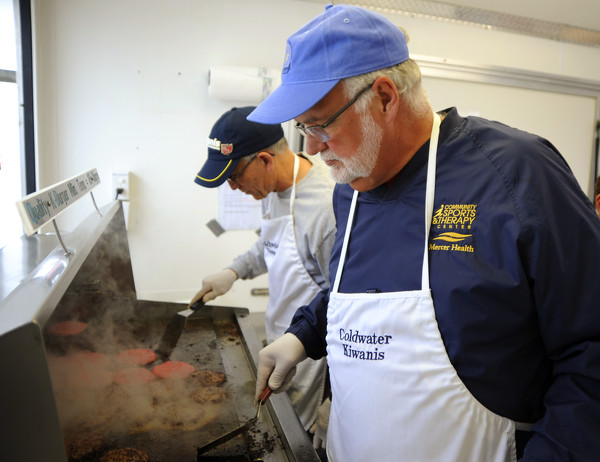 COLDWATER - This May marks the 50th anniversary of the Coldwater Kiwanis, an organization that has dedicated itself to serving both the local and worldwide community.
Members plan to continue their service as they celebrate their semicentennial throughout the year.
While the Coldwater branch was founded in 1969, the organization as a whole dates back even further. Mauri Cron, a past president of the Coldwater Kiwanis, said the Kiwanis were organized in 1915 in Detroit, and was originally a men's-only club focused on business networking. The name Kiwanis reportedly came from a Native American term which meant, "We trade."
The Kiwanis philosophy evolved over the years, however. It opened to women in 1987, and the Coldwater chapter's membership is mostly women. While the club can still be a way of networking, Cron said its main focus now is on children.
"Serving the children of the world, one child and one community at a time," he said.
Whether it's children in Haiti in need of new shoes or the children of Coldwater who need accessible parks or scholarships, club members have lived up to that philosophy.
"Some of our serious, very serious signature projects are pretty much focused on children," Cron continued.
Only last week, the Coldwater Kiwanis held their 40th Academic Achievement Banquet, which recognized 90 local children and awarded thousands of dollars through 91 scholarships, according to Cron. It was the largest such banquet yet, with 370 people attending.
The group has been instrumental in organizing events such as the annual Healthy Kids Day in Coldwater featuring free health screenings and family-friendly activities and helping with Missions in Motion: Shoes for Hope, which collects gently used shoes of all sizes and for all ages and donates them to people in Haiti. They have also become known for their "world-famous" K-Burgers, which are one of their biggest fundraisers.
As soon as members are accepted, they are assigned to a committee, which quickly gets them involved. On top of doing community service, the club can also be a way of learning about the community itself.
"One of the things that I think baffled me, (it) was indicated that we'd have a meeting every week, we'd have a meal every week, and we'd have a speaker every week," said Dean Schaller, one of two remaining charter members.
Schaller was sure they'd run out of speakers, but so far, that hasn't been the case. A diverse set of speakers has appeared during his time as a member.
"I've learned so much over the 50 years," he said.
Member Linda Eyink said the Kiwanis helped her better get to know the community and its members since she didn't grow up in Coldwater.
Current president Vicki Hoyng credited the club's success throughout the years to its dedicated members. Though the amount of time each member can dedicate to the club varies, all are passionate people eager to serve their community and who care about kids.
More events are being planned to celebrate the group's special anniversary, including a chili party, a wedding-style banquet and a family picnic. And, good news, K-Burger fans - every 50th K-Burger sold this year will be free!