Tuesday, May 14th, 2019
College Notes
Hellwarth heading to NAIA Nationals
By Gary R. Rasberry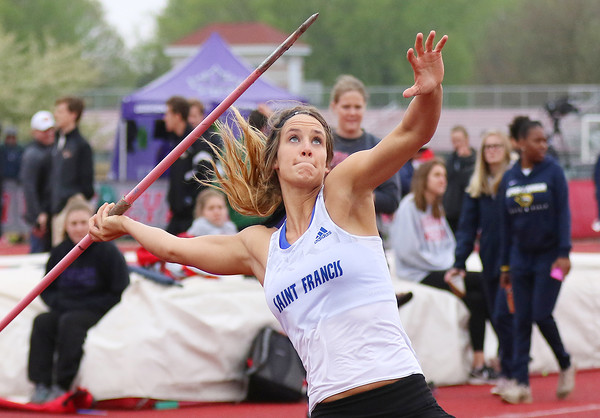 When she was a standout on the track for Parkway, Clista Hellwarth was known for her hurdling and jumping prowess, which got her recruited by the University of Saint Francis.
While at the Fort Wayne campus, Hellwarth discovered an event that she had been unable to perform in high school: the javelin.
It took some time, but the Cougars sophomore has become a top-notch javelin tosser.
Hellwarth won the Crossroads League championship when she posted a top effort - and league meet record - of 40.97 meters (134 feet, five inches and also earned an automatic spot at the NAIA National Outdoor Championships next week by surpassing the "A" distance of 40.50 meters that secures an automatic berth.
This past weekend at the Dr. Keeler Invitational at North Central College, Hellwarth broke her own record again with a throw of 41.42 meters (135-11).
Indiana Wesleyan, the host of the CL meet, won the women's team title, with IWU sophomore Paige Sutter playing a key part in that victory.
The Celina graduate won the shot put with a top effort of 13.42 meters (44- 1/2), which bettered the NAIA B distance and gave Sutter a provisional spot at the NAIA Championship. Sutter also placed third in the discus with a top effort of 40.27 meters (132-1) and was 11th in the hammer throw at 39.12 meters (128-4).
Coldwater graduate Tina Bruggeman also competed at the CL meet for Saint Francis, finishing 20th in the shot put.
The NAIA Championships begin May 23 in Gulf Shores, Alabama.
Kanney finishes strong
Ohio State senior Sarah Kanney (Coldwater) earned All-Big Ten honors with a seventh-place finish in the 3,000-meter steeplechase at the conference track meet at the University of Iowa on Saturday, helping the Buckeyes win the women's team title.
Kanney was as high as fourth place early in the seven-plus lap event before taking seventh with a time of 10:21.02. It was Kanney's personal-best time in the event and lowered her school record
Kanney also placed 29th in Sunday's running of the 5,000.
Wenning shines for Buffaloes
University of Colorado senior Michaela Wenning has been busy the past two weeks competing in the Pac-12 Outdoor Championships at Roy P. Drachman Stadium on the campus of the University of Arizona.
Last weekend, Wenning competed in the combined events competition in the heptathlon. Wenning finished fourth overall with a final score of 5,548 points, only 214 points behind winner Hannah Rusnak of Washington. Wenning's best event was the high jump, where she posted the best score among the competitors with a top leap of 5-7 1/4 (1.71 meters).
On Sunday, Wenning competed in both the long jump and the high jump. She finished 10th in the high jump after topping out at 1.61 meters (5-3 1/2) and placed 28th in the long jump with a top effort of 5.19 meters (17-1/2).
Heckman takes third at HL meet
Wright State senior Maria Heckman (Minster) placed third at the Horizon League Championship meet at Farmers National Bank Field in Youngstown.
Heckman posted the second-best effort with a vault of 3.75 meters (12-3 1/2). However, Heckman dropped to third because Youngstown State's Shelby Marken surpassed her based on making 12-3 1/2 on her first attempt as Heckman needed three attempts to clear the height.
Carr makes top eight
Eastern Michigan senior Bekah Carr (Celina) earned a point for the Eagles at the Mid-American Conference championships in the pole vault.
Carr topped out at 3.57 meters (11-8 1/2) to place eighth.
Trio of top 10s for Ross
Siena Heights freshman Tyler Ross (Celina) earned top-10 finishes in three throwing events at the Wolverine-Hoosier Athletic Conference meet held at Davenport University.
Ross earned a pair of fifth-place efforts in the shot put (47-3) and discus (144-9) while also taking ninth in the hammer throw 127-11.
Rasawehr third at MVC
Valparaiso junior Jake Rasawehr earned a spot on the podium with a strong showing at the Missouri Valley Conference championships held at Indiana State University this past weekend.
Rasawehr placed third in the discus with a top throw of 167-5. Rasawehr also placed 13th in the shot put (44-1 1/4) and 14th in the hammer throw (150-5).
WOMEN'S GOLF
The University of Findlay women's team will compete this week at the NCAA Division II National Tournament that starts today at the PGA National Resort at Palm Beach, Florida.
The Oilers, who won the Great Midwest Athletic Conference tournament, earned a trip to the nationals by winning the East Regional held last week at the Pearl Club in Owensboro, Kentucky. The Oilers shot a three-round total of 895 to advance.
Freshman Jill Schmitmeyer finished 29th overall in the individual standings with a score of 237 (77-77-83).
Junior Meredith Wipper, who has ties to Celina as her grandfather was Dr. Donald Fox, the longtime Mercer County coroner, won the G-MAC tournament and earned All-G-MAC honors.
Oilers coach and St. Marys native Dominic Guarnieri was named the G-MAC Coach of the Year.
BASEBALL
Lonsway earns conference honors
Ohio State redshirt freshman Seth Lonsway (Celina) had another solid game in the Buckeyes' 2-0 win in the first game of a Saturday doubleheader with Penn State at Bill Davis Stadium in Columbus.
Lonsway scattered five hits, walked one and struck out a collegiate-best 13 in eight innings of work. The performance earned Lonsway his second Big Ten Pitcher of the Week honor on the season.
The win improved Lonsway to 6-4 on the season. In 70 1/3 innings, the southpaw has struck out 96 batters.
The Buckeyes are currently 27-24 overall and 9-12 in the Big Ten, standing ninth.
After traveling to Youngstown State for a single game today, Ohio State wraps up the regular season with a three-game series at Purdue.
Wendel, Storm fall in G-MAC tourney
Cade Wendel (Fort Recovery) and Lake Erie College made a run in the G-MAC tournament before having their season end a couple wins short of the finals.
Last Friday, the Storm fell to Ohio Dominican 6-4 in the loser's bracket semifinal. Wendel pitched one inning in the game, allowing three hits and two runs (one earned) while striking out two and walking none. Tiffin went on to claim its first G-MAC tournament title with a 9-6 victory over Kentucky Wesleyan on Saturday.
Wendel finished his freshman season with a 8.78 ERA, 33 strikeouts and 22 walks in 27 2/3 innings. The Storm went 29-22 and 19-11 in conference play.
SOFTBALL
Muskingum's Hawk honored
Haley Hawk (Parkway) was awarded Ohio Athletic Conference Rookie of the Year after a sensational freshman season.
Hawk was voted first team All-OAC after leading the conference with 42 RBIs, ranking third in batting average (.438) and fourth in home runs (six).
Muskingum went 31-11 and 15-3 in OAC play. The team had its season end with a pair of losses in the conference tournament.
Hawk's former teammate, Alyx Slusher, finished up her sophomore year at Capital with a .390 average, 12 RBIs and two home runs, earning Honorable Mention All-OAC honors.
The Crusaders went 12-28 and 4-14 in conference play.