Wednesday, May 15th, 2019
7th-inning strike
Cardinals rally to stun Flyers; Wildcats roll
By Colin Foster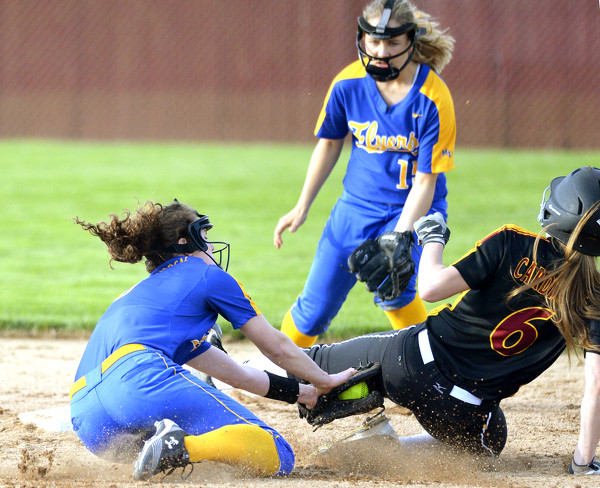 WAPAKONETA - New Bremen rallied past Marion Local with a seventh-inning strike.
Minster struck big in the first inning against Ridgemont. The game was over by the fifth.
With a 6-5 victory over Marion Local in the nightcap of the Wapakoneta doubleheader, New Bremen advanced to the Division IV district championship against Minster, a 15-3 run-rule victor over Ridgemont in the opener.
Round 2 of this season's Battle of Route 66 will be held at 5 p.m. Friday in Wapak. The Wildcats won Round 1 by a score of 13-1 on April 18 in New Bremen.
The Cardinals won their seventh straight contest Tuesday, improving to 19-7. The top-ranked Wildcats enter Friday's contest with a record of 25-1.
"Minster's obviously a good team. Everyone knows it," New Bremen coach Elly Puthoff said. "We're going to play our game. I told the girls one game at a time. We're going to prepare ourselves for the next game over the next couple of days. Obviously nothing is impossible. So we'll see."
New Bremen 6,
Marion Local 5
A seventh-inning comeback for New Bremen seemed impossible Tuesday night.
The Cardinals trailed 5-2 entering their last at-bat and were two outs away from going home a loser.
Then the hits started falling.
After Ashton Heitkamp and Erin Smith hit consecutive one-out singles, Taylor Paul smacked a two-run triple off the center field fence. Then Abbi Thieman hit a ground ball to Marion Local shortstop Rachel Partington, who looked at Paul leaning off of third, glanced to first and then threw home when she saw Paul running.
Paul was thrown out. And New Bremen was down to its final out.
But the Cardinals extended the inning as Hanna Tenkman delivered a single up the middle. Thieman beat a throw to third on the hit and Tenkman slid to second on the play. Kelly Naylor was intentionally walked, which brought Molly Smith to the plate. Smith's hard-hit ball to the shortstop was booted, allowing the final runs to score.
"I told the girls before our final at-bat, I said 'This could be the end of us or this could be the beginning,' " Puthoff said. "The girls just kind of took it from there and started hitting. I think they just timed her up and it just fell together."
"They just started hitting the ball," Marion Local coach Jerry Moeller said. "They found some gaps. They timed (Ashlyn Bohman). That error at the end, that one hopper, nine times out of 10 she fields it. Rough break."
New Bremen claimed a 1-0 advantage in the third inning. Paul led off with a bunt single and then stole second. Thieman followed with a base hit. Paul stopped at third on the single and Thieman continued running to second. When Thieman got caught in a pickle, Paul sprinted home for the go-ahead run.
"Taylor Paul had an amazing game tonight," Puthoff said. "She had an outstanding catch in right field. She had a bunt down the third baseline. Then she had the crucial hit in the seventh."
Through four innings, Marion Local had one hit against New Bremen pitcher Molly Smith and struck out six times. In the fifth, the Flyers had five straight two-out hits to plate four runs.
Ava Rose and Allyson Franck began the rally with singles. Emily Nietfeld knotted the score with another single. Sam Pierron contributed a two-run triple and then Partington added an RBI hit.
The Cardinals' Ashton Heitkamp and Erin Smith had back-to-back singles in the home fifth. But Heitkamp's pinch runner, Emma Keller, was cut down at home on a catch and throw from the right fielder Rose. Ashlyn Bohman finished the inning with a strikeout.
Marion Local plated another run in the sixth. Bohman slapped an inning-opening triple down the right field line. Later, Hailey Wilker's groundout made it 5-1.
Hanna Tenkman scored for New Bremen in the sixth. She led off with a base hit, moved to second on a wild pitch and then to third on a groundout by Molly Smith. Tenkman made it home on an error.
New Bremen had seven hits over the final three innings, sending Marion Local to just its second loss in eight games.
Paul finished 2 for 3 with a pair of RBIs. Tenkman, Heitkamp and Erin Smith all added two hits for New Bremen. Erin Smith pitched scoreless seventh to earn the victory.
Partington was the lone Flyer with multiple hits, finishing 2 for 4 with an RBI. Bohman struck out two and walked one in 6 2/3 innings for Marion, which finishes the season 11-13.
"They never gave up," Moeller said. "All year, they battled back. I'm very proud with how they finished the season. Six out of eight (wins) I think it was. What else can you say?"
Minster 15,
Ridgemont 3 (5 innings)
Jenna Poeppleman collected three hits.
And her pitches were unhittable.
Poeppelman went 3 for 3 with a home run and four RBIs while also pitching three perfect innings to lead the way for Minster.
Eight of the 14 players who came to the plate had at least one hit for the Wildcats, who have now outscored opponents 288-55 this season.
"We faced (state-ranked) Greenville on Saturday. They had a little bit of a faster pitcher (than Ridgemont)," Minster coach Robb Hemmelgarn said. "She was accurate. She got the ball where we wanted it. She just hit it in our zone. Our girls were patient. They were disciplined. And I thought they responded how they should respond. They hit the ball well tonight."
Minster hung a seven-spot on the scoreboard in the first inning. Karly Richard was hit by a pitch to lead off the game. Taylor Homan scored Richard with a single - and the flood gates opened. Poeppelman had a run-producing single, Kaitlyn Wolf roped an RBI triple and then scored on a wild pitch. Lindsey Albers followed with the Wildcats' third triple and trekked home on a single by Emily Stubbs. Laney Hemmelgarn added an RBI groundout, Mara Schmiesing delivered Minster's sixth hit of the inning and plated the seventh run when Ridgemont committed an error.
Homan started inning No. 2 with a single, her second hit of the night. Then Poeppelman added her second hit - a two-run homer over the 230-foot marker in straightaway center.
In the third inning, Poeppelman's RBI single scored Danielle Barhorst after she reached on an error, sending the game into run-rule territory officially. Minster stretched its lead to 12-0 on RBIs by Wolf (fielder's choice) and Albers (double).
Poeppelman threw three perfect innings to start the contest, striking out six of the nine she faced. She was pulled in the fourth.
"Her perfect game doesn't mean as much to me as keeping her health intact," coach Hemmelgarn said. "I've seen weird things happen. I don't need a ball off the facemask. We're just playing conservative. She's a great pitcher, and we need to keep everyone's health intact."
Laney Hemmelgarn allowed the Golden Gophers' first hit to Emma Smith in the fourth. Ridgemont went on to plate a pair of runs a bases-loaded walk and wild pitch.
Hemmelgarn and Schmiesing had back-to-back singles in the fourth. A fielder's choice by Alexis Bishop put Minster on the board again. An error on the play allowed a second run to come home. Brynn Oldiges capped Minster's scoring with an RBI single.
Ridgemont's Brooke Nelson had an RBI double off Rachael Hoying in the fifth.
Homan went 3 for 3 with three runs scored and an RBI while Albers, Stubbs and Schmiesing all collected two hits for the Wildcats.