Saturday, June 8th, 2019
Wildcats fall in pitchers' duel
Luikart outlasts Brown as Hillsdale snaps Minster's 12-game winning streak
By Colin Foster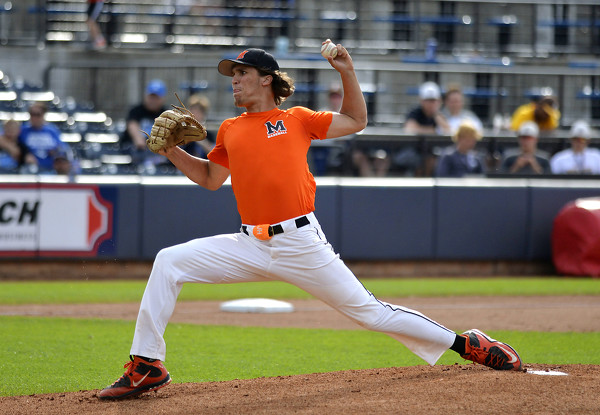 AKRON - Minster made its fifth OHSAA State Baseball Final Four appearance Friday at a new venue: Canal Park, home of the Cleveland Indians' Double-A affiliate Akron RubberDucks.
The Wildcats left too many ducks on the pond in this one.
Jeromesville Hillsdale left-hander Jay Luikart - a Wright State commit - got out of a bases-loaded jam in the fourth, the Falcons scratched across one run in the second and held on for a 1-0 victory in the Division IV state semifinal.
Hillsdale will return Sunday at 1 p.m. to play for its first state baseball championship against Toronto, an 8-0 winner over Antwerp in the nightcap. Minster finishes the year 22-8.
"We've been here enough times in this game, playing in the month of June," Minster coach Mike Wiss said. "Not a lot of people get to do that. We got a lot out of this group. I'm proud of them."
Friday's start was pushed from 4 p.m. to 6:05 p.m. after Cleveland St. Ignatius defeated Hilliard Darby 4-3 in a 13-inning marathon to advance to the Division I final. Once the Division IV players took the field, fans saw a pitching showcase by Luikart and Minster's Austin Brown.
Luikart struck out nine, walked three, gave up just two hits and had a pitch count of 91 over seven innings. Brown fanned five, walked three, allowed three hits and threw just 87 pitches in his complete-game effort.
"Both pitchers pitched ahead all day," Wiss said. "Pitching ahead after that two-hour wait for the first game. Gutsy performances. As an ex-pitcher, that's gutsy. That's something as a coach, you love to see that competitive edge."
Briar Funk had the game's first hit with a leadoff single in the Falcons' second-inning at-bat. A walk to Ty Williams was followed by Garrett Crites' sacrifice bunt. Evan Rottman hit a fly ball deep enough to center that scored Funk for the only run.
Luikart allowed a walk to Noah Enneking in the first inning but retired the next eight batters. Enneking got Minster's first hit with a single up the middle to start inning No. 4. After Enneking's single, Luikart struck out Minster's No. 3 and 4 hitters, Jack Heitbrink and August Boehnlein, before walking Brown and Trent Roetgerman. But Luikart rung up Adam Ketner with the bases loaded to end the threat.
An inning later, Jacob Niemeyer led off with an infield single. He moved to third on a sac bunt and then a fly ball. Enneking had a chance to bring home the tying run but grounded out to third.
Luikart didn't allow a baserunner over the next two innings. He struck out the first two batters of the seventh and then forced a game-ending pop up, improving to 11-1 this season.
"We did what we had to do to get here," Wiss said. "We hit the ball at times when we needed our offense. The 1-nothing game in the regional final was good for us to teach us about a one-run game and how to win it. Honest to God, today we just ran into a pretty good lefty. They ran into a pretty good lefty, too, to stop their .390 batting average. But a single, walk, sacrifice, sacrifice, and you're going home. It happens that fast in baseball."
Minster, 10-7 midway through the season, had a 12-game winning streak snapped while making its second trip to state in a three-year stretch.
"Jackson Hogenkamp battled for 21 months, and that hit us in the middle of the year," Wiss said. "Those guys from back home know that. It was tough on everybody, tough on the community of Minster. We're a pretty tight-knit bunch. Jackson was a sophomore, and we had to battle through that. A lot of that ended up being psychology, as you can imagine it being with high school kids. But we didn't let that tear us down. I think we made that into something that brought us together better. That's a credit to those 22 kids in uniform, a credit to our coaching staff and to these fans from Minster who came today. They battled. It was a tough year, but it was also a great year."