Monday, June 10th, 2019
2019 Division III State Baseball Championship
Cavaliers in Seventh Heaven
Coldwater defeats Ridgewood 1-0 for seventh state title behind Wenning's gem
By Colin Foster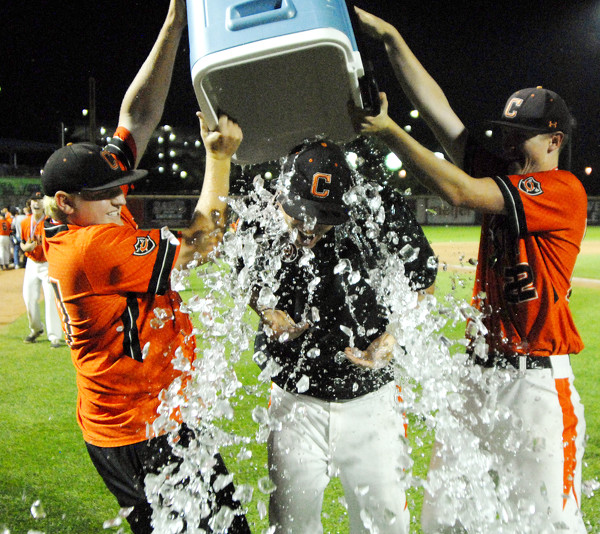 AKRON - Jake Hemmelgarn was Coldwater's bat boy for many great seasons.
Last night, that same kid - now a junior in high school - had the most clutch at-bat in the state final.
Hemmelgarn hit an RBI single to score Jake Wenning in the fourth, Wenning pitched a complete-game four-hitter - and the Cavaliers won their seventh state championship with a 1-0 victory over Ridgewood in OHSAA Division III State Championship Sunday night at Akron's Canal Park.
"I was a (bat boy) for a really long time. I can't even remember when I started," Hemmelgarn said. "To just be able to come out here myself and win it with a bunch of my friends, it's awesome."
Coldwater left the field of Columbus' Huntington Park in disappointment after last year's state final loss to South Range. It was a much different feeling in Akron.
The Cavaliers dog-piled near the mound as Queen's "We Are The Champions" played over the loud speakers. Head Coach Brian Harlamert received an ice cooler shower, and Coldwater readied for the long-awaited celebration at home that likely rolled into the dusk hours.
"The last class told us probably a day after we lost to South Range last year, 'Guys, it'll feel so much better if we came out on top in our last game,' " Wenning said. "Our motto this whole year has been finish strong. I think this whole group of guys really came together with our one main goal to come out of here in Akron with a win. We did just that."
Ridgewood fans were ready to pop after Chase Minet led off the seventh inning with a single and moved to second on a sacrifice bunt. But Wenning snagged a line drive off the bat of Connor Kunze - the potential game-tying hit - and flipped to second to double up Minet for the final outs.
"They got a great bunt down, and Jake kept his calm again," said Harlamert, who picked up his second title as a coach. "He's a shortstop by trade, fields the bunt and gets him out. He gets the ball right back on that hit, catches it - and boom. Double play."
The Generals had four hits through three innings. With one out and runners on second and first in the opening inning, Wenning forced back-to-back pop-outs. With identical circumstances for the Generals an inning later, Hemmelgarn fielded a ball at shortstop, stepped on second base and threw to first for a double play. Koleten Smith hit a one-out single in the third but was thrown out trying to steal on a dart from Coldwater catcher Austin Riethman. In the fourth, right fielder Josh Hrycko had a diving catch to prevent another Ridgewood leadoff hit.
Coldwater was held hitless over the first three innings by Koelten Smith. Wenning got the Cavaliers in the hit column with a one-out single in the fourth. After Noah Miller's ground ball put Wenning on second, Hemmelgarn hit a live-drive single to center for the game's only run.
"It was my second at-bat, so I kind of knew what I was looking for," Hemmelgarn said. "I was just looking to get a good first pitch, just stay back on it, hit it hard in play and just see what happens. (Wenning) did a good job busting home and getting us that run."
Wenning had retired 13 straight batters prior to Minet's seventh-inning single. He struck out three and walked one, improving to 11-2.
"After the first three innings, I really dialed in," Wenning said. "All my pitches were feeling really good."
Hemmelgarn had three RBIs in the state tournament for Coldwater, which finishes with a 27-6 record. Zack McKibben went 1 for 2 with two stolen bases in Sunday's win.
The seven seniors - Wenning, Riethman, Cole Frilling, Payton Goodwin, Mitch Niekamp, Alex Wourms and Grant Meyer - went out winners as Coldwater made its OHSAA-record 21st state appearance. The Cavaliers also won titles in 1983, 1984, 1987, 1990, 1992 and 2014.
"It's just special for all of us," Harlamert said. "I'm just a person calling some shots. It's a team effort. It's a staff effort. It's a program effort."
Harlamert was especially appreciative of the effort by his former bat boy.
"He believes in what he's doing," said Harlamert, whose assistant coach is Jake's dad, Jason Hemmelgarn. "Jake was a little bat boy. Now he's a big junior and ready to be a senior. He's been around a lot of baseball with his dad, his brother (Jack) and me. It's just satisfying for those guys and all of our guys to win state championships."