Saturday, June 15th, 2019
100-year-old Celina native recalls rich life
By Leslie Gartrell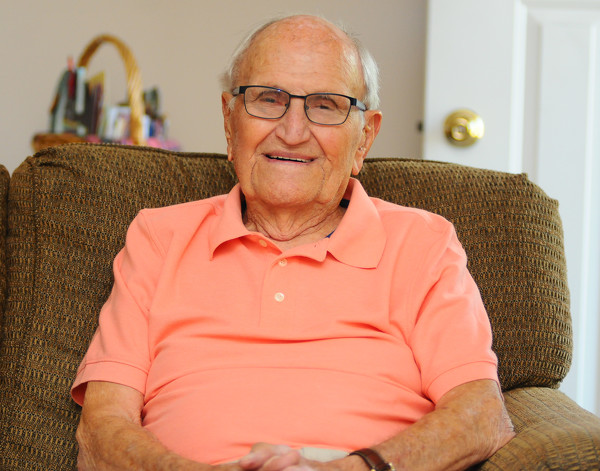 CELINA - Clarence Niblick has a lot to look back on and celebrate as he prepares to turn 100 today.
The Celina native, now living in Florida, is a 1937 graduate of Immaculate Conception School, a World War II Marine Corps veteran, a devout Catholic and an incredibly grateful man.
Niblick was born June 16, 1919, to John and Anna Lichtle Niblick and is one of five siblings. After graduating high school, Niblick recalls heading out to Washington with a friend to pick apples for work. Job pickings were slim, so apple picking seemed like the next best step, he said.
Apple picking, though, didn't prove to be lucrative. So Niblick started his trek back to Celina by catching Chicago-bound freight trains.
He recalled strapping himself to the top of trains for hours at a time and getting covered in soot. He then would run away from the guards who would try to catch and arrest him before clambering back on board to start the process all over again. After reaching Chicago, Niblick made his journey to Celina by hitchhiking.
"I've done a lot of things that most people my age wouldn't even have the chance to do," he said. "I appreciate that I got to go through that and live through it and be as healthy as I am today."
Niblick enlisted in the army during World War II but couldn't serve because of a hernia. He wanted to serve so badly he had surgery to correct it, and afterwards he saw a Marine Corps officer in his blues and decided to join the Marines.
The centenarian served in New Zealand, Guadalcanal, Samoa the Philippines and beyond. Niblick recalled doing office work and was thankful that he never had to pick up a gun during the war. His brother, John Jr., was killed when stationed aboard the USS Plymouth, which was hit by an enemy U-boat.
Niblick after World War II was briefly stationed at the Marine Corps Logistics Base in Barstow, California, and was discharged at the rank of staff sergeant.
He started his own business, C.E. Niblick Construction, which he still is a part of to this day. He can still be found busily working away in his woodworking shop and helping out with projects.
Niblick has a handful of memories he will never forget, such as the perfect bowling game he won in an Elks Lodge tournament many years ago. He also remembers bringing the famous jazz dummer Gene Krupa a fifth of whiskey and sitting with him, though he didn't drink much (if at all).
Although he sometimes wonders where the years have gone, Niblick says he's nothing but thankful for the life that he's lived so far.
"I'm happy with what I've done. I'm happy about everything that's ever happened to me," he said. "I think that's why I've got the life that I've lived. I think you make yourself accustomed to what you do and how you want to live your life."
Niblick said the source of his longevity might be his gratitude and his strong work ethic, but attributes most of it to "the big boy upstairs."
"Somebody was patting me on the back. Somebody was helping me" he said, laughing and adding he's predicted to live another 29 years.
More than anything, Niblick believes people have to love what they do, be thankful for the life they have and work to make their life and the lives of the people around them better. He added that he never hated anyone or fought - it would take up too much time and energy, and who wants that?
Niblick is looking forward to his centenarian celebration with friends and family today. After a private reception, visitors are welcome to attend an open house from 2-5 p.m. at the Eagles Lodge on Grade Lake, 1400 E. Market St., Celina.
"Boy, I'll tell you," he said. "Life is just beautiful."

Open house:
What: Clarence Niblick's 100th birthday celebration
Where: Celina Eagles Lodge, 1400 E. Market St.
When: 2-5 p.m.