Tuesday, July 9th, 2019
St. Marys City Council approves rezoning
By Sydney Albert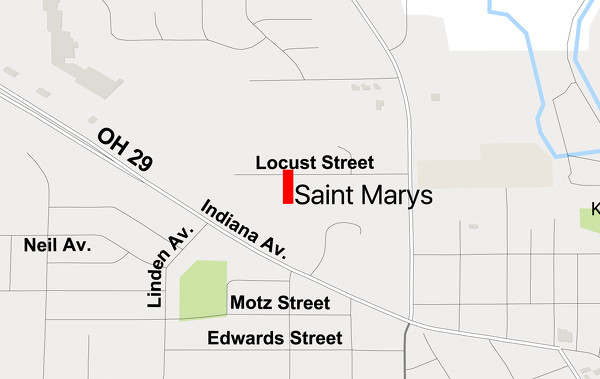 ST. MARYS - Council members voted 6-1 on Monday to approve the controversial rezoning of a 1.605-acre parcel of land that will accommodate construction of four multifamily residential buildings.
The ordinance was brought back for consideration by council member Ken Koverman, a motion seconded by John Bubp. In the final vote, council member Dan Uhlenhake was the only person to vote against the ordinance, which had also received a split vote of 3-2 from the city's planning commission.
Planning commissioners who'd voted against the request had two main concerns, according to public service and safety director Greg Foxhoven - traffic congestion and street width. Those concerns had been echoed by several citizens who voiced their opposition to the proposed construction plans and rezoning on Monday night and at council's June 24 meeting.
Several people were concerned with the extra traffic, but the widening of Sturgeon Street proved to be an especially testy subject. Chris Haskens, who lives on the corner of Locust and Sturgeon streets, said at the June 24 meeting that he would have issues getting into and out of his garage if the road were widened to the proposed 24 feet. His home was built in the 1910s, before St. Marys had zoning laws, according to city law director Kraig Noble. The plat for his property shows the front of his house and garage are almost directly on the property line.
Haskens spoke on the issue again Monday, noting that even if the road were built behind his home, he would lose several trees, which are the only sources of shade on his property. He questioned why a new street couldn't be constructed using the two empty lots next to his home.
Rodney Kiefer, the developer of the proposed duplexes, said he'd bought the properties and had plans to build homes on them and was trying to work with Haskens to improve his situation. He said if the road were built behind Hasken's house rather than in front of it, he would lose some land on the empty lots he'd bought. This meant he would need to pay for new blueprints, which represented a financial sacrifice on his part.
It wasn't his fault Sturgeon Street was platted the way it was, Kiefer continued. He also said the argument over whether the current street should be widened or whether a new street should be built behind Hasken's property was unrelated to the zoning request. Whether council members voted to keep the parcel zoned as a single-family residential space or changed it to multifamily residential, he still planned to develop the site, Kiefer said.
In other business, four residents of Scott Street appeared before council to oppose another zoning change.
Theresa Hays was concerned the Tri Star building, located behind her property, would be zoned as industrial and could mean a factory could move into her backyard once the new Tri Star 2.0 facility opens this coming school year. She said she had called the city's engineering department two years ago, prior to starting a $50,000 project on her property that included installing an in-ground pool.
She wanted to know then if the property could be zoned as industrial and sold once the new Tri Star building was created. Hayes reportedly was told it couldn't be zoned as industrial due to her backyard being fewer than 50 feet away.
She's gotten used to the noise coming from the Tri Star building, both from the announcements and the machines, but she said she couldn't get accustomed to having a factory in that same space. She supports the town and the schools, but she was concerned about the traffic and the potential pollutants that could seep into her pool.
Hays presented council members with a copy of a petition she'd gotten from other concerned residents on her street and said she'd attend the next school board and planning commission meetings to discuss other possible uses for the property.
Council members also,
• read resolutions expressing appreciation from the city of Celina for mutual-aid assistance received from St. Marys after the Memorial Day tornado.
• passed an emergency ordinance authorizing the execution of the Prairie State Replacement Power Schedule with American Municipal Power Inc.
• gave second reading of an ordinance adjusting oversize and overweight vehicle operation permits.
• gave first reading of an ordinance proposing a 31.586-acre parcel of land recently annexed into the city north of McKinley Road be zoned as industrial.