Wednesday, August 14th, 2019
Kids might build the next R2D2
By Leslie Gartrell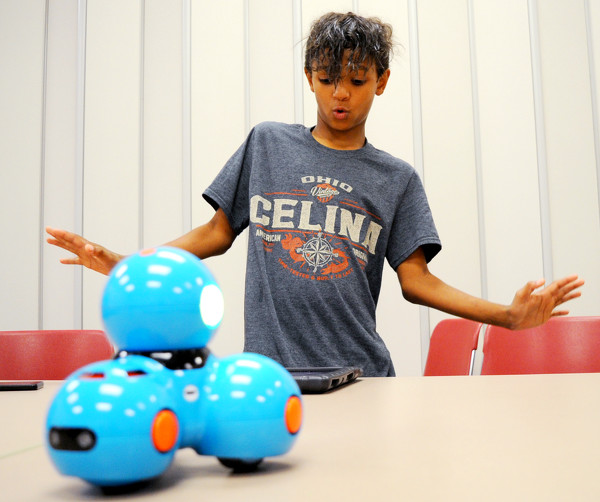 ST. MARYS - Two friendly robots appeared at the St. Marys Community Public Library on Monday to teach kids of all ages about coding and robotics.
Dash and Dot are small but powerful robots that help bring coding to life by turning virtual code into tangible learning experiences. The robots operate through apps that can be used to program them.
The tiny bots can be programmed to do all sorts of tricks, from something as simple as lighting up to interacting and responding to their surroundings, said technology coordinator Angie Karen. For example, tiny Dot can be programmed to blink its robot eye and portray storybook characters, while the bigger Dash can be programmed to play tag and sing.
The library is a part of the Northwest Regional Library System, which gives it the opportunity to rent out kits, such as Dash and Dot, for public use. Dash and Dot appeared as part of the library's Make-it Mondays series. August has been designated as technology month.
Participants are encouraged to have fun using the power of STEAM (science, technology, engineering, art and math) at the library in August to gain a better understanding of technology advancements. The library offers STEAM-focused, hands-on, do-it-yourself projects such as 3-D printing, coding, website design, sustainability and robotics.
While some activities may appeal more to kids, Karen said that adults are encouraged to visit if they see something in which they're interested. The addition of art to create STEAM - which was originally STEM - is a recent and essential addition, she added.
"I think art is a very important part of technology and engineering," said Karen. "More and more, STEAM is being promoted because there might be jobs in 20 years that don't even exist right now."
Karen said another goal of the technology Make-it Mondays is to help bridge the digital divide between those who have ready access to computers and the internet and those who do not. It does so by increasing digital literacy opportunities in the community.
Fast, reliable internet service has become essential for everything from doing homework to finding a job. However, according to a Pew Research Center survey conducted in early 2018, 24% of rural adults say access to high-speed internet is a major problem in their local communities. An additional 34% of rural residents see this as a minor problem, meaning that roughly six in 10 rural Americans (58%) believe access to high-speed internet is a problem in their area.
Karen said the library has lots of free tools for those looking to explore technologies. The library has a 3-D printer on loan from the Northwest Regional Library System, and the library has plans for new kits for next month.
The library also has access to websites such as Lynda.com, which offers courses on topics such as web development, design, software development, business and photography, Karen added.
For more information, visit the library at 140 S. Chestnut St., call 419-394-7471 or visit stmarys.lib.oh.us.