Friday, September 6th, 2019
Happy homecoming
'Dogs win their 1st match in Celina
By Gary R. Rasberry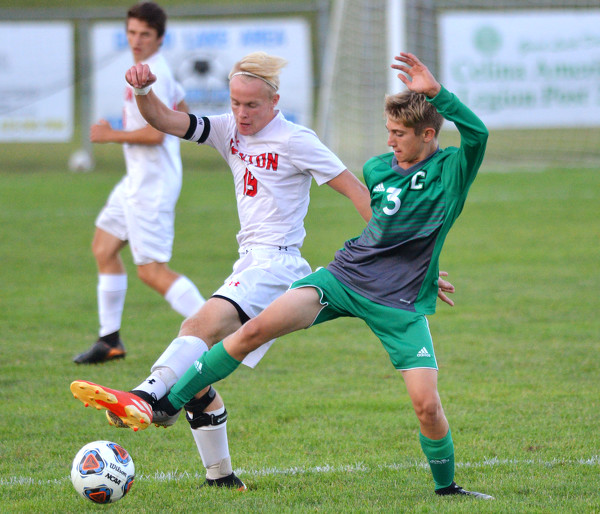 CELINA - Be it ever over humble, there's no place like home.
After playing the first five matches of the season away from home, Celina's boys soccer team played its first match at the soccer stadium against defending WBL champion Kenton, a team that defeated Celina twice last season by a total margin of 9-1.
The Bulldogs came up with their best game of the season, shutting down the Wildcats and taking advantage on one Kenton error to get the 1-0 victory on Thursday night.
It's the second straight shutout win for the Bulldogs (4-2-0, 1-1-0 WBL), something that coach Ryan Jenkins was happy to see after the team allowed six goals last Thursday to Shawnee in the league opener.
"We challenged the defense (after) Shawnee." said Jenkins. "They stepped up tonight.
"We played a good, tough game tonight. We're going to have some tired sore guys tomorrow (at practice). We'll have to go light at practice."
The teams played aggressively throughout the game with plenty of pressure down in the goal areas. Celina outshot Kenton 6-4.
After 40 minutes of scoreless play, the teams kept the pace going in the second half. Celina had a chance to break the shutout with just under 37 minutes remaining in the match when a ball got past Kenton keeper Brent Rader, but the official blew the whistle and signaled that Celina was offsides, negating the goal.
Eight minutes later, the Bulldogs caught a break. A booming kick from midfield went into the penalty area. Players from both teams went up for the ball, which deflected off the head of a Kenton player and went into the back of the net with 28:51 remaining to give Celina the lead.
"We played a dangerous ball. They deflected it and it happened to go into the back of the net," said Jenkins. "You get into a mix like this and you don't know what'll happen. We were fortunate."
Kenton tried everything possible to get an equalizer, but Celina's defense held tough, with the Wildcats' best chance coming with 14 minutes remaining when a shot deflected off the side pipe of the goal.
Celina keeper Dalton Leiss finished with one save. Rader had three saves.
"Down the stretch, Kenton kept pushing and we kept battling," said Jenkins. "We had guys that were cramping up and we were moving guys around. Guys stepped up and played different positions and we were able to keep the (shutout)."
Kenton won the junior varsity match 4-0.
The Bulldogs return to action Saturday as they host Greenville. The JV match starts at 10 a.m. with the varsity to follow.