Wednesday, September 11th, 2019
Roughriders roll to 5-0 rout of Cougars
By Colin Foster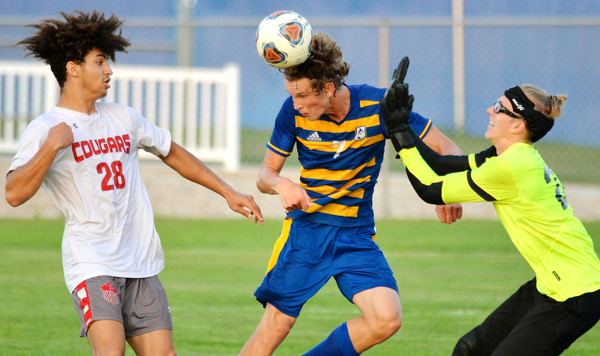 St. Marys - The future of St. Marys boys soccer was recognized Tuesday as "Youth Night" was held when the Blue and Gold met Van Wert at Roughrider Field.
And the high school players showed the youngsters what Roughrider soccer is all about.
St. Marys scored early and often, improving to 2-1-3 overall and 2-0-1 in league play with a 5-0 victory over Van Wert in WBL action.
The Roughrider pep band was on hand, youth players escorted starters to their positions during introductions and the kiddos showcased their skills at halftime as part of the Youth Night festivities.
The high school team put on a clinic, too.
St. Marys had 16 shots on goal compared with Van Wert's five. The Roughriders had a total of 43 shots in the vicinity of the goal - many of which missed high or wide and a few that pinged off the crossbar.
"If (the kids) watched the game, they probably saw a good show," St. Marys coach Josh Hertenstein said.
"We talk to the young kids a lot," he added. "We talk to our players about being a big brother and being good to the youth and being leaders."
St. Marys had several early opportunities either turned away by Van Wert keeper Taylor Springer, sail high or wide of goal. The ball soon found its way into the net, though.
Roughrider senior Gavin Engel battled for possession with two Cougar defenders inside the goal box, and the ball squirted past Springer for a 1-0 advantage with 22:13 left in the half.
For the next 10 or so minutes, St. Marys continued to pepper the goal but to no avail. All that peppering soon paid off.
Joey Vanderhorst sent a shot home off an assist from Justin Grannan with just over seven minutes to play. Then with 1:51 remaining in the half, Kyle Steininger connected off a crosser from Spencer Trogdlon.
With just under 14 minutes left in the contest, Max Mielke buried a shot off feeds by Andrew Ibrahim and Adam Tobin. Nearly four minutes later, Andy Vogel cashed a right-footed shot from 20 yards deep off an assist from Austin Hertenstein.
"We moved the ball very well. We'd been struggling to do that," coach Hertenstein said. "We've been working on trying to move the ball horizontally. At halftime, we had to tell them to stop moving the ball horizontally and start going vertical at the goal. … But that was our goal coming in, to work on that. We knew tonight would be a good opportunity to work on stuff. They did well."
St. Marys starting goalie Correy Nelson finished with three saves. Trey Leatherman added his first two varsity saves in relief duties for the Riders, who host Shawnee on Monday.
"We front-loaded our season with tough games to get ready for league play," coach Hertenstein said. "I think we're ready for league play. We've got a big one against Shawnee coming up."