Saturday, October 5th, 2019
Cavs run past Cards
By Gary R. Rasberry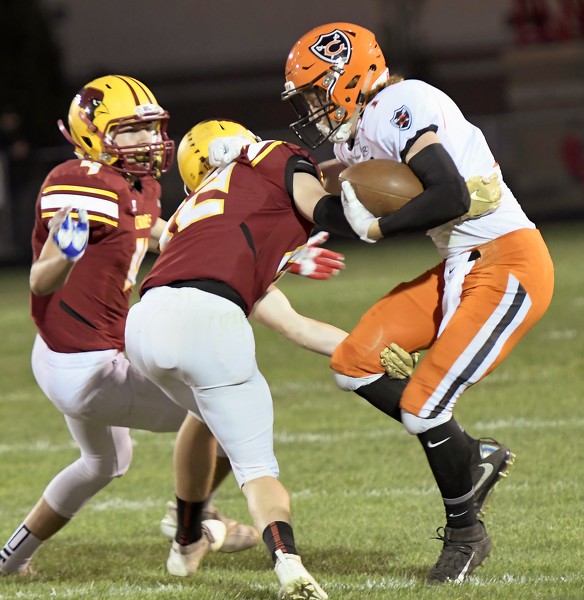 NEW BREMEN - New Bremen and Coldwater played scrappy football for 48 minutes on Friday night.
The Cardinals played the Cavaliers tough, but Coldwater was able to pull away for a 42-16 victory at Cardinals Stadium to improve to 6-0 and 4-0 in the Midwest Athletic Conference.
The Cavaliers led 7-0 after one quarter as the Cardinals played solid defense to prevent the big-play scores Coldwater is known for. New Bremen stopped two Coldwater drives on fourth-down plays.
"They do some plays on defense that's a little different," said Coldwater coach Chip Otten. "It's hard to figure out sometimes."
The Cardinals tried to get back slowly, starting the second quarter scoring with an Owen Gabel 30-yard field goal to cut the Coldwater margin to 7-3. The Cardinals got the ball back when Coldwater missed on a fourth-and-10 from the Cardinal 25-yard line, but the Cavalier defense stepped up and forced a three-and-out with the punt going to the Cav 39. After Jake Hemmelgarn hit Zack McKibben for a seven yard pass, Hemmelgarn broke free and outran the Cardinal defense for a 54-yard scoring run to push the lead to 14-3 with 5:42 left in the half.
On the Cardinals' ensuing possession, quarterback Mitchell Hays looked for a long pass. Instead, Coldwater's Will Broering snagged the interception and got the Cavaliers set up at Cardinal 45. Six plays later, Hemmelgarn ran in from 11 yards out with 2:22 remaining to raise the lead to 21-3 at halftime
"Overall, I was really pleased how our defense competed throughout the night," said Cardinals coach Chris Schmidt. "It was one of those things where we tried to limit big plays as much as possible and make them have to drive. For the most part, I thought we did that, but credit to (Coldwater). They were able to drive and put them in."
Coldwater took the opening drive of the second half and drove 55 yards on 10 plays with Broering snagging an eight-yard scoring pass from Hemmelgarn to make it 28-3. New Bremen, through, was not conceding. Hays broke free on a running play and sprinted 66 yards to keep the Cardinals in business trailing 28-10.
But Coldwater began to chew up yards and eat away at the game clock, going 11 plays for 52 yards on the next drive. Hemmelgarn found Ross Weigel for a two-yard pass to make the score 35-10 After the Cardinals turned the ball over on downs, the Cavaliers wrapped up their scoring with a six-yard strike from Hemmelgarn to Weigel to make it 42-10 and triggering the running clock.
Undaunted, New Bremen drove 75 yards on 11 plays as the clock ticked down. Hays found Patrick Wells for an eight-yard score as time expired.
"I think we can take a lot of good things away from playing a good Coldwater team," said Schmidt.
"I think we missed some opportunities when we had short fields to get some points and weren't able to do it. Credit to Coldwater's staff and their kids on defense. They made it tough to put together positive plays consistently."
Otten tipped his cap to the Cardinals.
"Coach Schmidt's got them going," said Otten. "They're playing hard and tough. They have some good parts. Would love to see them make the playoffs."
Hemmelgarn was 24-of-37 for 295 yards with three touchdowns passing and added 109 yards on the ground and two scores. Six different receivers had receptions with Weigel snagging six catches for 71 yards and two scores. Broering had 74 yards and Noah Miller added 76 yards.
"We're spreading the wealth, and of course, Jake can run," said Otten. "That's been our mode: spread it out and get it to other guys."
Hays rushed for 159 yards. Zach Bertke finished with 64 yards on the ground.
Coldwater returns home to take on St. John's next Friday. New Bremen hits the road to face Parkway.