Monday, November 4th, 2019
2019 State Cross Country Championships
Lucky No. 13
Minster wins 4th straight crown and 13th all-time; Runners earn All-Ohio
By Dave Stilwell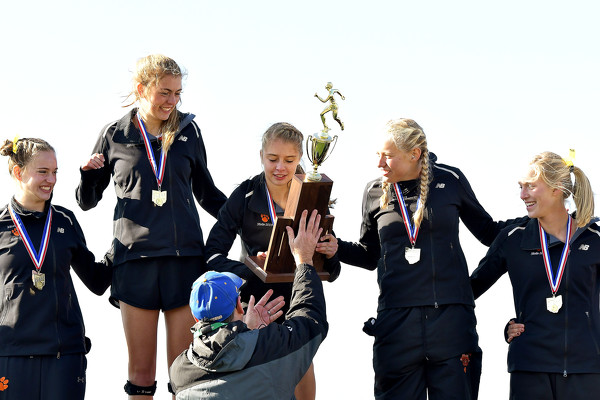 HEBRON - Walking up to the podium, Minster girls cross country coach Jessie Magoto wasn't exactly sure what place her team officially finished in. But at that moment, it really didn't matter.
"No matter where we end up, I'm proud of my girls," she said. "They feed off each other, they love to compete, and they're just great kids."
The Wildcats did indeed land the top spot on the podium with 79 points, edging out West Liberty Salem by 10 points and Fort Loramie by 11, to claim their fourth consecutive Division III State Championship and 13th overall.
"No matter what we do, I don't want these girls to just be judged on winning," Magoto added. "The older I get, the more emotional I get about that. Kids get a lot of pressure to go out there and win, and I want them to go after it and leave it out there, but they're champions no matter what."
The Minster girls were one of three area teams competing at the state meet Saturday at National Trail Raceway just east of Columbus. Celina finished 19th in the Division II girls race, while the Minster boys captured 16th place in Division III.
Junior Ella Boate and freshman Taylor Roth paced the Wildcat girls with All-Ohio (top 20) performances. Boate finished 10th overall and fifth in the team race with a time of 18:58. Roth was 17th overall at 19:09.
Mason Pohl and Mackenzie Bohman kept each other company for most of the race, finishing 18th and 19th, respectively in the team standings. Cameo Cedarleaf also scored for the Wildcats in 28th place. Rachel Kitzmiller (41st) and Emma Meyer (62nd) rounded the Minster field.
Describing this year's squad as "young and goofy" Magoto said each of her teams have a unique personality.
"There's so many stories behind each team and each season," she said. "This team is young and fun. They're great kids that like to get out there and compete, but I literally have to tell them 'Don't look at the butterflies. Just focus and run.' "
The 13th cross country title will add some more fine print to the Minster "state champions" sign at the edge of town. The school now owns a remarkable 37 state team trophies.
"It's all about consistency in everything we do," said Magoto, explaining her team's annual trip to the state meet. "Our philosophy is get out there and compete like crazy. Be ridiculously faithful to everything and everyone on your team. Put it out there and you're always going to be a winner no matter what."
The girls Division III race Saturday featured two other area runners who qualified as individuals. Coldwater sophomore Haley Alig turned in an All-Ohio performance as she finished 15th overall in 19:06. An appendectomy kept Alig from running with her team at the state meet last year.
"It was a goal last year (to get on the podium) and that didn't happen, so it was something to shoot for this year and I'm really happy it worked out the way it did," Alig said. "I got boxed in at the beginning so my times were a little slow at the first mile, but other than that it seemed like a really good race."
St. Henry freshman Leah Heitkamp also competed as an individual, finishing 84th overall in 20:44.
After grabbing the final qualifying spot at the girls Division II regional last week, Celina coach Dan Otten had some measured goals heading into the state meet. And despite the 19th-place finish, there were bright spots.
"Well, we beat Shawnee. That was our first goal," Otten said. "We finished second to them at the WBL meet and they beat us last week at the regional."
The Bulldogs finished with 391 points, well ahead of the Indians, who finished 20th with 417.
Freshman Kaylie Dameron led the way for the Bulldogs, finishing 39th overall and 25th in the team standings with a time of 19:28. Caleigh Ross and Jocelyn Dameron cracked the top 60 in 57th and 59th places, respectively.
Zoey Aukerman and Rose Kramer contributed to the Celina score, while Kyleah Giesige and Dianne Daniel rounded out the field.
"Our senior, Caleigh Ross, it wasn't her best time today, but probably her best race ever," Otten said. "They all competed well, but I thought they were kind of nervous. We've been in big meets before, but this is another level. The times weren't as good as last week, but that's OK, the course is not as fast as last week.
"We had two amazing group races at WBL and regional to get here, and today wasn't much off of that. It's just that everybody else is very good," said Otten, who added that the five underclassmen on his squad will benefit from the experience.
"The experience at a state meet is invaluable," he said. "You learn so much from the first time you compete here to the next."
Minster boys coach Larry Topp had hoped to crack the top 10 in the team standings. The 16th-place finish was a little shy of the goal, but sophomore Alex Albers did make the top 10 in the individual standings. Albers earned All-Ohio honors with a 10th-place finish in 16:24.
"Team-wise I think the course ran slow today, so I will take that into account," Topp said. "We took a bunch of kids that had a dream to get here and we got here. We fell a little short on our team goal, but the guys put forth a helluva effort. Making All-Ohio, that was Alex's goal, and having a sophomore standing on the podium is awesome."
Summit Country Day won the tightly contested boys D-III race with 96 points. Minster tallied 353.
Luke Barga was the second Wildcat across the finish line, taking 47th in the team standings. Austin Felice was 80th, with Brock Schulte, Joseph Slonkosky, Tyler Prenger and Joel Berelsman rounding out the field.
"This was a great experience for us," Topp added. "This group has been really close. They came together to form a team that could get here. At the beginning of the year, I would have given them an outside chance at best, but by the middle of the year I started seeing it, and it was a great season for them."
Two other Midwest Athletic Conference runners competed as individuals in the boys race. Parkway senior Kyle Roth turned in a solid performance by placing 32nd overall in 16:50. Coldwater junior Isaac Schoen was 74th in 17:25.