Saturday, November 30th, 2019
Homeless at holidays
Coalition strives to help those in need
By Leslie Gartrell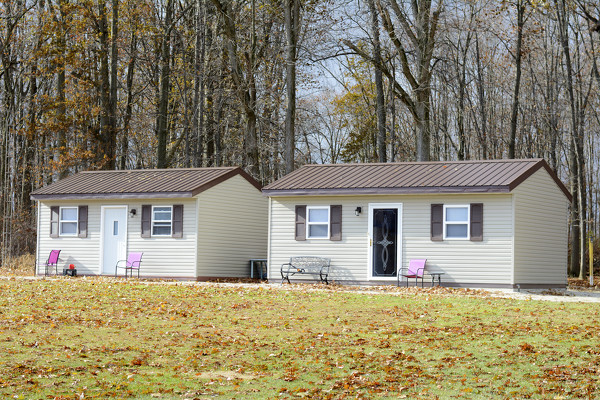 CELINA - Homelessness in Mercer County looks different from homelessness in a big city. In fact, it doesn't make a large impression at all.
Survey results posted on cohhio.org/boscoc and based on a count by state government officials in January of this year showed no individuals or households were counted as homeless.
However, the count surveys only people experiencing homelessness in the streets or in dedicated shelters. People who stay with friends or relatives, sleep in their car or jump from couch to couch aren't included.
So while homelessness might be out of sight to Mercer County residents, the problem is present and persistent, Pastor Rick Brosher of Lord's Abounding Grace Church in Celina said.
Brosher has been housing transients in three cabins on the grounds behind the church since 2015. The wait list is never-ending, he said. The pastor gets an average of three calls a week and had received five calls for help by Wednesday this week.
The pastor has been the go-to resource for numerous groups such as local law enforcement agencies, Foundations Behavioral Health Services and Mercer County Job & Family Services.
The cabins have hosted 32 individuals and 19 families, 95 people in total, over the course of four years. Brosher estimates roughly 50-75 people are homeless in Mercer County at any given time. In the summer, he said people will stay in tents on the grounds or sleep in their cars.
The family-style cabin is 280 square feet, while the single cabins are 140 square feet - enough for a bedroom, small kitchen and a tiny living space. Bathrooms and laundry facilities are nearby.
Transients must follow guidelines set by Brosher to stay. People who stay in the cabins have to save at least 50% of their income to put toward a new place to live, attend a church of their choosing and work on financial budgeting with Brosher's wife, Trish.
"It's a hand up, not a handout," Brosher said.
Grand Lake United Methodist Church pastor Mick Whistler said many displaced people hide their struggles out of shame or fear of losing custody of their children. Mercer County residents are kind, yet proud, pull-yourself-up-by-the-bootstraps folk who are hesitant to ask for help, he explained.
"It could be anyone," Whistler added, saying a missed payment, an unexpected medical emergency or a struggle with drugs or alcohol can derail plans and leave people without a home.
Brosher said events outside people's control can also leave them at risk. He recalled an elderly woman, probably in her 70s, who used one of the cabins a couple of years ago. She had stumbled into homelessness after her landlord sold the building in which she lived to a new owner who forced residents to leave to tear down the structure.
The pastors said local residents can be wary of others who are experiencing homelessness. A stigma persists that homeless people are lazy, unwilling to work and looking for handouts. The assumption that poor people do not work is widespread across America.
According to a 2016 survey conducted by the American Enterprise Institute, nearly two-thirds of respondents think most poor people do not hold a steady job. In reality, that year most non-disabled working-age adults were part of the labor force.
Brosher said all his residents have jobs or are actively seeking work. With the lowest unemployment rate in the state, the pastor said jobs, decent paying ones at that, are not a barrier for those experiencing homelessness.
So while some may believe jobs are the solution to poverty, clocking in somewhere, anywhere, and logging as many hours as possible won't lift displaced Mercer County residents out of homelessness, he said.
The major hurdle local homeless people face is housing availability, said real estate agents and Mercer County Homeless Coalition members Deb Borns and Shawn Dues. The two said affordable housing is sorely lacking, with limited availability, long wait lists and ever-increasing deposit requirements that can be difficult to afford.
Even when rental properties become available, landlords often don't want to rent to people with a criminal history, prior evictions or other housing infractions or are recovering addicts, said coalition member and Grand Lake United Methodist Church associate pastor Diane Mendelson.
Brosher added that several past cabin residents saved enough money to move on to a home of their own but still had to stay in the cabins for months because they couldn't find a place to live. And as the weather grows colder, housing becomes more vital.
According to the National Coalition for the Homeless, 700 people experiencing or at risk of homelessness are killed from hypothermia annually in the United States. And hypothermia - or subnormal temperature in the body - remains a leading, critical and preventable cause of injury and death among those experiencing homelessness.
Coalition members said they have no need for items such as coats, scarves and other winter weather wear at this time. What they need is housing.
The coalition is asking citizens to help house transients before the weather takes a turn for the worse. Any kind of structure that could be used as-is or could even be retrofitted to make short-term housing would help address the immediate need of homeless people in Mercer County.
The group is also accepting monetary donations, which can be made to the Mercer County Civic Foundation to the care of the Mercer County Homeless Coalition, or to Grand Lake United Methodist Church.