Monday, December 2nd, 2019
OHSAA Division VII State Football Semifinal
Feelin' it
Flyers rout Patriots, advance to 9th straight title game
By Colin Foster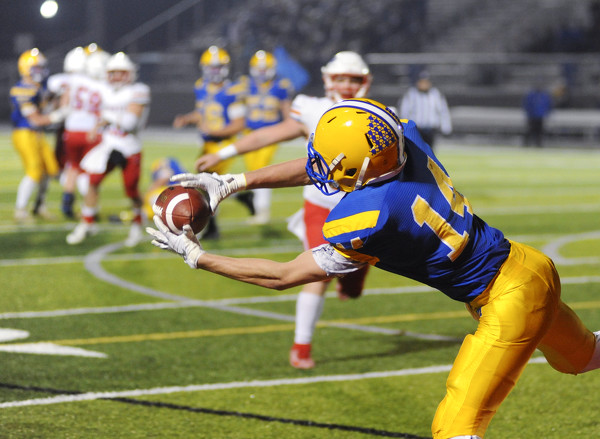 LIMA - The Marion Local coaching staff felt out Patrick Henry early in Saturday's OHSAA Division VII State Semifinal. 
"We ran some motions just to see what they were going to do, and Brian Wolters, one of our assistant coaches, he shows me on the iPad and says 'This is there. This is there,' " Marion Local coach Tim Goodwin explained. "We're doing that every week. It's nothing new. It's just some weeks it works, and other weeks you're like 'Oh, crap.' "
Just about everything worked for the Flyers in this one.
Marion Local rode big plays to a big victory over Patrick Henry, winning 40-6 at Lima's Spartan Stadium to earn a ninth straight trip to the state championship game. 
Not bad for a team that replaced 81% of its starters from last year's state run, eh?
"We talk to the seniors every year about protecting the tradition and so forth," Goodwin said. "They take it personally. They don't want to let this program down. They've done a great job. 
"It's special every time," he added. "Every team's different. Every team has a different personality. This team really has a good attitude. I mean, all of our teams do, but some are a little better than others. I just feel like this team has been beat a couple of times, we've been down. Fort Loramie almost had us beat, but we just kept fighting. It's fun to coach kids like that."
The Flyers will meet the Lucas Cubs in next Saturday's 10 a.m. state final at Canton's Tom Benson Hall of Fame Stadium. The Cubs staged an 80-yard game-winning drive to knock off Harvest Prep 15-12 at DeSales. 
This marked the fourth time in four years Marion defeated Patrick Henry, which now includes two state semifinal games. The Flyers won those games by a combined margin of 149-20.
Charles Huelsman, Kyle Muhlenkamp and Peyton Otte were big-play machines on Saturday. 
Huelsman had what is believed to be a Flyer single-game receiving record with seven catches for 250 yards to go along with three touchdowns. Muhlenkamp fed him all of those passes and finished 10-of-12 for 289 yards. Otte had a 97-yard touchdown run in the first quarter, added another score later and accounted for 141 yards of total offense. 
"We're always poking and prodding, trying to find something," Goodwin said. "That's the thing about playing in our league: when the other team throws out a defense, they usually have 11 good players. Sometimes you get in the playoffs and that's not the case. Sometimes you can find something that you can poke a little harder." 
The teams traded punts on their opening possessions. A 61-yard punt by Patrick Henry's T.J. Rhamy pinned Marion Local at its own 3-yard line. The Flyers needed only one play to score. 
Otte took the opening handoff off the edge, broke one tackle and then turned on the afterburners for a 97-yard touchdown. 
Marion Local's next scoring drive took double the time as its previous (two plays). 
The Huelsman-Muhlenkamp combination provided a big play this time. Muhlenkamp's favorite target was left wide open over the middle, and the QB hit Huelsman in stride for a 71-yard touchdown. A good extra point by Alex Klosterman made it 13-0 with 5:13 left in the first quarter. 
They had a lot of big plays left, too. 
The Patriots drove inside the Flyer 25 on their next series. However, Rhamy took a shot at the end zone and it went right into the hands of Otte, who made his third interception of the season. 
The Flyers followed with a seven-play, 80-yard drive, which was capped by Brandon Fleck's 4-yard scoring plunge. 
Fleck coughed up the football on Marion's next possession and PH recovered at the Flyer 36. Rhamy followed with a 20-yard run, but Huelsman had a diving interception to halt the drive at the 8.
On Marion's first offensive snap, Muhlenkamp faked a handoff and delivered a deep ball on the money to Huelsman, who shook his defender at midfield and was gone for a 92-yard touchdown. 
Later, Huelsman completed the first-half hat trick with a 13-yard diving TD catch for a 33-0 lead. 
"It was huge getting ahead like we did because their offense is pretty good," Goodwin said. "They moved the ball on us quite a bit, actually. So, us getting ahead made things a lot easier." 
By halftime Huelsman had six catches for 239 yards.His quarterback completed 9-of-11 pass attempts for 278 yards.  
After PH's opening drive of the second half stalled on four downs, Marion Local went on an 11-play, 45-yard touchdown drive. Otte scored his second touchdown, taking a 9-yard pitch to the house with 2:07 remaining in the third quarter. 
The Patriots avoided a shutout as Rhamy had a 4-yard touchdown run with 7:39 to play. 
Marion Local finished with a 478-223 advantage in total yards.

Tickets For Sale:
Marion Local has 1,000 paper tickets to sell for Saturday's 10 a.m. game against Lucas at Tom Benson Hall of Fame Stadium in Canton. The Flyers will be the visiting team.
All tickets are $11 presale. All seats are general admission. Tickets can also be purchased online at the OHSAA website. Find Marion Local under the football page, and use the code OHSAA10 so Marion Local gets credit for the sale. There is no sir charge for the state tickets. These tickets will appear to be $15. Using the OHSAA 10 code will drop the price to $11. All tickets at the gate are $17.
Tickets will be sold at school as follows:
• Monday 7:30 p.m. to 9 p.m. in the high school library
• Tuesday 8 a.m. to 3 p.m. in the high school office and 7 p.m. to 8:30 p.m. by the high school library
• Wednesday 8 a.m. to 3 p.m. in the high school office and 7 p.m. to 8:30 p.m. in the high school library
• Thursday  8 a.m. to 3 p.m. in the high school office
- No tickets will be sold after 3 p.m. on Thursday.