Wednesday, December 4th, 2019
Winning recipe
Flyers improve to 4-0 with win over Cougars
By Colin Foster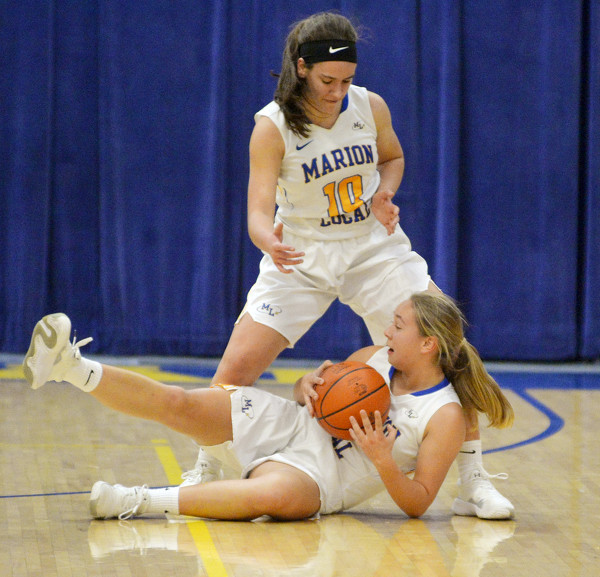 MARIA STEIN - The Marion Local girls basketball team has found a winning recipe on its way to an unbeaten start.
"We're attributing it to our defense and rebounding - offensive rebounding was big for us tonight," said Marion Local coach Beth Streib after her team's 44-28 victory over Van Wert at the Hangar. "We've really focused on those two things right now. I think we've outrebounded our opponents and held them to 30s or below in every game."
Heidi Rethman scored a game-high 15 points with Alana Pohlman contributing 10 points and eight rebounds as the Flyers fought off a scrappy Cougar team in improving to 4-0 on Tuesday.
Marion Local  had its 6-0 run midway through the first quarter answered by Van Wert, with a late jumper by Kyra Welsch making it 9-8 after one.
The Cougars scored the first points of quarter two. The Flyers scored the next 10. Rethman had the first five with a 3-pointers and a jump shot. Pohlman added four points and Brooke Homan converted 1-of-2 free throws. Marion didn't commit a turnover in the frame while forcing six on Van Wert.
Pohlman led all scorers at halftime with nine points. Rethman added eight as the Flyers gained a 20-13 advantage.
"We feel like we typically have a mismatch inside with Alana," Streib said. "Even if she's not going to shoot, she's going to draw a lot of attention if she gets the ball inside. Heidi hasn't shot the ball real well from the outside, so tonight it was good to see her hit some outside shots. That also opens things up inside for our post players, too. When she got going, she definitely carried us there for a little bit offensively."
Rethman began the third quarter with a 3 and Sammy Hoelscher made a bucket as Marion's lead reached double digits for the first time. It remained a double-digit lead until Van Wert began to cause problems with its full-court pressure. Back-to-back buckets late in the quarter by Caylee Phillips helped cut the Cougars' deficit to 32-23.
A triple by Jaylyn Rickard made it a five-point game with 6 minutes left. However, Homan scored four points as part of an 11-0 Marion run that closed out the game.
Hoelscher added nine points and Homan tallied a game-high 10 rebounds for Marion Local, which made 17-of-44 shots and won the board battle 40-20 - with 16 of those coming on the offensive glass. Van Wert made just 12-of-44 shots.
"It was ugly on offense at times tonight, but if we can continue to find a way to play good defense it's going to keep us in games," Streib said.
"These girls play hard and play well together," the coach added. "We're not super deep off the bench. Our opponents, give them all the credit - they've pushed us to the limit every game. But we've found a way to push through."
The Flyers will look for their fifth straight win when they open MAC play at home against New Knoxville on Thursday.