Friday, January 10th, 2020
Deadly roads: More people killed in area crashes in 2019
Mercer County records 10 fatalities; Auglaize, five
By Sydney Albert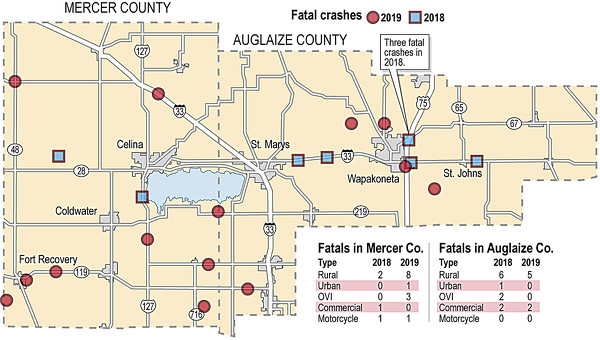 A spike in fatal crashes in Mercer County led to an increase in traffic deaths in the two-county Grand Lake area in 2019.
Ten people died in nine traffic accidents in Mercer County in 2019, a significant increase from 2018, when the county had just two fatal crashes. Auglaize County had five fatal traffic accidents in 2019 that killed five people, down from seven fatal crashes in 2018.
Mercer County Sheriff's Chief Deputy Gery Thobe said the sheriff's office had handled five of the fatal crashes in the county, while the Ohio State Highway Patrol had handled the others.
Most fatal accidents handled by the sheriff's office in 2019 were due to stop sign violations, Thobe said, which was unusual because the intersections involved had relatively good sight lines.
Several fatal crashes, both in Mercer and Auglaize counties, were deemed the result of drivers who failed to yield the right of way at intersections.
The first fatal crash of the year in Mercer County occurred on March 11 at the intersection of Fort Recovery-Minster Road and State Route 119. Carth Jones, 63, Bradford, was driving westbound and failed to stop at a stop sign before striking an eastbound vehicle. Jones was transported to Miami Valley Hospital in Dayton, where he later died of his injuries.
On Sept. 11, a Botkins man died after he too reportedly failed to stop at a stop sign at the intersection of U.S. 127 and Clover Four Road, according to a release from the highway patrol. Jordan E. Fledderjohann, 26, was traveling westbound on Clover Four Road when he failed to stop at the intersection and was struck by a vehicle heading northbound on U.S. 127. He was transported to Mercer Health Community Hospital, Coldwater, where he later died of his injuries.
On Nov. 8, a Springfield couple was pronounced dead at the scene of an accident at the intersection of state routes 49 and 707. Malcolm Hughes, 67, and his wife, Judy, 65, were westbound on State Route 707 when Malcolm Hughes reportedly failed to yield at the intersection, striking a truck heading southbound on State Route 49.
On Nov. 14, a Lima man was killed north of Wapakoneta after he stopped at a stop sign at the intersection of State Route 501 and Infirmary Road but failed to yield the right of way to northbound traffic. Charles Mayer, 86, was transported to St. Rita's Medical Center, Lima, where he was later pronounced dead.
Several other accidents were the result of vehicles drifting into oncoming traffic.
A Spencerville man was killed on Aug. 30 when his vehicle drifted left of center on U.S. 33. Timothy D. Huffman, 32, was heading west when his vehicle drifted into the eastbound lane. Alcohol was suspected as a contributing factor in the accident.
On Sept. 27, Amy E. Reichert, 32, Maria Stein, was pronounced dead at the scene after her vehicle reportedly went out of control and traveled into the eastbound lane of State Route 119.
On Aug. 14, a Union City woman who had been missing for more than a week was found dead in her vehicle, which had crashed and overturned in a steep, wooded ditch on the Ohio side of Stateline Road, about a quarter mile south of Fox Road southwest of Fort Recovery. Shawna Rue Ressler, 33, had last been seen on Stateline Road north of Union City on Aug. 4, heading to a destination in Celina.
One fatal accident in Maria Stein on Sept. 21 left a pedestrian dead. Adam Franck, 20, Maria Stein, had reportedly been lying near the south edge of Fort Recovery-Minster Road for an unknown reason when an eastbound vehicle struck him. He was pronounced dead at the scene.
Three other fatal accidents in Auglaize occurred near Wapakoneta, one to the north and another to the southeast of the city, and another near I-75.