Tuesday, February 11th, 2020
Commentary
All that and a bag of chips
Mikesell, Dayton having amazing year
By Colin Foster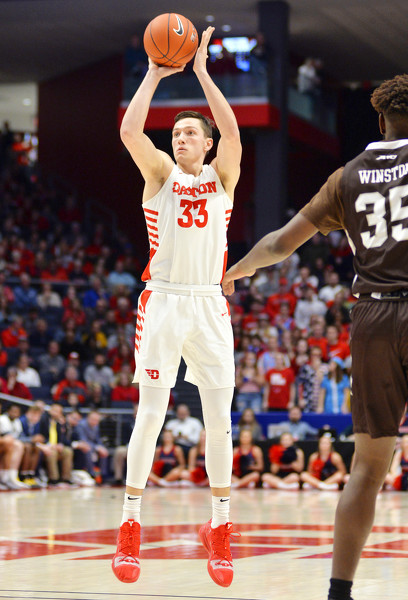 On Jan. 22, I attended the University of Dayton's men's basketball game against St. Bonaventure. This wasn't my first rodeo at UD Arena, but the buzz in the air was nothing like I had ever experienced before.
This has been Dayton's year. Regardless of what happens during March Madness.
There's no Toppin' this season! The Flyers are all that and a bag of Mikesell potato chips! … A coworker just told me cheesiness was my trademark. So I had to get all the cheesy comments out of my system before I dive into this column.
This has been a special year for Dayton. Making it extra special is the play of St. Henry graduate Ryan Mikesell, a redshirt senior who went to Dayton on the heels of its Elite 8 run in 2014.
"What they did last season was incredible," Mikesell said in a 2014 interview with the newspaper, "and I think anybody would want to be a part of a tournament run like that."
The Flyers could have a similar run this March.
Dayton is 21-2, on a 12-game winning streak, leads the Atlantic-10 and stands No. 6 in the Associated Press Top 25 poll - its highest ranking since 1967.
And the program currently has a player who may become Dayton's highest-ever NBA Draft pick.
Obi Toppin is averaging 19.6 points, 7.5 rebounds and has more dunks by himself than most teams in the country do. Several NBA mock drafts have him being selected within the top-four picks. One of those had him being taken by Cleveland. (Dear basketball gods, please let that happen.)
According to 2018-2019 Dayton basketball media guide, 51 Flyers have appeared in the NBA or ABA. The most recent player drafted was Kostas Antetokumpo, who was taken 60th overall by the Dallas Mavericks in the 2018 NBA Draft. Only three players from Dayton - John Horan (1955, Syracuse Nationals), Jim Paxson Sr. (1956, Minneapolis Lakers) and Jim Paxson Jr. (1979, Portland Trailblazers) - were taken in the first round. The 6-foot-9 Toppin will soon be the fourth, but it's clear he's focused on finishing this year strong first.
A season can end with one bad game in college basketball. But usually when Dayton has an off night, it still finds a way to win. The Flyers have an innate ability to win, talent all over and can put up points in a hurry - all of which became abundantly clear to me when I attended my first game on Jan. 22.
There were 13,407 fans there to watch Dayton rout St. Bonaventure. I sat right in front of the student section … those guys are awesome, by the way, though it's doubtful the St. Bonaventure sideline thought so.
"Hey Mark, you look like an unathletic Terry Bradshaw," one student shouted toward St. Bonaventure coach Mark Schmidt.
Dayton's student section gave St. Bonaventure the business all night as their team took care of business against the Bonnies, 86-60.
Toppin put on a high-flying show with five dunks and 18 points. Jalen Crutcher was silky smooth en route to a game-high 23 points. Mikesell, who many Flyer fans refer to as "Chip" because of Mikesell's Snack Food Co. (no relation), had 10 points and a dunk. He also had a raise-the-roof-celebration after said slam, which quickly became the toast of Twitter. He gets Twitter shoutouts on the regular, but the comments about that particular play provided me with 10 minutes of solid laughter.
"I keep telling people I'm more athletic than I appear," he replied when asked about the dunk.
Afterward, Toppin gave me a fist bump when he walked by Mikesell and me in the hall. Does that mean we're best friends? Maybe. I don't know.
What I do know is that Dayton has had a year to remember. And you better believe my NCAA Tournament bracket will have the Flyers going far in March.