Wednesday, April 1st, 2020
Snodgrass working hard to keep season hopes alive
By Gary R. Rasberry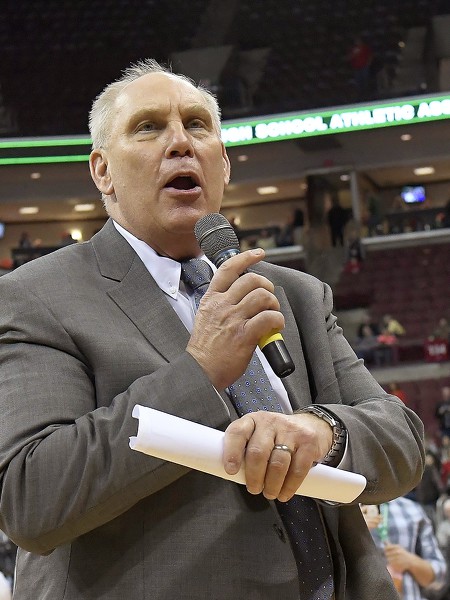 Compiled by Gary R. Rasberry

Ohio High School Athletic Association Executive Director Jerry Snodgrass has been the public face at state tournaments in presenting trophies and honoring teams.
Of late, it has also meant making announcements and answering questions about the status of high school sports in the state due to the COVID-19 outbreak, which has shuttered all of the state's schools until at least May 1.
School closures and the limiting of large crowds - social distancing - forced the eventual cancelation of the remaining winter sports tournaments and has the spring sports season under delay.
The "stay-at-home" order has prompted Snodgrass to work from home, limiting his availability with the media.
In that vein, Snodgrass agreed to answer questions asked in an email. The answers are the full responses with the only editing being in punctuation.

1. As a former coach and athletic director, how much has the decisions to delay, postpone and cancel affected you?
Snodgrass: Admittedly, it has been emotionally draining.  I know how many individuals these decisions affect, let alone the number of community members our students rely on for support and the families that have so much invested. But, I know the decisions have to be made and I am more energized knowing that it is going to take a tremendous amount of teamwork to beat this crisis and get our sports back.  I compare it to coaching - developing a team and working toward a common goal. That keeps me going because I KNOW how important athletics are in students' lives and believe strongly they are an extension of the classroom.

2. How often do you keep in touch with the Governor's office for any guidance on what the OHSAA can do?
Snodgrass: As often as possible. While often it is not direct communication, we utilize our lobbyist and various representatives that are close to the situation. Our partnership with The Ohio State University and Nationwide Arena has been valuable knowing how this affects us all. Decisions from the Governor's office affects us all and I have utilized all resources.

3. The majority of revenue for the OHSAA (since there are no membership fees to the member schools) is ticket sales from the state tournaments. Could the loss of winter sports revenue (and spring sports a possibility as well) become a concern in maintaining the number of championships and sports the OHSAA sanctions?
Snodgrass: I have been very careful to not talk about how our revenues are affected, especially in light of a recently adopted strategic plan that focuses on SERVING our members. However, with 80% of our operating revenue derived from the sale of tickets, it has a critical effect. At the first mention of limiting attendance during our boys regional, I put a task force together to study the impact of the loss of revenue as well as the liabilities that we have for the remainder of the year. IF there are no spring sports, we will have no revenues until our football playoffs in November, which forces us to be creative for cash flow reasons. The good part is that we had already begun a 'processes' audit that focused on all aspects of how we are doing our business. Fortunately, that process has been in place and we have identified many things that we can do just as well and in some cases better but also reducing the expenditures to do them.  When it is all said and done, it will have an affect and we will soon be proposing plans to deal with it to our board of directors. I know tough decisions are ahead in that area as well. I don't like to focus on the business aspect of our organization, but we ARE a business. Many believe we are a 'state' organization,' but we are not - we are a non-profit business and have to have sound business practices.

4. With Gov. DeWine extending the moratorium on schools and school-related activities to at least May 1, is there a specific date the OHSAA has in mind where it would no longer be feasible to have a spring sports season?
Snodgrass: There is not. We did not want to be locked into dates because of the ever-changing climate of the crisis. We focused more on "target dates." Originally, we had a plan if school reassumed on April 6.  Now, with that changing, we will have a plan with schools now resuming May 4. There are a great number of other issues - the availability of venues to hold events as an example. However, the No. 1 factor remains the health and safety of everyone involved and we are relying on experts for that.

5. With the watchword being "social distancing," if any season could be played, could an option be on the table to allow baseball, softball and boys tennis to have their seasons since there are fewer athletes within a confined space and they are naturally distanced, but cancel track and field because many teams have 30-50 team members along with coaches, officials and fans within a closer distance?
Snodgrass: I am hesitant to close the door to any option but there are many factors that cannot be risked. With social distancing being a key to preventing the spread, it is inconceivable that we can assure that with any sport.  While they may be naturally distanced - holding a runner on first, a play at home, umpires in close proximity to a catcher and a batter, players in the dugout bench, traveling to a game all present challenges.  While many have a solution to each of them, some would require compromising the sport and its inherent rules of the game. While I am creative, many just won't work in reality.

6. Have any plans regarding fall sports been discussed?
Snodgrass: Last week, in our daily staff meeting (which we do through teleworking), I instructed our fall sport administrators to start looking at all possible "what if's." This is way beyond what many might look at on the surface. For example, should events be shut down all summer, acclimatization for athletes (and not just football) becomes extremely important. So, while many have voiced concern that "I am jumping to conclusions," I do not feel that way at all. I have repeatedly stated to staff since the day I started this job (and held this belief in my former roles) to "Hope for the best and PLAN for the worst." They key is to "PLAN." I feel we must plan. When the governor informed us on March 10 that our events could continue but with only parents present, we were completely prepared, had a plan in place to refund thousands and thousands of ticket buyers and make certain ONLY those permitted into contests were admitted occurred flawlessly because we were prepared and planned ahead of time. Thus, we are planning for any interruption of fall sports.  Hopefully it will not be needed and no one would be happier than me.