Friday, May 22nd, 2020
Police respond to teen shooting rifle
Celina boy reportedly was target shooting inside garage
By Leslie Gartrell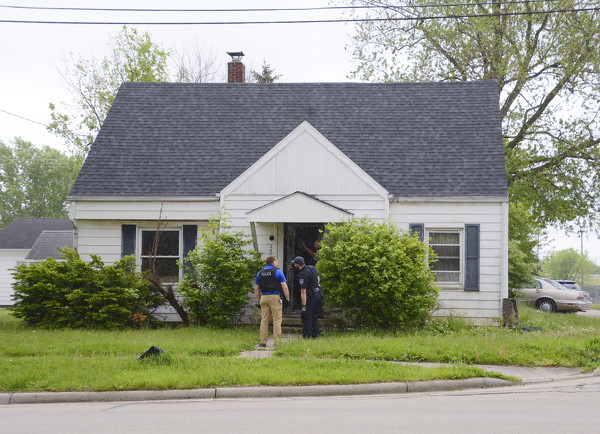 CELINA - A 15-year-old boy was temporarily taken into custody on Thursday after reportedly shooting 100 rounds from a semi-automatic rifle inside a garage.
The Celina Police Department received a non-emergency call around 4:30 p.m. from a homeowner on Summit Street who reported finding several holes believed to be bullet holes in the home.
Police arrived on the scene six minutes later to inspect the house and heard shots ringing out. The officers called for backup from the department and the Mercer County Sheriff's office to shut down Summit and Orchard streets.
Officers heard the shots coming from a garage at 326 Summit St. A 15-year-old boy reportedly was practicing with a .22 semi-automatic rifle his mother had bought him. He surrendered when he noticed officers, who had their weapons drawn.
Police Chief Tom Wale said three sheriff's deputies, two uniformed officers and two plainclothes officers responded to the scene.
The boy initially told police he had been practicing with a BB gun before admitting to using the rifle for target practice, Wale said.
The boy estimated he had shot 100 rounds before police arrived, Wale said. Police officers confiscated the weapon and held the boy in custody until the situation was resolved.
At least three houses and several other structures were damaged by the gunfire, Wale said. He encouraged people with damaged buildings to contact the Celina Police Department.
"This is a good example why parents shouldn't let kids use guns without proper training," Wale said.
The case will be handled by the Mercer County Prosecutor's office which will determine if charges will be brought against the boy or his parents. The parents could face charges of child negligence or be referred to Child Protective Services, Wale said.
Neighbor Mike Toler said he believed the boy's mother had bought the rifle for him that same morning. While Toler didn't hear any shots fired, he said he was surprised to see so many law enforcement officers in his neighborhood.
John and Sally Fischer, who live next door at 322 Summit Street, weren't home at the time the shots were fired. Toler said he called the Fischers to see what all the fuss was about and told them shots had been fired near their home.
John Fischer said he didn't think any bullets had made their way into their home but pointed to their shed, which several bullets had pierced. One bullet flew through the shed and hit the siding of their home.
"The shed has lead in it," he said as he gestured to a stray slug on the shed's floor.
Wale emphasized that parents need to supervise their children and ensure they've been properly trained to handle a weapon before giving them one.
"I urge people to express the right to bear arms in a safe manner and to be well trained," he said. "We're lucky no one got hurt."