Wednesday, July 29th, 2020
West Beach gets floating experiment
Officials hope wetlands stanch blue-green algae
By Sydney Albert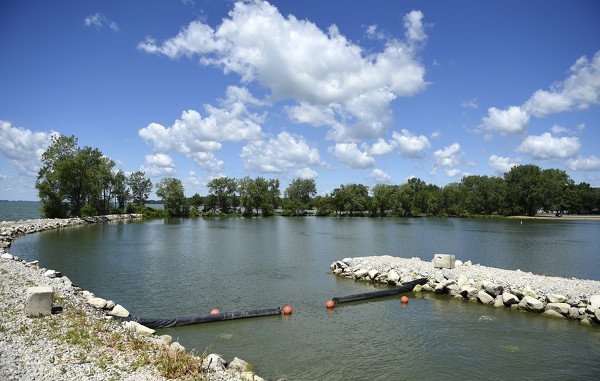 ST. MARYS - A group of scientists has begun testing another technique to clean up the water in the experimental Grand Lake St. Marys State Park West Beach area.
Officials from the Wright State University-Lake Campus, the Lake Restoration Commission and Ohio State University placed four floating wetlands in the water to see if they can remove the nutrients that feed the harmful algae. Professor Stephen Jacquemin and a graduate student placed the floating wetlands in the beach area on Tuesday.
At the same time, Lake Facilities Authority officials plan future water treatments at the beach area, though how often the area will require treatment is uncertain.
Theresa Dirksen of Ag Solutions told LFA members on Tuesday that another water treatment would be applied in the spring, likely in late April before algal activity begins to peak. No more treatments are planned for this year, however.
After experiments conducted in conjunction with Lake Campus officials on different water-treatment products, Dirksen said the best results came from treating water with a mixture of peroxide combined with a clay-based flocculant.
The clay-based flocculant is more expensive than alum, which was recently used to try to improve water quality in the partially closed-off beach area and ultimately proved ineffective. Dirksen notified LFA members in June that the alum treatments had been ineffective in reducing toxin levels related to blue-green algae. In 30 to 60 minutes immediately after alum treatments, a significant decrease in algal activity had been documented, Dirksen said. However, within 48 hours, algal activity had reportedly returned to prior levels.
The beach experiments were originally intended to create a safe space for swimmers in the lake. The area was dredged to remove nutrient-laden muck, and a new sand base was poured in its place. Extended rock walls were built to partially close off the beach area from the rest of Grand Lake in the hope of reducing the flow of water between the areas without completely cutting the beach off from the lake itself. Aerators have also been installed in the area to improve oxygen circulation.
Dirksen believed officials had a good plan for improving water quality but noted the water treatments at the beach may need to be repeated. How often the treatments might be needed is unknown. Dirksen said it depended on how thoroughly the open lake water mixes with the beach water.
LFA officials hope to proceed with other projects around the West Beach area soon, including restroom improvements and the creation of a picnic area. Dirksen said officials were waiting on quotes from contractors for the work. She also expressed hope that a kayak rental facility would be in place by next year but noted officials are still working out the best approach the Ohio Department of Natural Resources and the public.