Thursday, July 30th, 2020
Rockford Bicentennial
Village currently locked in Battle of Coronavirus
By Leslie Gartrell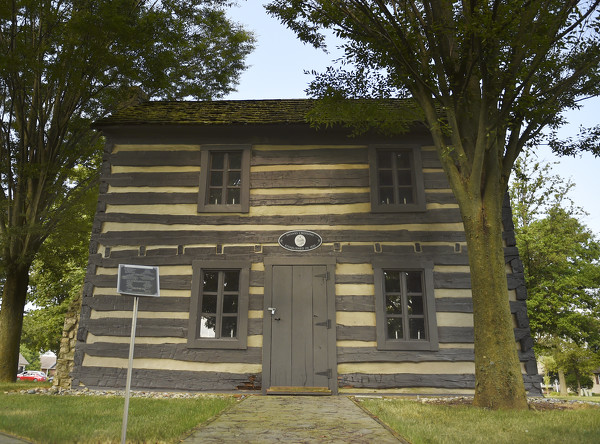 ROCKFORD - Although COVID-19 has put some of Rockford's bicentennial celebration on the back burner, residents can still look back in time to learn about the man who founded Mercer County's oldest village 200 years ago.
Rockford founder Anthony Shane was a scout, messenger, interpreter and entrepreneur who served in multiple battles throughout his life and in the War of 1812, according to local historian and author Harrison Frech.
In Frech's book "Anthony Shane, Metis Interpreter: A Bridge between Two Cultures; Scout, Interpreter, Town Founder, Witness to History," Shane was born Antoine Chene, a family name that means "oak," in what is now Defiance in 1773. Shane was Metis, or a person with mixed Native American and European ancestry. Shane's family hailed from Detroit, and his ancestors included French Canadians and members of the Ottawa people.
Growing up with a Native American family led Shane to master at least five indigenous languages as well as French and English. The son of a Native American trader and interpreter, Shane was well equipped to follow in his parents' footsteps.
Shane worked as an interpreter for various governments throughout his life, according to Frech. Shane was a member of a British-Canadian force in the early 1790s that supported the Western Confederacy of Native Americans, a coalition of tribes that united to attack American forces.
Shane served in the 1791 Battle of the Wabash, or St. Clair's Defeat, which is often referred to as the most decisive defeat in the history of the American military and the largest victory by Native Americans.
He later took an active role opposing a new American Army led by Anthony Wayne in 1794 and fought in the Battle of Fallen Timbers, the last major conflict of the Northwest Territory Indian War between Native Americans and the United States. Wayne led his troops to victory, leading to the Treaty of Greenville and an influx of white settlers into much of current Ohio.
Less than seven months after the Battle of Fallen Timbers, Shane entered the service of the U.S. in 1795 as an interpreter at Fort Defiance. Shane at this time anglicized his name from Antoine Chene to Anthony Shane, which Frech noted is similar to Anthony Wayne.
In the period leading up to the War of 1812, Shane was intermittently employed by the Army and local Native American agents as an interpreter, messenger and intelligence gatherer.
Shane was very involved in the War of 1812, serving as a spy, scout, guide, interpreter and leader throughout his service, according to Frech.
Robert McAfee, who authored "The Late War in the Western Country," an account of the War in 1812 in the West, praised him as "the celebrated Anthony Shane, who in his integrity and fidelity to our cause, the utmost confidence was placed."
Shane's earlier support of the British was forgotten as he served throughout the war. He had proved his loyalty to his American employers and had won powerful friendships with Duncan McArthur, future governor of Ohio; Lewis Cass, future governor of the Michigan Territory, U.S. senator and 1848 Democratic presidential candidate; and Richard Mentor Johnson, U.S. representative, U.S. senator and vice president.
The Metis were often resented by Americans for their preferred culture and dress of the French creole and local Native American over American culture, according to Frech. Shane's associate Cass even expressed that the Metis "must learn new ways or be removed."
Yet despite being Metis, Shane was rewarded by the U.S. government for his loyalty and service and was admired as a war hero. In 1815, he received a land grant from Congress for "valuable and honorable service during the last war," according to Frech. The 320-acre grant was at the second crossing of the St. Marys River on the south side, which was dubbed Shane's Crossing.
Shane was later awarded another 640 acres, which was located on the north side of the St. Marys River, directly across from his earlier land grant, for acting as an interpreter in the Fort Meigs Treaty.
Commerce grew along the river as goods were transported from St. Marys to Fort Wayne, Indiana, and to trading posts along the river. Shane took advantage of the influx of settlers and platted Shanesville in June 1820, the first platted town in the county.
Settlers could stop at Shane's tavern and trading post, according to Frech. As they went north they could travel on Shane's ferry. On the ferry ride, settlers would pass Shane's Reserve and Shane's home, a double log cabin by his farm where he and his family raised corn, potatoes and other vegetables.
Shane used his land grant as a real estate enterprise, according to Frech. Shanesville had 42 lots.
By 1821, three houses had been built and another was under construction, and the countryside was settled for 6 miles around his new town.
Shane's service in the War of 1812, his leadership of the friendly local Native American population and his willingness to use his knowledge of Native American culture and local history to aid new settlers ingratiated him to the growing white population of the area, according to Frech.
Shane later migrated to Kansas in the mid- to late-1820s, where he continued to work as an interpreter until his death in 1834 at Fort Leavenworth.
According to Frech, the town grew slowly at first due to its swampy environment. New roads needed to be built to allow for travel over muddy paths, and the land had to be drained to keep away mosquitoes and the malaria they carried.
Frech said Shanesville was later incorporated as Shanes Crossing in 1866 as another Shanesville in Ohio had been founded in 1814.
Although the town had already gone through a name change, the townspeople wanted to change the name again in 1889-1890 because they believed Shane's Crossing was "too frontier," according to Frech. The townspeople voted to change the name to Lacine.
Interestingly, Frech noted that the post office, for one reason or another, didn't accept Lacine as the new name and instead chose Rockford, which had come in second place. The name Rockford came from the term rocky ford, which is the low point in a river.