Friday, October 16th, 2020
Cleaning the table
Rangers capture first outright MAC title
By Colin Foster
MARIA STEIN - New Knoxville has bested every team on its schedule this season.
On Thursday, the Rangers were officially crowned best in the Midwest Athletic Conference.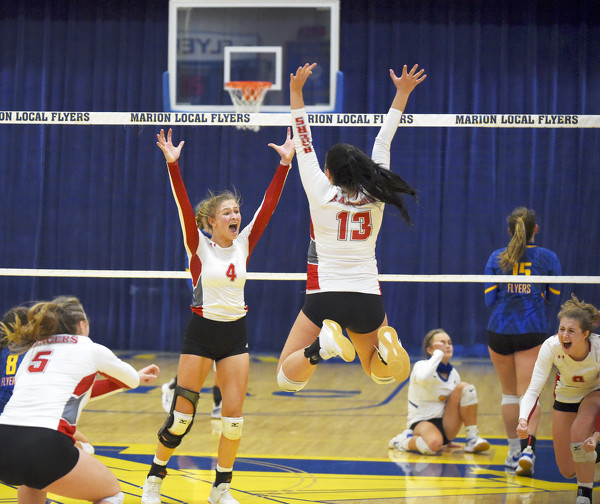 Photo by Dan Melograna/The Daily Standard
The third set slipped away from New Knoxville against Marion Local, but an outright MAC title did not. The beat rolled on for Division IV's second-ranked team as it defeated the No. 5 Flyers 25-19, 25-21, 23-25, 25-20 at the Hangar to cap a 9-0 run through MAC play and improve to 19-0.
It's New Knoxville's first outright MAC volleyball title and fifth overall, the last coming in 2005.
"For one, it's just so awesome to get a MAC title because the MAC is so competitive," first-year coach and Ranger alum Meg (Reineke) Lageman. "We earned it. We worked very hard for it. Our senior, Gretchen Dwenger, tore her ACL at the beginning of the year, which then put us at six players all the way around. No libero, just new things, and to see those six players never come off the court and win every game this season and win a MAC title, it's just so special."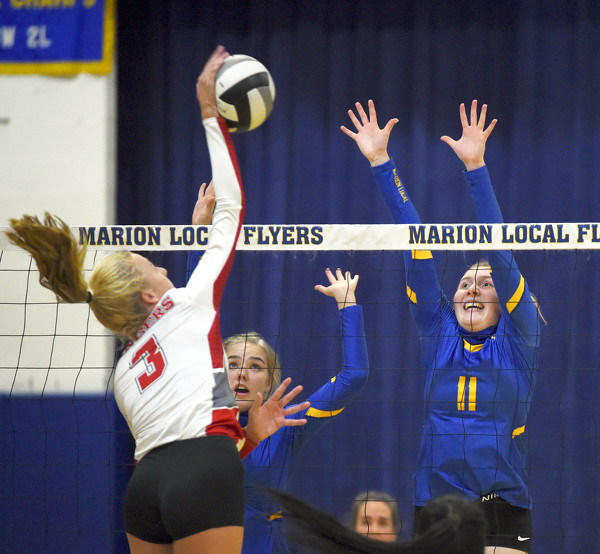 Photo by Dan Melograna/The Daily Standard
The opening set was tied at 1, 3 and 4. New Knoxville broke the 4-all tie and opened up a lead it never surrendered. Carsyn Henschen had a set-high five kills and three blocks for the Rangers, while teammates Ellie Gabel, Avery Henschen and Haley Fledderjohann each added aces. Late in the set, an ace by Reagan Kremer and kills by Alana Pohlman and Kinsey Thobe reduced the deficit to three points, but that was the closest Marion got after falling behind 12-6.
Morgan Leffel, Fledderjohann and Carsyn Henschen were all on the attack for Knoxville early in set two as it doubled up Marion at 10-5. But the Flyers did not go away. Back-to-back scoring spikes by Pohlman punctuated a 9-4 run that closed the gap to 15-14 before a timeout by Lageman and the Rangers. A joint block by Fledderjohann and Carsyn Henschen stopped the run and launched a run for the visitors. Melisa Waterman had an ace to highlight a 4-0 spurt by Knoxville, with kills by the Henschens eventually helping Knoxville close out set two with a 2-0 advantage.
The third set followed a similar script. Until the end, that is. The contest was close throughout, but Knoxville led most of the way. Marion was a bit out of sorts at times - and coach Anthony Chappel let them hear it during one timeout - but the Flyers kept on coming. The Rangers held a somewhat comfy lead late in the set when the home team made its move. A Pohlman kill trimmed a once five-point deficit to 20-19. Avery Henschen and Fledderjohann responded with back-to-back scoring spikes, but a couple Knoxville blunders and an ace by Kremer later completed a 25-23 Marion victory.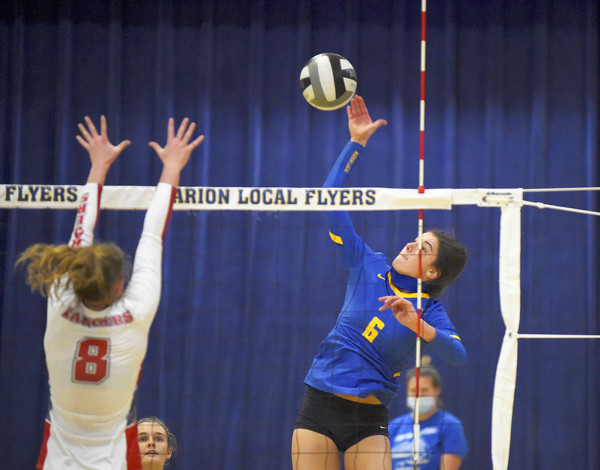 Photo by Dan Melograna/The Daily Standard
The Flyers couldn't get the job done in the fourth set, however.
A Leffel ace capped a 5-1 run for Knoxville out of the gate. Shortly after, back-to-back Pohlman aces punctuated a 7-3 Marion run that evened the score. But the Rangers clapped back with their own 7-3 run and kept their distance from there.
"The girls showed me that they wanted to play. Too bad it didn't carry into the fourth set," Chappel said.
"They execute and they minimize all their errors," Chappel said. "We just made more errors than they did. They're good at bouncing back after they make mistakes. They don't let anything phase them, because they know there's no one on the bench to replace them. It's them or nobody. That's the mentality they play with."
Pohlman had a game-high 23 kills and three aces for Marion Local. Thobe added 12 kills, while Heidi Rethman dished out 44 assists and collected 11 digs.
Carsyn Henschen and Leffel had 15 and 12 kills, respectively, to lead New Knoxville. Fledderjohann (15 digs) and Gabel (44 assists) also had big statistical nights for the Rangers, who could be in line for a Division IV poll championship after also knocking off No. 1 New Bremen earlier this week.
MAC Volleyball Standings:
| | | |
| --- | --- | --- |
| | MAC | Overall |
| New Knoxville | 9-0 | 19-0 |
| Fort Recovery | 8-1 | 18-3 |
| New Bremen | 7-2 | 19-3 |
| Marion Local | 6-3 | 18-4 |
| St. Henry | 4-4 | 13-8 |
| Minster | 3-5 | 14-7 |
| Versailles | 2-7 | 7-13 |
| Coldwater | 1-5 | 7-8 |
| Parkway | 1-7 | 7-21 |
| St. John's | 0-7 | 4-13 |
(Note: due to postponements, some MAC matches may not be played).