Saturday, November 21st, 2020
Cards Flying High
New Bremen shuts out JFK for first state championship
By Tom Haines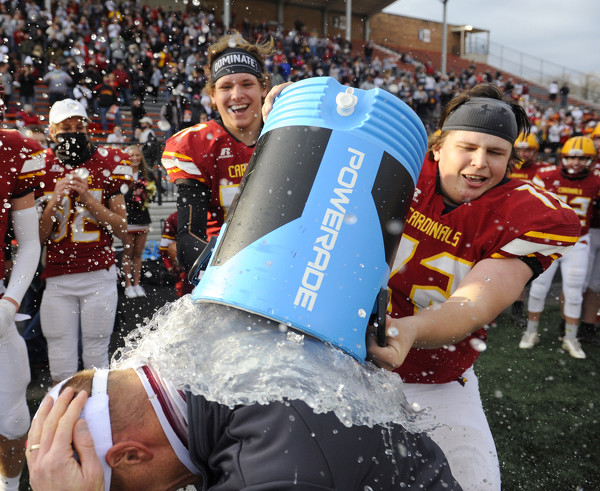 Photo by Dan Melograna/The Daily Standard
MASSILLON - For once, New Bremen didn't need late heroics.
After three straight upset wins, all of which were decided in the final two minutes, the Cardinals came in as favorites and played like it, outplaying Warren John F. Kennedy in all phases en route to a 31-0 win in the Division VII state championship game at Paul Brown Tiger Stadium in Massillon.
The victory earned New Bremen its first-ever state title in football and the 36th in Midwest Athletic Conference history.
"More than anything, the kids are the ones that have really propelled the program and decided that they wanted to change things up," New Bremen coach Chris Schmidt said. "These kids have done that, but even the kids prior to them were trying to lay the foundation for this to happen."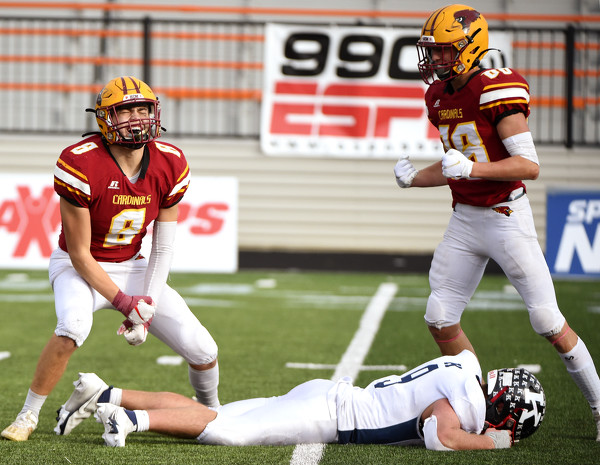 Photo by Dan Melograna/The Daily Standard
The Cardinals defense suffocated a strong JFK offense, holding standout quarterback Cameron Hollabaugh to 27 yards rushing and keeping the Eagles pinned back in their own territory. JFK started only two drives outside its own 20, one with a 31-point deficit and only 4:25 left, and got past midfield only twice.
Both times, the Eagles stalled out right away and gave the ball back.
"In high school, if you're forcing teams to have to drive 80 yards all the time, or 80-plus, that's hard," Schmidt said. "Somewhere along the line, you're going to get a penalty or a turnover or a dropped ball. So that's huge, especially with their running game, to make it long fields allows our defense to be a little bit more aggressive too."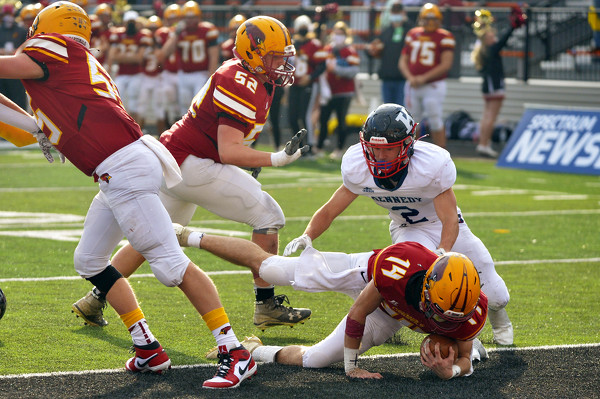 Photo by Dan Melograna/The Daily Standard
New Bremen came out swinging in the second half and caught a break in JFK territory on its first possession, as a late fumble by Hunter Schaefer was overturned due to a 15-yard personal foul facemask penalty on the Eagles. Three plays later, quarterback Mitchell Hays dove in behind left tackle Ben Blickle for a one-yard touchdown run to give the Cardinals a 14-0 lead.
On the next possession, the refs signaled that Hollabaugh had to come off the field before third down. Eagles' backup quarterback Caleb Hadley fumbled the snap. Wyatt Dicke fell on it on the six-yard line, and though JFK held up on defense, Owen Gabel converted a 20-yard field goal to make it a three-score game.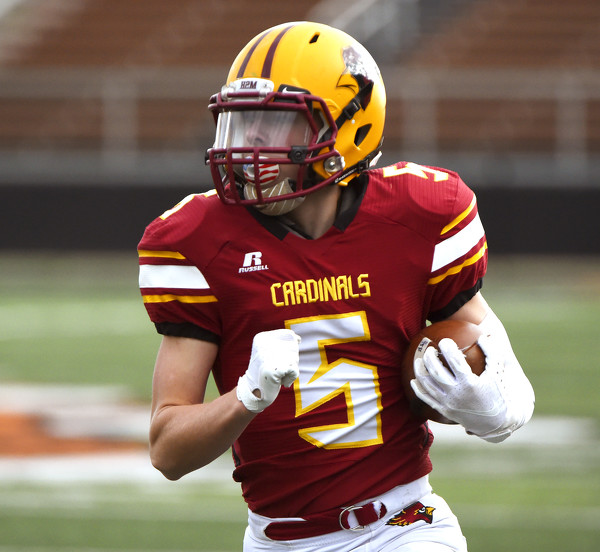 Photo by Dan Melograna/The Daily Standard
Hollabaugh came back in for the next possession, but another costly penalty undermined the Eagles' offense. Branxton Krauss got a nine-yard sack that set up a long punt for JFK, and New Bremen's David returned it 45 yards for a touchdown with 1:44 left in the third quarter.
"I was a little worried, because it hung up in the wind and he was trying to track it," Schmidt said. "But he did a great job, and once he got started, he got one or two blocks. As we've seen all year long, he's a playmaker, even as a sophomore."
That was the final nail in the coffin for the Eagles, who struggled more on offense as the game went along. Dan Homan added to the lead in the fourth quarter with a leaping catch for a 19-yard touchdown, with 10:49 remaining in the game, setting up a running clock.
Dan Homan also led a powerful defensive line that sacked Hollabaugh three times and bottled up the Eagles running game, which accounted for only 61 yards. When all was said and done, JFK mustered just 133 total yards.
"It was tough tackling the quarterback early on," Schmidt said. "I was really worried about the running back (Jesse Likens), he has quick feet and what not. Early on, they were moving it and we didn't have the ball much, so once we started to clamp down on that, that obviously really made a difference."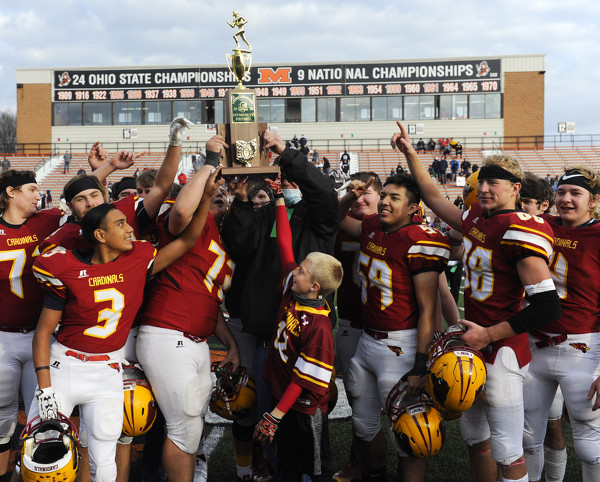 Photo by Dan Melograna/The Daily Standard
As the teams came off the field for halftime, New Bremen athletic director Chad Wells grabbed a microphone and admonished the Cardinals fans, who had already been warned once about poor social distancing. The governor's office had threatened to shut down the game if fans didn't comply.
"I don't care how you feel," Wells told the crowd, "This is about the kids."
The fans moved apart a little, and the game continued without further warnings.
Right from the start, the Eagles shot themselves in the foot, committing two false starts to start their first drive. JFK nearly overcame the errors, falling just a yard short of converting on third-and-17.
The rough start foreshadowed the costly penalties that would haunt the Eagles all game. JFK finished with nine penalties for 62 yards, while New Bremen didn't get hit with a single flag.
Hays was largely shut down early, earning just 35 yards in the first half. Starting for the injured Zach Bertke, running back Hunter Schaefer carried the load with 82 yards on eight carries in the first half and finished with 101 on 15 carries for the game.
"He did what we thought he would do, and I say that because we have a lot of confidence in him," Schmidt said. "We've seen him work hard all year long. He stepped in and did a tremendous job."
Throughout the first half, New Bremen was more comfortable on offense, but the Eagles' defense was able to tighten up near the end zone to keep the deficit to seven at halftime.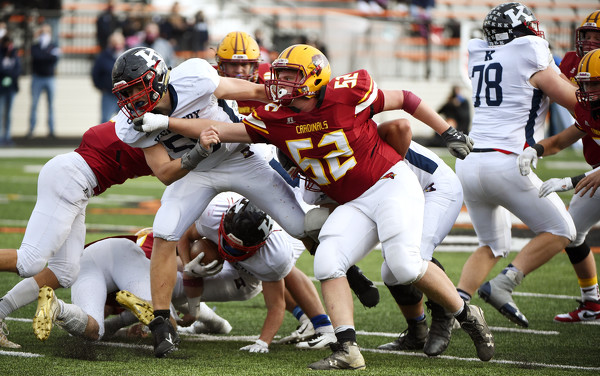 Photo by Dan Melograna/The Daily Standard
"It doesn't always happen early in the game, but we try to wear on people a little bit," Schmidt said. "We didn't throw the ball much today, what with the w
New Bremen drew first blood on a 39-yard touchdown run from Schaefer, who ran through a gaping hole in the right side and waltzed untouched into the end zone.
The Cardinals had two more opportunities in the first half that came up short. New Bremen drove inside the 20-yard line on their first possession and turned the ball over on downs, as a 3rd-and-4 jet sweep resulted in a five-yard loss and Hays' scramble on fourth down didn't get close to the line to gain.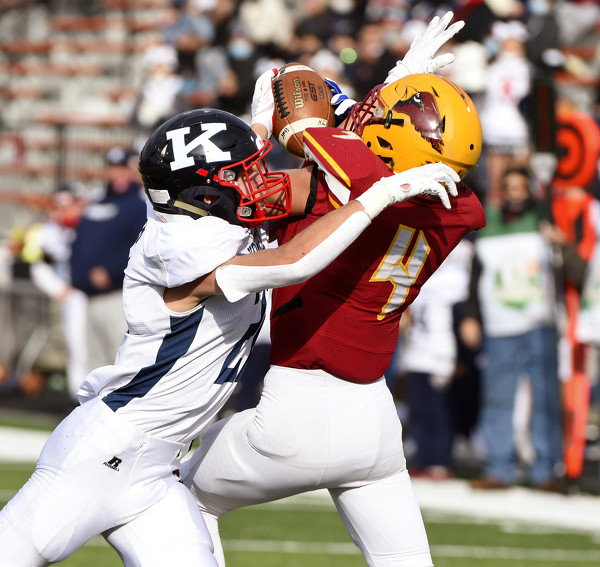 Photo by Dan Melograna/The Daily Standard
Later on, after Branxton Krauss jumped on an Eagles fumble at the JFK 32 and Dicke pulled down a remarkable catch at the 1-yard line, the Cardinals came up short on four tries from the goal line, with Hays throwing an interception in the end zone on fourth down.
"There was a couple of play calls I'd like to have back," Schmidt said. "I don't know that I called a great game offensively today, but we found a way to weather the storm. I guess we've done that all year long."