Wednesday, November 25th, 2020
Indians jump out quick on Tigers
By Tom Haines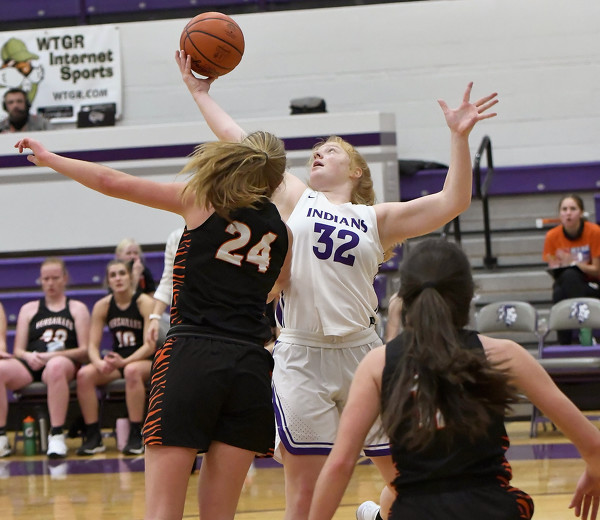 FORT RECOVERY - Fort Recovery came to play Tuesday night.
Whitley Rammel scored on the first possession for the Indians and they never looked back, turning a five-point first quarter lead into a 17-point halftime lead on the way to a 60-22 win over Midwest Athletic Conference rival Versailles at Fort Site Fieldhouse.
"We came out hard, I thought we controlled the game early," coach Holly Gann said. "We set the tempo of how the game was going to be, and obviously I think that played to our favor."
The Fort Recovery defense suffocated Versailles, and the Tigers seemingly couldn't pull down a rebound all night. The shots they did take were poor looks, and they never mustered more than six points in a quarter.
"We lost Val (Muhlenkamp) last year, and she provided six to eight rebounds a game, so those are shoes that need to be filled," Gann said. "We talk about rebounding being a job, it all comes from inside, it's a heart job. If you want it, go get it. We've worked on that, clearly it shows."
The only scorer who had any success for Versailles was Kaylee Braun, who scored eight of the Tigers' 22 points and hit two of its six field goals.
"Versailles is a young team, I know that," Gann said. "They've got a lot of great girls there, and they're going to continue to get better every game. I'd like to see where they get by the end of the season."
Whitley Rammel and Alli Vaughn led the way for Fort Recovery with 15 points apiece, with Rammel controlling the paint the whole game. Vaughn earned three steals, including takeaways on back-to-back Tigers possessions in the third quarter that she turned into points on the breakaway for the Indians.
"We've been trying to pick up our defensive intensity, work on getting in the passing lane more to provide that pressure we know we have to have in order to rattle teams like Minster and Marion in our future," Gann said. "Definitely worked there. As you can see, there's a pretty strong correlation between our defensive intensity and our offensive movement."
The only thing that concerned Gann in the blowout win was turnovers. The Indians had 14 turnovers, the same number as Versailles, with several on errant passes through the paint.
"We had way too many turnovers," Gann said. "I'd hate to see the numbers, but we shouldn't have that many turnovers. So obviously some composure in the open court, being able to figure out when we're going to go and when we need to pull it out and slow things down a little bit."
Last year, Fort Recovery fell 42-40 to Versailles in the first MAC game of the year. It was the only MAC loss for the Indians all year.
Facing the same team this year, they got out on the right foot.
"None of their shots were easy," Gann said. "They had to work really hard for that. So that's the kind of defensive intensity we want moving into the future."
The Indians (2-1, 1-0 MAC) travel to New Bremen to face the Cardinals on Dec. 3.