Monday, April 5th, 2021
Rainbow trout return to area waters
Ohio DNR plan to stock Davis Lake
By William Kincaid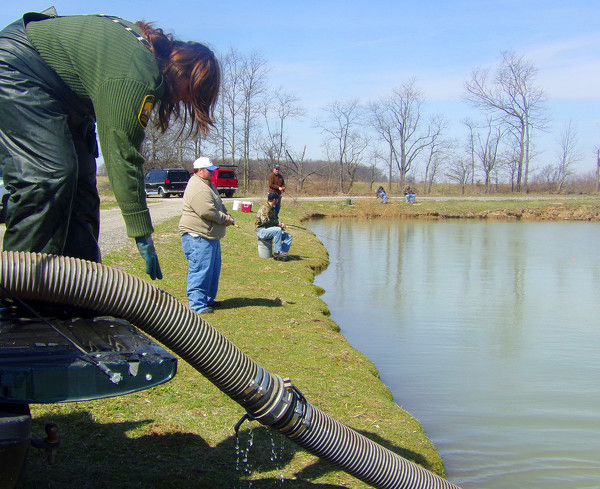 ST. MARYS - At least 500 rainbow trout will be released into Davis Lake this week as part of an annual state fishing advocacy program, affording anglers a unique fishing experience usually reserved for those on the West Coast.
The fish will be stocked in Davis Lake, located at Auglaize County Solid Waste and Recycling at 15202 St. Marys River Road and ready to catch by Friday, according to a Ohio Department of Natural Resources news release.
The fish to be released come from the Castalia State Fish Hatchery in Erie County in northeast Ohio, ODNR fish administrator Kevin Kayle said. The trout are about a year old, average between 10 to 13 inches and weigh a little over a half pound each, good sized fish that prove to be an exciting catch.
"We think it's a great opportunity to introduce folks to the sport of fishing," Kayle told the newspaper.
Rainbow trout can be caught using traditional fishing methods - spinners, small jigs and baited hooks. They even strike at things like cheese and marshmallows that resemble the trout chow or pelletized feed that they feasted on while at the hatchery, Kayle pointed out.
"It doesn't take much to catch these fish once they're released," he said.
Those looking to snag a rainbow trout shouldn't wait too long. Rainbow trout are cold-water fish that do not typically survive the summer in Ohio waters.
Davis Lake is open for fishing during daylight hours. Anglers must have a valid fishing license, and fishing is allowed only from the shoreline. The daily catch limit is five fish.
ODNR plans to release more than 81,000 rainbow trout in 67 public lakes and ponds this spring to create excellent fishing opportunities for anglers.
"By stocking these water areas throughout the state, anglers of all ages have the opportunity to get out and enjoy quality spring rainbow trout fishing in a family-friendly environment," the release states.
Sales of fishing licenses along with the federal Sport Fish Restoration program support operation of state fish hatcheries.