Wednesday, April 7th, 2021
Walk-off gives Dogs first victory
By Tom Haines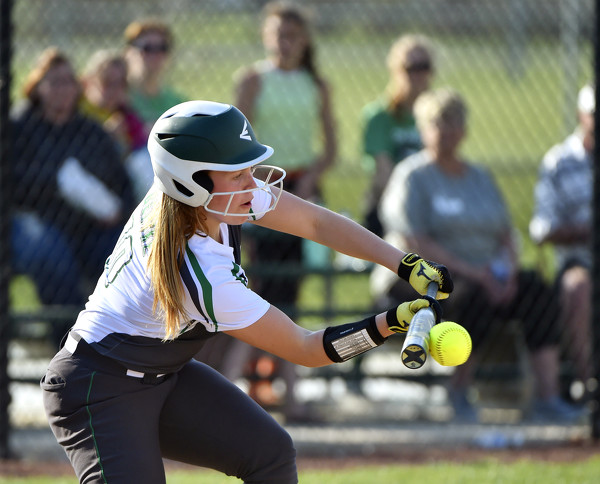 CELINA - In the top of the seventh, the Celina softball team saw the go-ahead run score on a two-out play at the plate. In the bottom of the inning, it was the Bulldogs beating a tag at home for the win.
Catcher Lucy Piper hit a soft fly into no-man's land in shallow right field past St. Marys second baseman Ellyette Wedding and Gracie Chilcoat was called safe at home to walk off a 5-4 Western Buckeye League win over St. Marys at Jim Hoess Field Tuesday night.
"(Wedding's) hands kind of crossed, that's what I thought I saw," Celina coach Jason Tribolet said. "The ball popped up, so I said, 'We're going.' Take my chance. I guess it worked out."
With the game tied at two in the sixth, center fielder Karissa Frederick was hit by a pitch to lead off the inning and advanced to second on a ground ball when flex Harlee Harris came to the plate. Harris hit a sharp grounder and Wedding made a diving stop to keep it in the infield, then threw from the ground to try to nab Frederick at the plate. But Frederick scored despite the dazzling play and Celina (1-4) took a 3-2 lead.
Centerfielder Kelsey Poppe led off for the Roughriders in the seventh and hit a short flare to the edge of the infield, and shortstop Sidney Lehman almost made a diving catch but saw the ball pop out of her glove at the last moment. Kiley Tennant reached on an error on a bunt and Emma Birt moved the runners over to give catcher Renee Sweigart a chance to drive in the go-ahead run.
Sweigart hit a soft line drive in front of the shortstop and was thrown out at first, but Tennant came flying around third and slid in under Piper's tag to make it 4-3 St. Marys.
Needing a run to tie, the Bulldogs got a leadoff single from Madison Whitaker on a bloop to right, then put the winning run on when Chilcoat was hit by a pitch. A wild pitch moved Frederick to third and Chilcoat to second with Piper, who had already hit two doubles, at the plate.
"Walking into it, I told her that she'd been hitting it all day long and to just do her job," Tribolet said. "Move the runners, get them into scoring position if she can, but mostly to look for a pitch that she can drive. If she can drive it, maybe we win the game."
On a 2-1 count, Piper hit a short fly into shallow right field that fell just past Wedding's reach. Whitaker scored and Chilcoat met the throw at home, barreling into Sweigart for the winning run.
"If they'd have made that play at home, good for them," Celina coach Jason Tribolet said. "That's what we want to do, we want to force them to make plays."
It was a tough loss for St. Marys (4-2), which battled back from a 2-0 deficit before taking the lead in the top of the seventh. Pitcher Karsen McGlothen threw her second complete game in two days, giving up six hits and striking out eight.
But for the Bulldogs and Tribolet, coaching his first spring after the 2020 season was canceled, it was a much-needed first win after a tough opening stretch.
"Whew," Tribolet said. "Some weight off my shoulders, but the girls deserved that. We fought, and it's too bad one of the two teams had to lose, but it's nice to get our first win under our belt, and especially our first WBL win."
Celina has a chance to build some momentum on Thursday when it returns to Hoess Field for a game against Russia. St. Marys has a chance to bounce back on Friday in another WBL game as Defiance comes to K.C. Geiger Park.