Wednesday, September 15th, 2021
A battle to the end
Celina, Kenton play to a draw in WBL action
By Gary R. Rasberry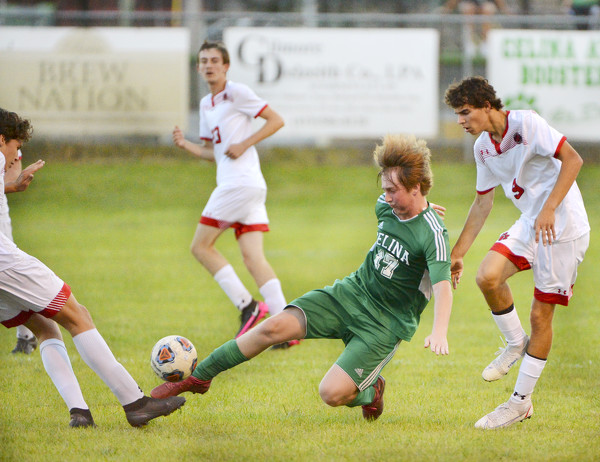 CELINA - Both Celina and Kenton had their chances, but nothing could get into the back of the net over the final 68 minutes of the game.
Early goals by both teams held up through the rest of the match as the Bulldogs and Wildcats settled for a 1-1 draw in Western Buckeye League boys soccer action on Tuesday at the soccer stadium.
Kenton (4-0-3, 1-0-2 WBL) was a little more aggressive in the second half, but Celina keeper Logan Smith stepped up to make several big saves while his teammates made some of their own when Smith was inadvertently caught out of position on a couple of Kenton tries.
"Logan played very well. He's been playing well the last couple of games," said Celina coach Ryan Jenkins. "I know Shawnee put six goals on him (on Thursday), but he still made a lot of saves. That's what you expect out of your senior keeper."
Celina (4-2-2, 1-1-1 WBL) struck first with five minutes elapsed. Jacob Hathaway took a header pass from Ramsey Cox and headed the ball past Kenton keeper Devin Miller with 34:51 to play in the half.
Kenton worked quickly to level the score, beginning to pressure Smith in goal. Trent Yoder finally broke through with 27:50 remaining in the half on a rebound to tie the game.
The rest of the game was both teams trying to out-do each other's physicality. Several times, Smith was caught just out of the zone and either had to hustle back to defend or received big help from the defense.
Smith finished his night with five saves with Miller making two for Kenton.
"Both teams battled the entire game. Typical WBL match," said Jenkins. "Unfortunately, neither team could find that goal to break the tie. Both teams battled tough. Obviously, you want to get a win, but it's nice that you don't leave with a loss."
Celina returns to action Monday night as Elida comes to town for a battle of Bulldogs.