Friday, September 17th, 2021
Closing it out
Panthers beat Wildcats in five
By Tom Haines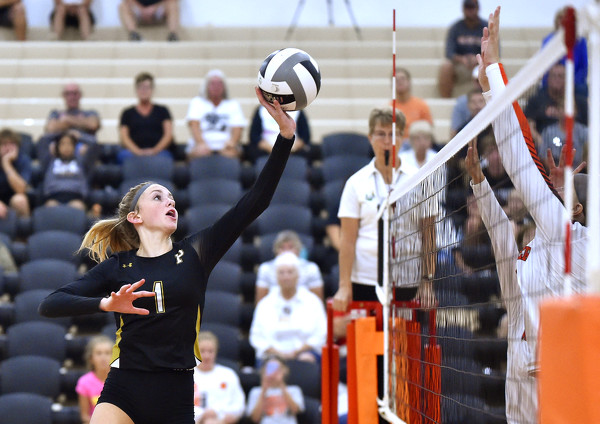 MINSTER - After Minster snagged two close wins, the Parkway volleyball team wasn't about to waste another chance to put the Wildcats away.
The Panthers got out to an 8-4 lead in the fifth set and took care of business from there to finish off a 25-19, 23-25, 25-12, 22-25, 15-8 win in a Midwest Athletic Conference volleyball match at Wildcat Gymnasium.
"We came out with a lot of confidence," Parkway coach Joel Henkle said. "We were the aggressors, we were going up to win points, not waiting for them to give us something."
With Parkway (8-3, 1-2 MAC) ahead 4-3 in the final set, Faith Jacobs got a kill down the left side for the Panthers and Macy Johnson blocked another shot to make it a three-point lead. After a hitting error gave Minster (7-5, 1-2 MAC) the serve, Johnson and Allison Hughes turned in kills to stretch the lead to four, and the Wildcats never recovered.
Ella Mescher got a kill with the Panthers at match point, but it only postponed the inevitable. Gabrielle Stober hammered home a kill off the Wildcats' block on the next point to finish it out.
"I think we weren't prepared for how challenging this was going to be," Minster coach Cami Garman said. "Mentally, we came into the match thinking, 'We've won this game before, we'll win it again.' We were kind of taken off guard by their aggressiveness."
Parkway had a chance to wrap up the win in the fourth set after scoring three straight points to tie the set at 22. After Garman called timeout, Johnson's next serve went into the net and Lyndi Hemmelgarn hit a diving shot from the back row that made it over the net to set up set point, when Maura Baumer got a kill to force the fifth set.
Minster had already snatched a victory in the second set after storming back from a 17-11 deficit to tie the game at 19. The two teams traded points, and with the Wildcats down 23-22, Lilly Barhorst blocked a shot for one point and got a tip shot down for another. With Parkway facing set point, Johnson's spike went just too far left.
"I feel like we almost just got a little lucky," Garman said. "Couple things just fell our way in (sets) two and four. I don't know that we necessarily earned those sets."
But those heroics weren't enough to overcome two dominant sets from the Panthers. In the third set, Parkway never trailed and was never seriously threatened, outscoring the Wildcats 19-7 down the stretch.
In the first, Stober ran off a four-point service run to give the Panthers control and Minster couldn't respond, hanging back about five points the rest of the set until Johnson spiked the ball into the back left corner to close it out.
"We came out really strong that first set and played well, then the second set started out really well again and things kind of slipped away," Henkle said. "Seemed like whenever we got a little inconsistent things would get interesting. But I thought we showed a lot of maturity and growth going into a fifth set again."
Minster did get one chance to celebrate as Jayden Clune recorded her 1,000th assist on the seventh point of the game. Clune finished with 25 assists on the game.
"She wasn't expecting it for another game or so, we've really been keeping it hush-hush," Garman said. "Jayden, she's not the loudest person on the court, but she's the one who's behind the scenes telling everybody else what they can do to get better."
Johnson recorded a match-high 18 kills to go with five aces.
Parkway gets a chance to extend its winning streak on Monday when it travels to Lincolnview. The Wildcats return to action on Tuesday with a trip to New Knoxville.