Saturday, September 18th, 2021
Statement Win
St. Marys upsets Van Wert
By Tom Haines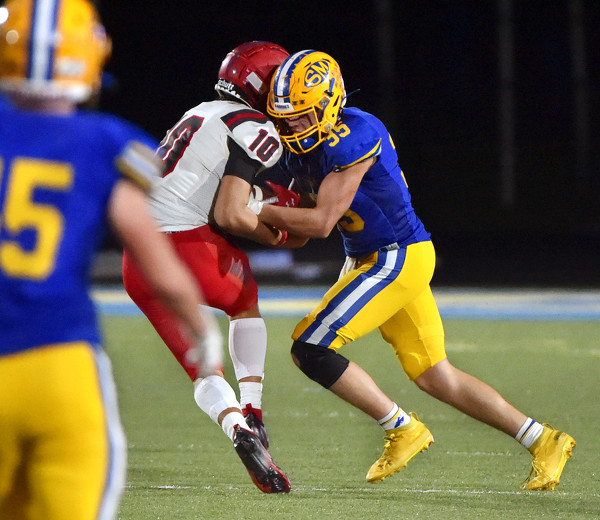 ST. MARYS - Coming off two straight losses and taking on the defending Division IV state champions, St. Marys faced a tall task on Friday night. But from the first snap, the Roughriders had their eyes on an upset.
St. Marys smacked Van Wert around for a 14-0 halftime lead, answered with a long touchdown drive after the Cougars tied the game, then stopped Van Wert at the Roughrider 15 with 40 seconds left for a 21-14 Western Buckeye League win at Grand Lake Health System Field.
"We went back to our roots," St. Marys coach Bo Frye said. "We'd forgotten who we were, and I don't know where this whole hoopla we got caught up in (came from), being something other than who we are. We've got the people here, we know what we have and we'll always have. We found our identity tonight."
After St. Marys' 35-yard field goal attempt to extend the lead to 10 faded left, Van Wert (4-1, 3-1 WBL) got to work. Cougars quarterback Aidan Pratt completed an 18-yard pass and a 39-yard pass and finished off the drive with a one-yard touchdown run and a two-point pass to Nate Jackson to tie the game at 14 with 9:18 left in the fourth.
But the Roughriders' offense, held scoreless in the third quarter, rediscovered its groove. St. Marys ground out a 16-play, 62-yard drive that drained seven minutes from the clock, with junior Ross Henschen leading the way with 42 yards.
"We're not a spread team, we're not a throw the ball all over the place team," Frye said. "We're not anything but St. Marys. It's unique and it's our way, and we know that."
After Gavin Reineke's sneak to the 1-yard line ended with his helmet ripped off, Kyle Kogge came in and powered over the goal line to give the Roughriders a 21-14 lead with 1:55 to play.
Pratt got the ball at his own 20 and needed just 40 seconds to get into the red zone, capping it off with a 25-yard run to the St. Marys 12. But that was as far as the Cougars went.
Pratt's first-down pass went through Maddix Crutchfield's hands, Stash Patterson and Braxton King combined for a sack on second down after a blitzing Drew Dammeyer flushed Pratt from the pocket, and Pratt misfired on third down to set up fourth-and-13 from the 15. Patterson and another rusher converged on Pratt, who launched a pass to the end zone off his back foot that came down in the arms of the Roughriders' Brayden Sullivan.
"My best friend is (defensive coordinator) Nick Yahl," Frye said. "We played together in high school, he was in my wedding. I trust anything and everything to the defense. I trust him to get things fixed, and he does it."
St. Marys (3-2, 2-2 WBL) set the tone from the first drive, when Henschen punched in a four-yard touchdown run off left tackle to cap a 14-play, 67-yard drive that chewed almost eight minutes off the clock.
On Van Wert's opening drive, the defense made a statement of its own when Ty Kiehl picked off Pratt, who threw behind his receiver on a post pattern. Kiehl made a sliding catch to give the Roughriders the ball off Pratt's first interception of the season.
Henschen fumbled four plays later, but Van Wert got just one first down before facing a fourth-and-5 at the St. Marys 19. When the Cougars elected to go for it, Jace Schaefer came around the left side and batted down Pratt's pass to end the threat.
"We didn't tackle very well last week, we got beat over our heads last week," Frye said. "I told (Yahl), 'Get this crap fixed.' He said, 'Already done.' "
Henschen got the first carry on the Roughriders' next drive coming off his fumble and added a 27-yard run two plays later, setting up Tanner Howell for a 26-yard touchdown run to make it a two-score lead.
Howell made his own gaffe when Van Wert punted after a three-and-out, grabbing the ball on a bounce and taking off through the Cougars' coverage team. He got about 20 yards before the ball popped out and Cullen Dunn fell on it to give Van Wert back the ball.
But again the defense forced a three-and-out, and this time Howell got the first carry for the Roughriders on the next drive.
"They're who we have, we've got to trust them," Frye said. "I don't even know if we knew that (they got the next carry). I think we trust those guys more than anybody else on the team, and that stuff happens."
St. Marys missed an opportunity after the Cougars were called for an offsides penalty on a 50-yard field goal attempt and the Roughriders' ensuing fourth-down try fell a yard short. But Van Wert had its own chances in the final minutes of the first half, including a drop by a wide-open Garett Gunter and an offensive pass interference penalty on Connor Pratt that wiped out a 60-yard touchdown pass.
Immediately after halftime, Trey Laudick returned the kickoff 98 yards for a touchdown, only to have the play erased by a holding call.
Despite their own miscues, the Roughriders were the better team on Friday and it earned them a statement win.
"We didn't play a clean football game by far," Frye said. "I can come out and name 15 things we didn't do right tonight, and we've got a lot of work still to do. But when we've got it figured out? We've got the people."
St. Marys gets a chance to build off the victory next week when Shawnee comes to town.