Saturday, September 25th, 2021
Parkway gets first win
By Bruce Monnin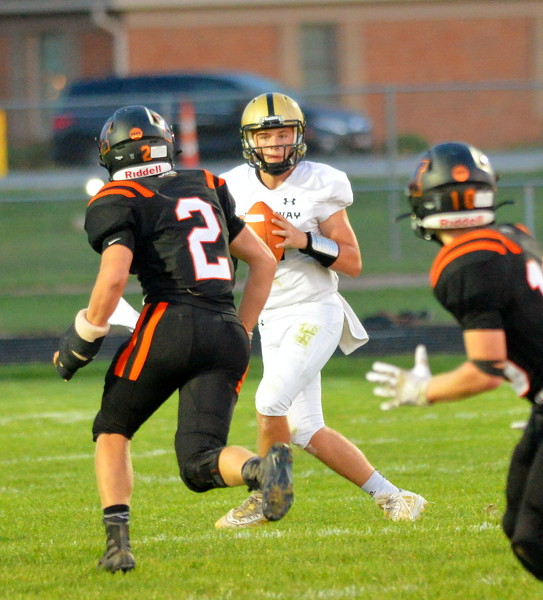 MINSTER - Parkway used an explosive offense and a stingy first-half defense to grab a 27-0 halftime lead en route to its first win of the season with a 53-29 victory over Minster on Friday at Memorial Field.
It's the first win for Parkway over Minster since 2009.
"We executed well on offense. Defensively, the scores haven't been reflecting how well we've been doing the last couple of weeks," said Parkway coach Joel Henkle. "We've really improved on that side of the ball. We're both young teams and I think both programs have a bright future. It's just nice to see our guys get a little bit of success."
The high-scoring contest started out slowly. Minster's first two drives each reached Parkway territory before being stopped on downs. The Panthers were also stopped on their opening possessions.
After the Parkway defense forced the Wildcats to punt from their own three-yard line, the Panthers took advantage of the field position with a 28-yard touchdown run by Fletcher Smith that made the lead 7-0 after the opening quarter.
The second period was all Parkway. Smith got the frenzy started when he connected with Grant Bollenbacher on a short pass and Bollenbacher turned on the jets and sliced through the Wildcat defense for an 84-yard score.
After Minster fumbled the snap on a punt attempt, Parkway needed just four plays to score as Logan Green ran for a nine-yard touchdown. With less than a minute remaining in the half, Smith found Bollenbacher for another short pass that led to a back-breaking 78-yard score.
Just as impressive was the Parkway defense, which held Minster to negative rushing yardage in the first half and only 34 yards on 31 carries for the game.
"We have some bigger interior guys that if they fire out low, they can handle their own," added Henkle. "I'm pretty happy with our run defense. We have to shore up our pass defense for Delphos next week."
Minster got on the board early in the second half when Chase Couse fielded a punt at full speed near midfield and sprinted untouched down the middle of the field to cut the deficit to 27-7. Parkway responded six plays later as Eddie Nichols scored from four yards out. The Wildcats answered by putting together a nine-play drive polished off by a Brogan Stephey two-yard run, but Minster still trailed 33-14 after three quarters.
The teams combined for five fourth quarter scores, with the first four touchdowns coming quickly through the air. Parkway started with a 36-yard pass from Smith to Aiden Anderson, and Minster followed with a 30-yard strike from Stephey to Chase Couse. Three plays later, Smith found Anderson for a 45-yard touchdown. The Wildcats answered with three straight completions, the last a 23-yard catch by James Niemeyer.
Zach Hawk returned a late interception to the Minster five-yard line, setting up Landon Hamrick for the last touchdown of the game on a six-yard run.
Parkway's eight touchdowns traveled an average of 36 yards, and the Panthers ended the night with 532 yards of total offense compared to Minster's 227 for Minster. Smith completed 19 of 29 passes for 377 yards and four touchdowns. Bollenbacher had a monster receiving night, compiling 244 yards on his seven catches.
Both teams are home next Friday. Parkway hosts Delphos St. John's while Minster (1-5, 0-4 MAC) hosts New Bremen.