Monday, October 25th, 2021
Moving on
Celina advances with victory over Kenton
By Gary R. Rasberry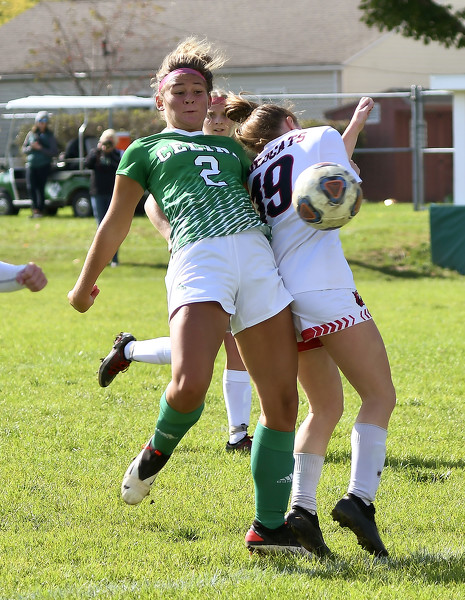 CELINA - The first time Celina and Kenton squared off in girls soccer, the Bulldogs came away with an 8-2 victory.
Saturday's rematch in the Division II sectional final was a much different game.
Taylor Klingshirn's rebound goal with 15:43 remaining in regulation broke a 1-all tie as the Bulldogs survived for a 2-1 victory to advance to the Elida district semifinals.
Celina (10-6-1) takes on St. Marys on Wednesday at 5 p.m. after the Roughriders upset the top-seeded and unbeaten Bryan Golden Bears, 2-0, on Saturday night. Shawnee takes on Bath at 7:15 p.m. in the other semifinal.
"We knew it was going to be a tough challenge today," said Celina coach Eric Gerker. "We knew they weren't going to go away. They kept fighting. Fortunately, we did enough to hold on."
Kenton (6-10-1) came out from the opening whistle playing a physical game against Celina. The Bulldogs struggled trying to get a break on offense as the Wildcat defense kept close tabs on Klingshirn and other potent scorers for Celina.
Celina's first break came with under 90 seconds to play in the first half when the officials awarded a direct kick from just inside the midfield stripe. Jena Wilson snapped off a kick that just got past Kenton keeper Ruby Steyer with 1:20 to play in the half to give Celina a 1-0 lead.
Kenton kept up the pace and looked for an opening in the second half before finding a break with just under 30 minutes remaining. Abi Temple was able to get a pass and break away from the Celina defense, putting the ball past Riley Seitz with 29:42 remaining in regulation to tie the game.
Celina looked for the go-ahead goal to prevent overtime, but Kenton continued to mark the attackers and keep them from getting shots. The Bulldogs finally found an opening with under 16 minutes to play with a flurry of action in front of the Kenton goal. Steyer knocked away one shot, but Klingshirn was in the right position to knock the rebound into the back of the net and give Celina the lead.
"First half, they were tough on Klingshirn at center to try and take away what she does from us," said Gerker. "Second half we put Taylor outside and put Zoey Burns in the middle. That started opening things up a bit. We were able to open up more."
The Bulldogs nearly had a cushion goal with just over six minutes left, but the shot hit the top of the crossbar and Steyer was able to corral the ball. The Wildcats worked hard to set up a good chance for another tying goal, but Celina held firm to the final whistle.
"Survive and advance, that's the term they use," said Gerker. "That's exactly what you could call this game."