Saturday, November 27th, 2021
Shining their light
Celina couple decks the halls despite illness, setbacks
By Leslie Gartrell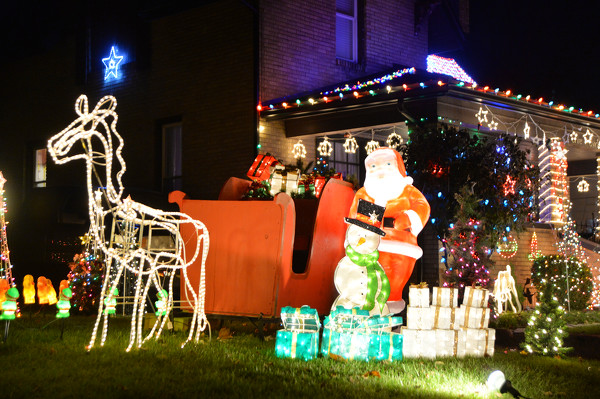 CELINA - For years, Shawn and Jennifer Burk have dreamed of transforming their home at 516 N. Sugar Street into a winter wonderland and a stopping place for people to enjoy.
Shawn Burk's cancer diagnosis eight years ago and obstacles arising from the illness haven't stopped the couple.
On Tuesday the Burks will host a Christmas open house from 6-8 p.m. Visitors will be able to take pictures with Santa and Mrs. Claus in a sleigh and they can meet with an elf and the Grinch. Cookies and candy also will be available for people to snack on while they enjoy the lights at the couple's home.
The Burks will accept donations for the Cancer Association of Mercer County, a group Jennifer Burk said has helped the family since Shawn Burk was diagnosed with tonsil cancer.
Although now cancer-free, Shawn Burk's vertebrae and bones remain weak after eight rounds of chemotherapy and 35 radiation treatments from cheekbone to collarbone on each side of his face.
The treatments made his bones so fragile that in 2016 he received a neck fusion. Unfortunately, Jennifer Burk said his vertebrae and bones have continued to weaken. Another neck fusion surgery was done Sept. 17, but Jennifer Burk said the surgeon determined the procedure had failed. Now, the Burks are waiting for another neck fusion surgery hopefully within the next few weeks.
Undeterred by adversity, the Burks have done their best to spread Christmas cheer over the years. When Shawn Burk was first diagnosed with tonsil cancer on Nov. 22, 2013, Jennifer Burk said he still managed to make sure all the Christmas decorations were up.
Shawn Burk said it typically takes three weeks to put the grand display together. This year, though, the family received help from family members, neighbors and friends so the tradition could continue.
Jennifer Burk said the past several years have been difficult.
As a result of his treatments, Shawn Burk lost his tonsils, saliva glands and has had surgery to keep his stomach acid down due to scarring in his esophagus.
Shawn Burk has maintained a positive attitude and has tried to take all the obstacles in stride.
"I try not to let it bother me too much, because (Jennifer) does enough stressing as it is," he said. "If I start to stress, that causes more stress for her. I'm ready to get back to work and try to get somewhat healthy again."
Jennifer Burk said one day she asked her husband why the family had been ladened with such a burden.
"He said, 'Why not us? If it's me, it's not someone else. We can handle it.'" Jennifer Burk said.
The Burks said they are excited to open their Christmas bedazzled house to the public on Tuesday.
The lights will remain on from 5-11 p.m. each night until Christmas Eve, when they will remain on all night. The Burks will take down their mountain of holiday decor and lights on Jan. 1,
she said.