Monday, November 29th, 2021
Techie pair light up the night
By William Kincaid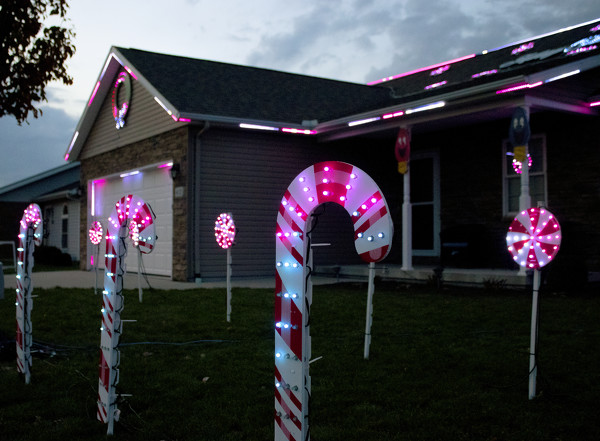 COLDWATER - For buddies Kory Hoffhines and Eric Thobe, the cheery masterminds behind what has become known as the Betty Lane Light Show, the Christmas season has indeed become the most wonderful time of the year.
But then again, Christmas is almost always on their minds as they spend much of the year thinking of ways to one-up the previous holiday season's extravaganza.
Hoffhines' homestead at 412 Betty Lane from Thanksgiving through Jan. 2 becomes the neighborhood's star attraction, drawing carloads of families that move by at a leisurely pace.
"We started very small with just a tiny Christmas tree that lit up and then every year we expand, expand, expand," Hoffhines said.
In its fifth edition, the months-in-the-making light show boasts in the vicinity of 10,000 Christmas lights. Yet the two friends look beyond the bravado of Clark Griswold and his electricity-sucking, blinding monstrosity of lights. Rather, they aim for technology-informed sophistication and taste.
The Betty Lane Light Show, to their knowledge, is the only Christmas light show in Coldwater synchronized to music. This is where Hoffhines's computer knowledge comes in handy. Hoffhines is the network administrator for the Mercer County Sheriff's Office.
"It's a sequence of new lights depending on the song," he said, comparing it in concept to the Christmas light display put on by Celina Insurance Group.
The color scheme of the lights alternates based on the rhythm and beats of the Christmas song being played, Thobe said. Those who drive by the display must tune in to 91.1 FM to enjoy the synergy of sight and sound.
"Every year it's something different. It plays to the music so every year we never play the same songs," Hoffhines added.
The two friends have long been fond of Christmas lights. They joined forces almost five years ago to assemble their own spectacle of incandescence. Hoffhines handles the technology and Thobe handles the engineering side. They spend months brain storming, planning, designing, testing lights and, of course, installing the display.
"We'll do stuff, take a break. Do stuff, take a break. Because every single light we have to push into a prop so doing that is extremely time-consuming," Hoffhines explained.
Thobe, who works for a poultry equipment company, is responsible for most of the construction. He builds metal frames for the lights. This year he assembled a 16-foot "Merry Christmas" sign illuminated by 600 lights atop the roof.
Other features also are new this year.
"There's a lot new. This year we've got a 15 foot Christmas tree with all lights," Hoffhines said.
That's 16 strands of lights each containing 150 bulbs, to be exact.
Asked about how much money the two have invested in their display over the years, Hoffhines said he doesn't even want to think about it, pointing out a strand of 50 lights carries a price tag of about $18.
Now in its second year is a lighted-up letters-to-Santa mailbox. Children are encouraged to write letters and deposit them in the mailbox. Hoffhines, Thobe and others then write up responses on post cards and mail them out to the children before Christmas.
The two came up with the idea realizing kids might not have access to Santa last year because of the COVID-19 pandemic. It proved to be a hit, as the friends wrote back to about 85 kids last year, some who live in big cities.
As the number of lights climbs with each year's display, so too does the number of admirers, whom Thobe and Hoffhines encourage to drive by the site.
"I think that word-of-mouth, people talk about it more and more every year," Thobe said. "As we get closer to Christmas there'll be cars lined up along the road, two, three at a time, all night long."
The two friends said the months of work is paid back in full when they see people's face's light up.
"Everyone messaging, texting, calling, the letters to Santa, just saying how great it's been," Hoffhines said. He's especially touched when someone tells him how seeing the lights lifted their spirits, especially after a difficult week or year.
The lights will be on 6-10 p.m. Sundays through Thursdays and 6-11 p.m. Fridays and Saturdays through Jan. 2.
For more information, visit the Facebook page Hoffhines - Betty Lane Light Show.